Thus far, F1 in 2018 has proven itself to mirror many of the previous season's results and today was no different. It should come as no surprise then that the top three looks as it did last year.
Lewis Hamilton starts from pole for tomorrow's race, taking the lead ahead of Sebastian Vettel by 0.044s. It was an intense battle between the two, as it's been for much of the season. Vettel was the man to beat in the beginning of Q3 with a time of 1:25.936. With time running out, the Briton pulled ahead with a brilliant lap time for his home race.
The result gifted Hamilton his 50th pole for Mercedes, eight shy of Michael Schumacher's record with Ferrari. Not only that, the performance resulted in a record-setting six pole positions for the British GP — rarefied air, indeed.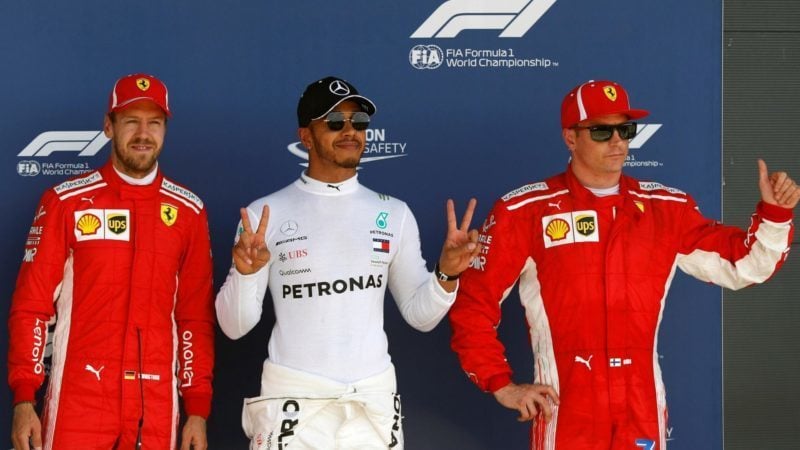 While Vettel may not have had enough to challenge in the end, it's an impressive feat all the same, even more so considering the German driver complained of a neck problem during FP3.
Starting from third in the second Ferrari is Kimi Raikkonen, 0.098s off pace. Raikkonen was able to find a three-tenths improvement for his final run, clocking in at 1:25.990. The aggressive lap saw The Iceman leap ahead of Valtteri Bottas for the final podium spot.
If it weren't for locking the front wheels into Turn 16, Raikkonen likely would have threatened Vettel for second. As it stands, the front row looks as it did in 2017, albeit with the Ferrari drivers swapping positions.
Red Bull locked out the third row for tomorrow's race. Max Verstappen will start from fifth, 0.497s ahead of teammate Daniel Ricciardo. Verstappen has now out-qualified Ricciardo in the last four qualifying sessions.
That isn't to say it was all rosy in the Honey Badger's camp. He was unable to use DRS on his first stint during Q3, a problem later revealed to be a software issue. With Ricciardo unable to improve his position, he'll start the Grand Prix from sixth.
The boys at Haas will start from the fourth row tomorrow, with Magnussen sitting seventh and Grosjean in eighth. After the team's performance in Austria last weekend, Haas will be aiming for a similar result.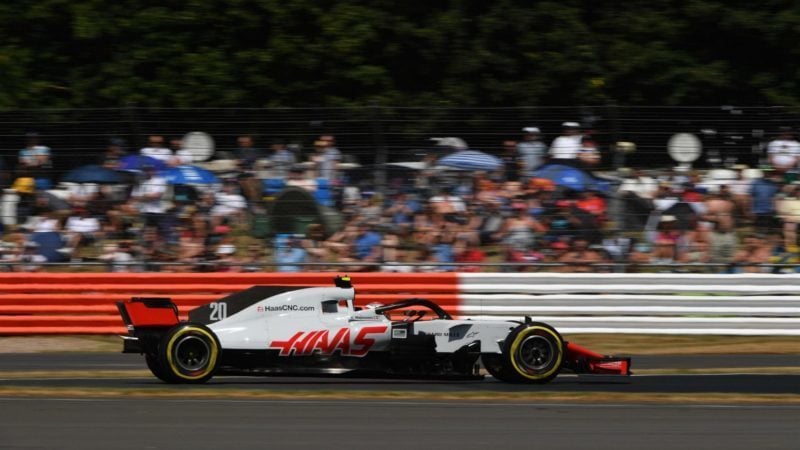 Once again, Sauber's Charles Leclerc put on an impressive performance, and will be starting from ninth. The rookie was able to out-qualify Force India's Esteban Ocon by more than three-tenths. Leclerc has qualified into the top 10 in two of the last three races. Moreover, he has consistently out-qualified teammate Marcus Ericsson since the Chinese GP. All eyes will be on the rookie heading into tomorrow's race.
McLaren continues to struggle amidst Eric Boullier resigning as Racing Director. Fernando Alonso, relegated to Q2, starts from 13th for the outfit. Teammate Stoffel Vandoorne starts lower down the grid in 17th. Both will have their work cut out for them, but as 2018 has proven, crazier things have happened.
Both Williams drivers fell victim to relegation in Q1. Lance Stroll spun off into the gravel through Turn 6 on his first stint. The sudden off triggered a six minute red flag while recovering the car. Sergey Sirotkin suffered an exploratory off through Stowe corner on his first run. He was able to recover the car, unlike his teammate, posting a lap time that sees him starting from 18th.
Pierre Gasly starts from 14th after making it into Q2, the only Toro Rosso running during the session. Teammate Brendon Hartley was unable to run in the second car thanks to a crash during FP3. During the session, the front-left suspension failed and sent him reeling into Turn 6. With the team rebuilding his car for tomorrow's race, he'll start from the pits.
It will be interesting to see how the final round in the triple header comes to an end. Will Hamilton retake the championship lead, or will Vettel extend his current one-point advantage?
See more articles on British Grand Prix, F1 2018 Season, and Silverstone.