Qualifying for tomorrow's Spanish Grand Prix was a reserved affair compared to recent outings. That is to say the three sessions went off without a hitch.
Lewis Hamilton claimed pole position for tomorrow's race, his first since Australia. Moreover, this is the first Mercedes 1-2 of the 2018 season. With a lap time of 1:16.173 he edges ahead of teammate Valtteri Bottas by four hundredths of a second. To put it another way, Mercedes has put an end to Ferrari's qualifying dominance, at least for now.
Behind the two Mercedes drivers sits Sebastian Vettel in third for Ferrari. Vettel looked to be in a position to challenge Hamilton in the closing moments, but crossed the line 0.312s off pace. Teammate Kimi Raikkonen tucks behind in fourth, locking out the second row for the Prancing Horse.
Fifth goes to Red Bull's Max Verstappen who set his time using the supersofts. Behind him is Daniel Ricciardo on the softs, two thousandths of a second off his teammate's pace. Both men start from the same positions as last year. It will be interesting to see how things play out between them tomorrow. Following the events of the last two races, Red Bull will no doubt have guidelines for both drivers.
Kevin Magnussen pulled ahead to seventh for Haas. A stellar result putting him ahead of teammate Romain Grosjean further down the order. Fernando Alonso starts tomorrow's race from eighth for McLaren. Alonso put the Woking-based team into Q3 for the first time this season. Coincidentally, the Spaniard did the same for the team at Barcelona last season as well.
Grosjean starts from ninth in the second Haas, 0.159s behind Magnussen. Haas continues to look impressive as they have all weekend thus far. Grosjean will no doubt be looking to make up for his DNF at Azerbaijan a fortnight ago.
Rounding out the top ten is Renault's Carlos Sainz. The Spanish driver out-qualified teammate Nico Hulkenberg for the first time this season. Better still, Sainz did so since joining Renault eight races ago in Austin.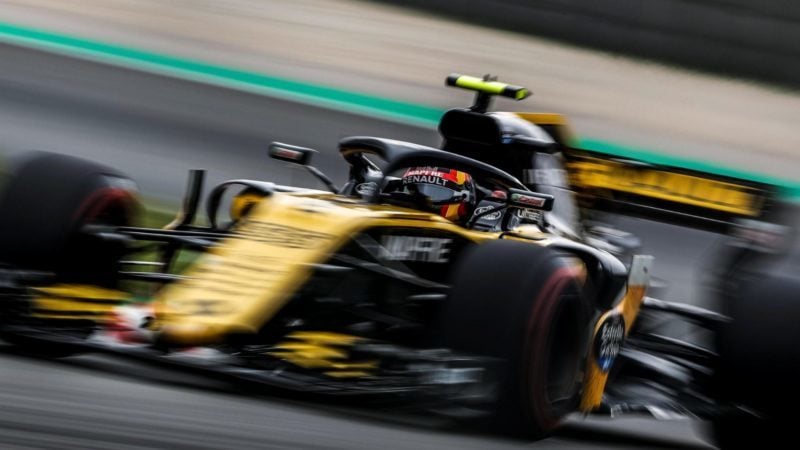 Teammate Nico Hulkenberg fell victim to relegation in Q1, doing no better than 16th place. This is the first time for the driver since the 2015 Spanish GP. The result brings an end to his 59 race streak of breaking into Q2.
It's worth pointing out that nine of the top 10 drivers set their Q2 times using the soft tires. They'll begin the race on a more durable compound allowing them to run later into the race. However, Alonso will start the race on the supersofts. This could play to McLaren's advantage, assuming nothing out of the ordinary occurs.
Pierre Gasly starts 12th for Toro Rosso, a far cry from the results of Bahrain but better than the last two results. Teammate Brendon Hartley wasn't so lucky as he didn't take part in any session. At the end of FP3, Hartley spun through Turn 9, colliding rear-first into a barrier.
The team was unable to repair the car in the two hour period before qualifying began. Both Williams drivers failed to impress, both eliminated in Q1. To date, neither Lance Stroll or Sergey Sirotkin have broken into Q2 once this season. Their best result is 11th and 12th at Baku.
While both Mercedes have looked spectacular this weekend, Ferrari is unlikely to take this lying down. One thing working in Mercedes' favor is 24 of the last 27 race wins in Barcelona are from the front row.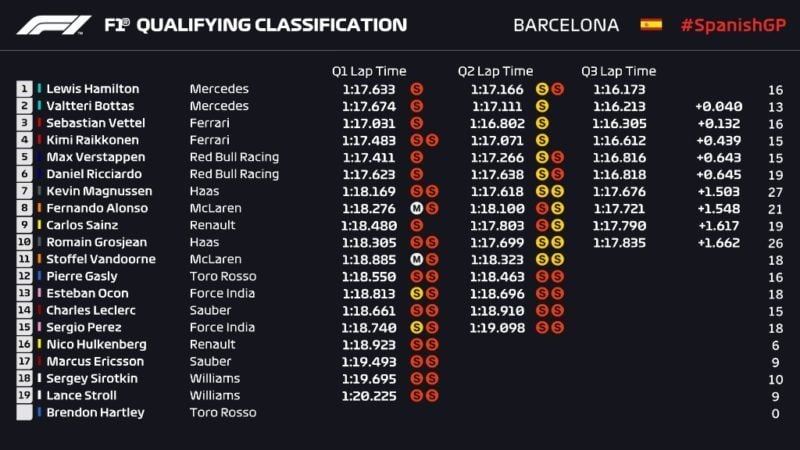 More Posts On...