Very few race weekends are like the Monaco Grand Prix. The glitz, the glamour, the spectacle — all make for a truly unique race you won't see anywhere else on the F1 calendar. Heading into the weekend, one thing was clear: Daniel Ricciardo means business.
The Red Bull driver dominated every practice session and qualifying was no different. Ricciardo was unstoppable around Monaco and took pole position for tomorrow's race. It's worth pointing out this is Ricciardo's second career pole position. Not a bad place to celebrate a pole two years after the first in the same venue.
Both he and teammate Max Verstappen looked to dominate Monaco without question.
Unfortunately for Verstappen, he won't start behind his teammate. Instead, he'll start tomorrow's race from the back of the field. Why? Max was unable to set a lap time during qualifying thanks to a crash during FP3, the result of which called for a new gearbox, leaving Verstappen out in the cold for qualifying.
The incident was costly for the team as both drivers were more than guaranteed to lock out the front row. As it stands, Red Bull bookends the grid. Far from the expected result, and making up positions here is nigh on impossible.
Sebastian Vettel pulls in behind for Ferrari, 0.226s off pace. Should tomorrow's race go off without a hitch, this could be what Vettel needs to close the gap between he and Lewis Hamilton. Luck will need to be on his side if he has any hope of taking the victory from Ricciardo. The 2018 season has proven itself full of surprises thus far, so who knows.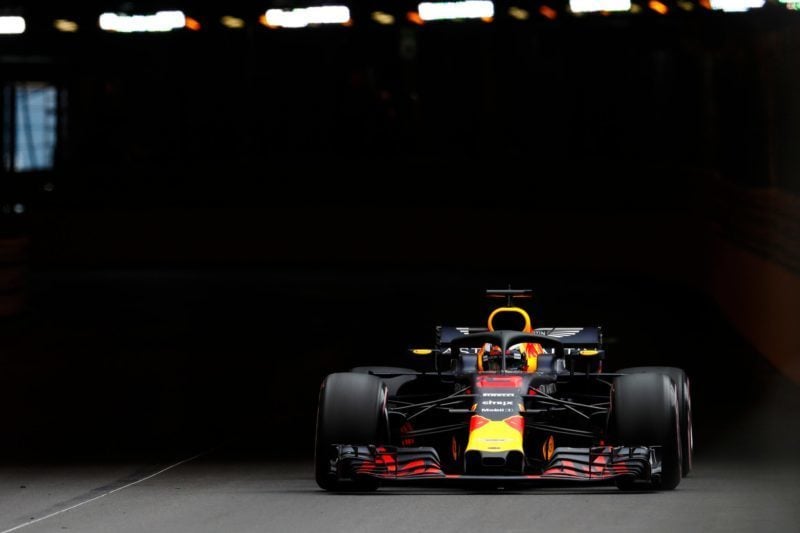 Lewis Hamilton slots in to third in the Mercedes. The Briton threatened top honors with the fastest first sector on his final run during Q3. As it's made clear by the finish, he lost time and ended up behind Vettel.
Kimi Raikkonen brought the second Ferrari across in fourth, 0.034s behind Hamilton. It will be interesting to see how Raikkonen takes off tomorrow. While he hasn't taken a race victory (yet?), he's been on par with Vettel all season. Behind him sits Valtteri Bottas in the second Mercedes.
Esteban Ocon starts tomorrow's race from sixth for Force India. Fernando Alonso tucks behind him in seventh for McLaren. Carlos Sainz Jr takes seventh in the remaining Renault after teammate Nico Hulkenberg fell out during Q2. Sergio Perez takes ninth in the sister Force India, 0.093s behind his teammate. Toro Rosso's Pierre Gasly rounds out the top 10 for tomorrow's GP.
For the last two years, the winner of the Monaco GP was directly influenced by pit strategy. Last year, Vettel took the victory from pole-sitter Raikkonen. Whether it was intentional or luck of the draw will likely remain a mystery.
The year prior saw Ricciardo lose a win thanks to a sloppy stop in the Red Bull pits. With the Honey Badger sitting on pole again he'll likely have that in the back of his mind. Tomorrow's race looks to be something special no matter how you look at it.
More Posts On...