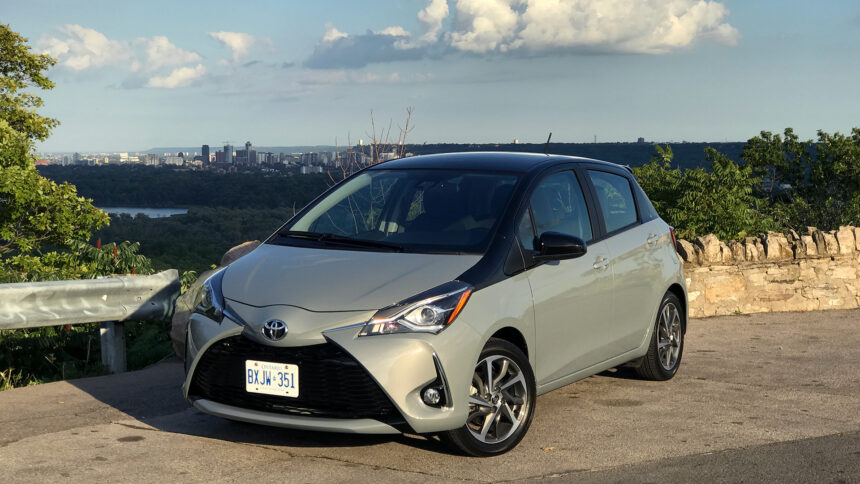 Fair warning to our international readers here: things are about to get locally Canadian for a minute.
The Yaris (or Vitz, as it's known in its home market) was a bit of a trailblazer here in the Great White North. No, really. Before nearly every other manufacturer tried the sub-compact hatch gig in the early aughts, Toyota brought in the first-gen Yaris, rebadged as Echo but with much more pert styling than that awkward little sedan. Its only competition at the time was the Koreans, which were still trading on their discount nature.
The market looks a lot different a decade and a half later though. After an influx of metal from the likes of Ford, Chevrolet, and Honda, the tiny hatch landscape is back to only a few key figures. The increasing popularity of crossovers — like Toyota's own RAV4 Hybrid — hasn't helped either.
Toyota granted the Yaris hatch a stay of execution in Canada for 2019, before it joins its sedan cousin in being a rebadged Mazda for the 2020 model year. With that in our head, we spent a week with the final iteration of Toyota's homegrown hatch to learn if it still has anything to offer people in the market for something cheap and cheerful.
The Yaris is getting on a bit, no?
It's true, the Yaris is not the spryest in the class. This generation landed in 2012, making it older than all bar the (also discontinued) Ford Fiesta. This facelift, the second one for the XP130 generation, does boost its curb appeal somewhat. The two-tone paint and sharp 10-spoke, 16-inch wheels help it stand out, and go some way to justifying its nearly $21k list price.
Like pretty much every other hatch these days, this is a five-door. Toyota is unique in offering a three-door, though it's limited to the base model.
No matter how many doors you pick, the Yaris puts the 106hp from its 1.5-liter engine down through the front wheels. Only the Chevy Spark punches lighter in this class, but the Yaris counters with a low weight under 2300lb. We're testing the five-speed manual here, while an ancient four-speed auto is also available.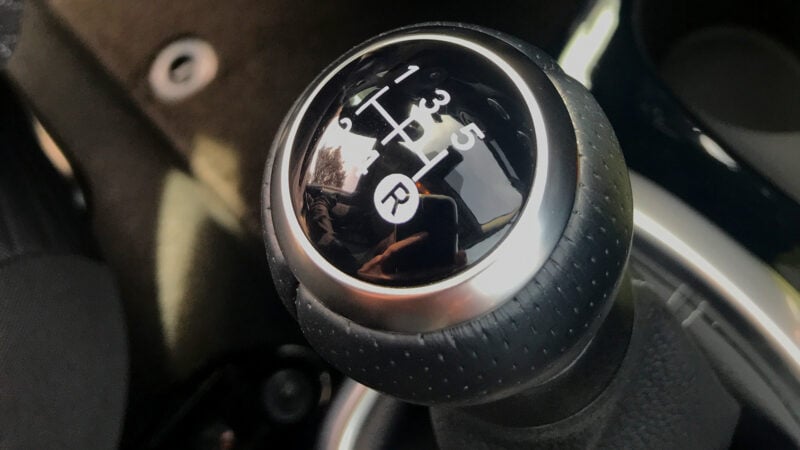 A manual? So this is the sporty option?
Whoa now, ease up. Toyota is reintroducing fun into its lineup, from the Corolla on up to the GR Supra, but the Yaris is old-Toyota. We know the bones are here for something special, as Europe got the mad, supercharged GRMN Yaris special edition. The special sauce from that project is not part of the North American Yaris' diet.
It starts with that manual itself. It's mounted low, but the shifts require a sizeable throw, making it awkward. The shifter moves through the gates in the higher gears well enough, but has a notchy resistance when heading back down from second to first. The clutch pedal has a vague bit point, making standing starts something of a guessing game. At least the Yaris' modest power output makes it forgiving.
That all said, it's a perfectly acceptable steer. The Yaris' wheel is light but has reasonable resistance, certainly more than the RAV4 Hybrid we tested prior to it. In the busy streets of Toronto the extra confidence that provides helps, allowing us to dart around cyclists or suddenly stopped delivery trucks.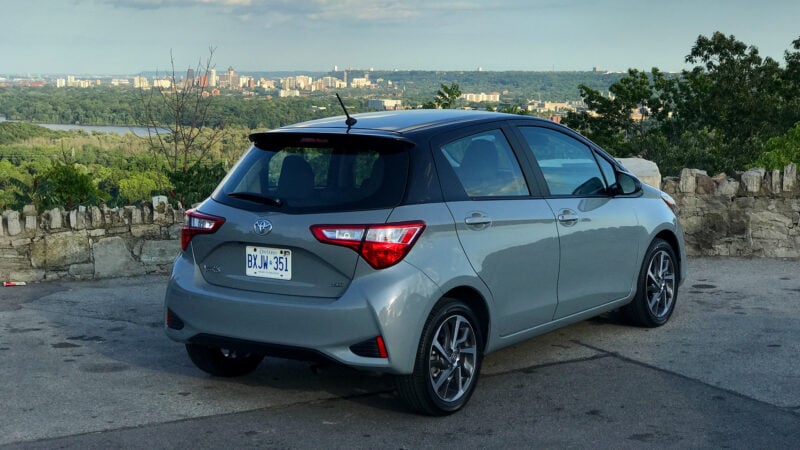 A good city runabout, then?
Very much so. The Yaris has a tiny turning circle, so you can swing around when you've finally spotted an empty parking spot. The subsequent parallel parking is also a doddle. It fits where most other cars can't, at least this side of a Smart.
The gear ratios make the most of the engine's limited grunt in the city too. It's an old-school style of power delivery, with peak torque (103lbft) not joining the party until 4,200rpm. But it's linear and lag-free, making it easy to point and, if not entirely squirt, then at least scoot towards its target.
Highway driving is less good. Most of the Yaris' rivals offer a sixth gear, and it doesn't take long to figure out why: at normal cruising speeds the tach needle hovers around 3,000rpm. The 1.5 isn't exactly a tuneful engine, so long distances are not the most comfortable experiences. Foot to the floor in fifth barely budges the needle at these speeds too, so any sudden requirement for shove demands a shift down. Maybe even two.
That will cause the mileage figures to fall of course. We had a hard time trying to match Toyota's 7.2L/100km rating (equivalent to 32.7mpg US) over the course of a week, but it was close. It's fair to say our usage split wasn't average anyway, with more city driving than most folks and plenty of stop and go for shooting photos and videos. Your mileage, quite literally, will vary.
We're still not sure if this next bit is a bad sign or a good one. The single windshield wiper is one of the Yaris' standout features. Not just because it covers more surface area than the previous two, but because its fluid jet is built into the arm. It feels much more premium than, well, anything in the class.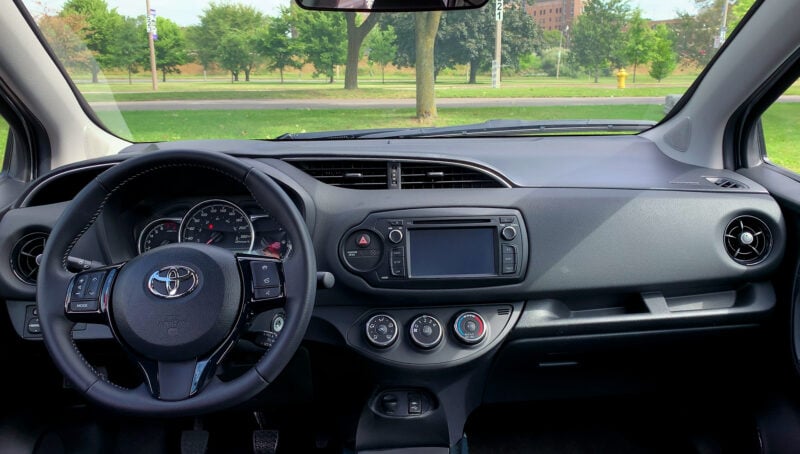 What's it like inside?
In a word, spartan. This isn't "less is more". This is just "less is less".
We don't remember the last time we drove a car where there was a big space between the two front seats. It's for a proper handbrake, with the shifter poking out just ahead of it. Mounted down low are two cupholders, on a center console that moves around when prodded. It's a surprising lack of quality in an otherwise fine interior.
The cabin is all black plastic, which you'd expect in the class, so no harm no foul. There's a pleasing lack of buttons, with simple-to-use rotary dials for the heating and some redundant buttons around the touchscreen. Oddly, the SE tester loses out on the automatic air conditioning available on the mid-level LE.
It's the little 6.1-inch display that really dates the Yaris however. There's USB and Bluetooth integration, but neither Android Auto nor Apple CarPlay. Built-in navigation is absent as well, so you'll have to rely on your phone (and data) for that. At least the SE tosses in an extra pair of speakers, bringing the count to six. So you'll be able to hear Siri telling you where to go that much clearer.
On the plus side, this particular Yaris comes with the full complement of available safety features, including a standard rearview camera, a pre-collision warning system, and lane departure alert. As a nod to the Canadian market, the Yaris front seats are heated. The leather-wrapped steering wheel, however, is not.
The SE boasts sport seats with unique fabric. They didn't feel particularly sporting to us, but they did prove comfortable be it on highway or city treks.
Most surprising is the amount of space. That lack of center armest makes the front row seem wider than it is. In the back, we found more than enough room to fit our 5'10" frame comfortably. The Yaris doesn't boast the most dramatic window line either, so natural light still exists back there. The hatch is sizeable, capable of swallowing multiple pieces of mid-century furniture (we tested it) with the seats folded down. The one drawback is that the second row doesn't fold completely flat.
After a week, we still couldn't make sense of the odd little cutouts in the passenger side of the dash. Or the tiny cubby to the left of the steering wheel. What could possibly go in any of these without immediately falling out?!
Who is the Yaris for?
Those who want a new car and the safety that provides, not just in terms of the tech but a warranty. This is also a Toyota we're talking about: so long as owners perform the most basic of maintenance, it will probably run forever.
Urban buyers will appreciate its size, short turning circle, and comparative lack of blind spots. In a world of constantly growing vehicles, there's something refreshing about the Yaris barely weighing over a ton.
The Yaris doesn't embarrass itself on the highway, but it's probably not ideal for those living outside of major city centers. First-time parents could use it as a stepping stone to bigger, more practical vehicles — and keep it knocking around for baby's eventual school car, really.
What could they buy instead?
They've steadily improved since their launch, so we can't overlook the Hyundai Accent and Kia Rio. Both offer more space, more pace, and more tech, all with lower price tags. There's also the evergreen Honda Fit, which might not have the value side sewn up, but is more fun to drive and has that clever, swallow-everything interior.
If you really want to go cheap but want a new car, your options are the Chevy Spark and Nissan Micra. The Spark remains the cheapest car on sale in Canada at $9995. That's in full penalty box spec though, lacking air conditioning, power locks, or even a cabin air filter. The Micra is a similar deal, but starting at $10,488.
The toughest competition comes from within the family. For little extra cash over this range-topping Yaris SE, buyers could find themselves in the now-quite-good Corolla sedan. If they really want the hatch, which to our eyes still looks better, it too is only a few thousand more. And as we found last year, the Corolla hatch is a solid drive.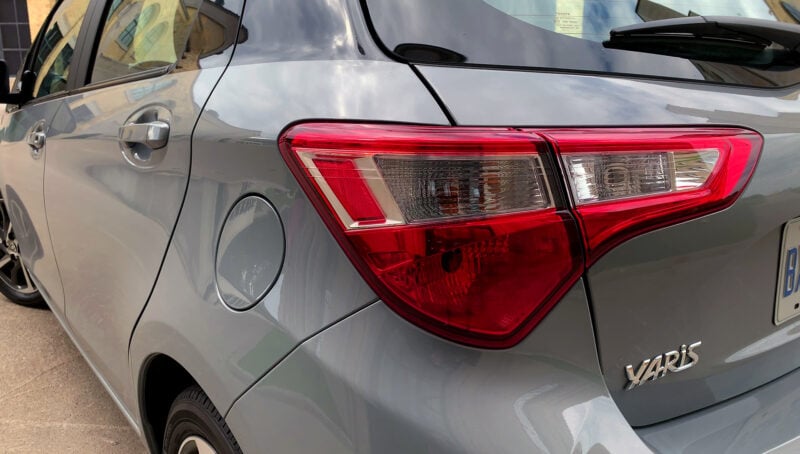 What's the conclusion?
If you're a Toyota stan and part of the tiny portion of the car-buying public looking for equally tiny cars, the Yaris is your steed. It's an honest sort of car, aimed at getting people where they need to go with minimum fuss.
But here at the tail end of the 2010s, it lags in terms of creature comforts and tech. The spirit of the original Echo hatch lives on, but the market isn't looking for that sort of experience any more, especially at this price. Luckily, the replacement model based on the Mazda 2 should bring improvements on both the tech and the driving experience sides.
It will mark the end of Toyota's self-built offerings in the segment though, and while the next-gen Yaris has been spotted testing — on the Nurburgring, of course — it's too early to tell whether Toyota will bring such a niche item back across the pond. In that sense, this Yaris could be a much more decisive end to an era.
Verdict:
Toyota Yaris Hatchback
Not particularly cheap nor cheerful, the Yaris is dependable transport but not much more. Bring on the 2020.
Learn more about
how our rating system works
.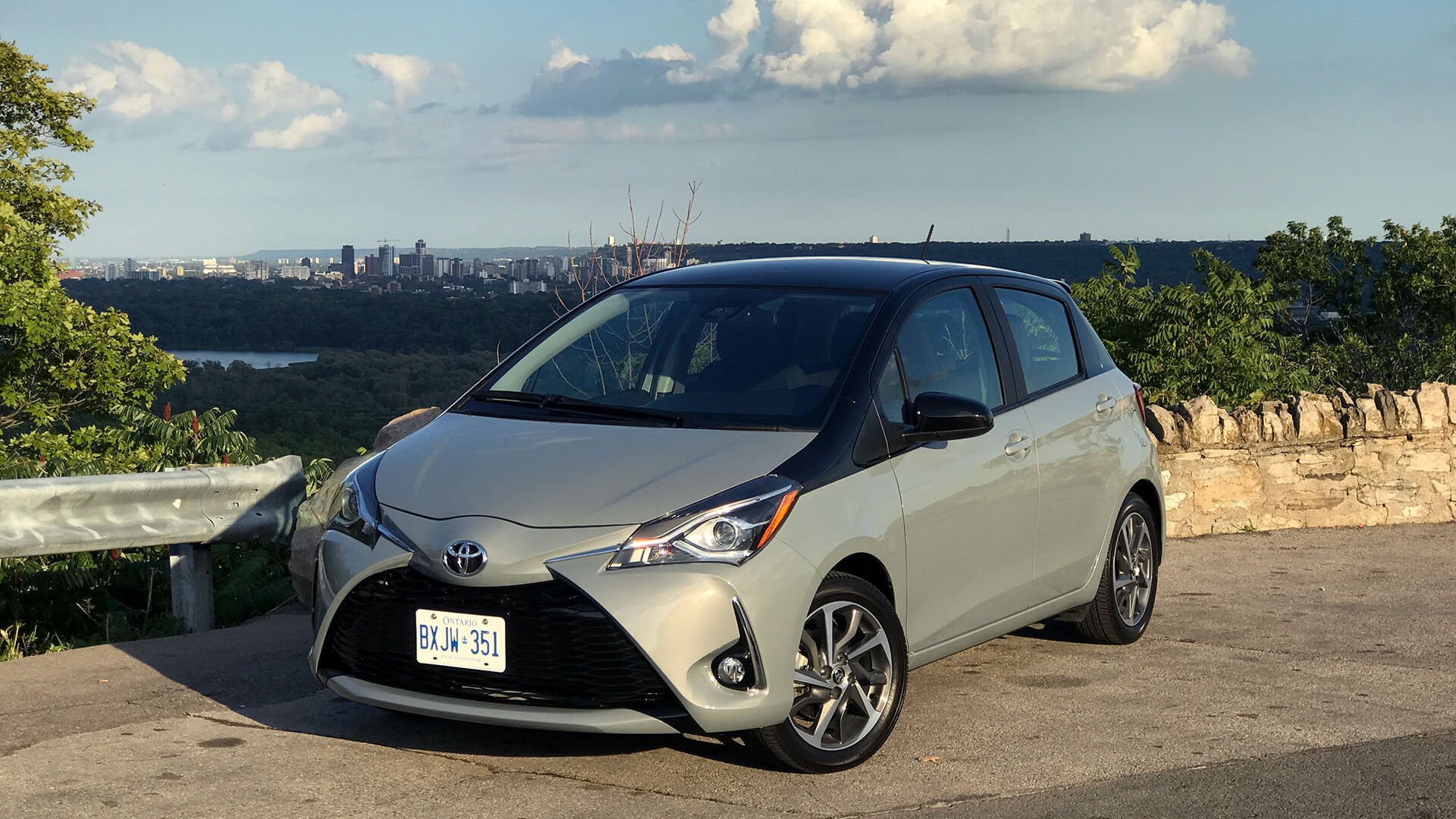 Quick Facts
Engine
1.5-liter petrol I4
Power
106hp (111ps, 79kW)
Layout
Front-engine, front-wheel drive
0-60mph
10.0 seconds (est)
Price As Tested
$20,956 (CAD)
More Posts On...