Depending on where you stand, that title will elicit either a nod of approval or a beeline to the comment section to tell me how wrong I am. That's the magic of the reborn, fifth-generation Supra: there is no middle ground for it in the court of public opinion.
Rarely has a car garnered such intense debate. Since it left our shores in 1998, the fabled A80 and its tuner-friendly 2JZ have spent the last 21 years casting a long shadow. Now the name is back, not transplanted to a crossover, but sitting proudly on the trunk of a two-door, rear-drive, inline-six powered sports coupe.
I was lucky enough to spend a day with the 2020 Toyota GR Supra, the first production car to wear the Gazoo Racing badge, at the challenging Circuit Mont-Tremblant and the roads surrounding it. It's very good — possibly even great — and deserves that iconic badge on its trunk.
I've heard there's a lot of German in the Supra?
Ah, that. Yes, the GR Supra and BMW Z4 share a platform, as a mountain of memes will attest to. The Supra is even built in the same Magna Steyr plant in Austria as its soft-top sibling.
While the raw ingredients may be shared, both engineering teams took their own approaches to chassis tuning. Toyota wanted a stiff platform for a dedicated sports car, and ended up with one: despite costing less than 20% of the Lexus LFA and featuring none of that car's structural carbon fiber, the Supra's chassis is just as rigid.
The Supra also borrows the familiar 3.0-liter turbo inline-six from Munich. This too has drawn plenty of ire from angry internet hordes. But really: which other company is better suited to building an I6 than BMW? It's the same displacement as before, and if Akio Toyoda himself — a mkIV owner — signed off on it, it surely passes muster.
Power is quoted at 335hp at 5,000-6,500rpm, with a solid 365lbft backing that up, available from a low 1,600 rotations right up to 4,500rpm. That compares favorably to the old car, but not against the Z4 M40i (382hp/369lbft). At least, not officially: other outlets have hooked the Supra up to a dyno and found it's producing power closer to the convertible's, not to mention far more torque.
The Supra certainly doesn't look like a badge job outside, either. The styling is completely different from the Z4, borrowing heavily from Toyota's FT-1 concept. Like Bangle-era BMWs, however, the Supra is the sort of shape you need to see in the metal to do it justice. The fussier details, like the faux vents at the back of the doors, fade into the background thanks to classic sports car proportions. The long hood, strong shoulder line, and kicked-up tail give it a serious amount of presence.
I don't remember the last time I've driven a car that commanded this much attention on the road. On the highway, a young girl in the back of a crossover practically flings herself out the window to get a better look, snapping pictures and urging her parents to tail the Supra. Parking it in town to grab a quick ice cream results in a constant stream of curious onlookers.
It's almost startling how compact the Supra is, especially when parked alongside the 86 at Circuit Mont-Tremblant. The Supra has a shorter wheelbase than its little brother, helping provide it with that ideal 50:50 weight distribution. The track should be the best place to suss out the benefits of all this, right?
Taming Circuit Mont-Tremblant
It's a scorcher of a day at the track, but that doesn't negate the sheer beauty (and challenge) of Mont-Tremblant. Toyota's set up a variety of activities for the day, and before jumping into the deep end, I take a handful of sighting laps in the new Corolla sedan first. Even at the low speeds the Corolla is capable of, it's clear there's going to be some pucker factor to the Supra laps.
It's actually the first corner that is most daunting. The Supra enters the corner at well over 100mph, needing a light touch of the brakes before moving right as the track dips. The corner continues as the tarmac heads skywards, cresting with steering angle and throttle still applied. The car wants to push out and to the left on the dive down to what's technically another right, but all feels like one long sequence.
The entire time, the Supra feels planted. The nose is alert, sniffing out apexes with enthusiasm and quickly locking onto your target. There isn't a ton of feedback from the thin steering wheel rim, but what is there is consistent, weighing up as you wind on lock.
That's just what The Esses require, and the Supra changes directions with aplomb. That stiffness and short wheelbase make it agile at low speeds, and the unique Michelin Pilot Super Sports find incredible purchase firing out of the corner. No doubt helping is the clutch-style, electronically-controlled limited-slip differential. The traction control light rarely flashes throughout a hot lap, which is a good sign that Toyota's found a balance between grip and power.
We take the faster Turn 6 bypass, leaning on the Supra's right-side tires before a heavy braking zone into 7. The amount of grip it finds here is staggering. That being said, it's also forgiving: ease off the throttle to trim your line and the Supra does what its told, no histrionics.
Turn 8 is deceptive. It's easy to brake late here and miss the apex. In terms of lap times it's the worst place to do that, since this increasing radius corner opens up onto the longest straight at Mont-Tremblant. Hold on for a late apex, get on the throttle early, and the Supra will flash 205kph (127mph) on the HUD before you're back on the brakes.
Bridge Turn and Namerow are both tight third-gear corners, with gravity aiding the Supra's anchors for both. The brakes — 13.7-inch Brembos with four-piston calipers up front, single pistons clamping 13.6-inch items out back — offer solid bite. After a day of lapping they do exhibit a hint of fade, but that's hardly surprising given the heat. Not to mention the extreme pace the pro drivers are pulling for us mere mortals to experience riding shotgun.
And that 8-speed auto? My first batch of laps I leave it to its own devices, and it never puts a foot wrong. Post-lunch I give it another go in manual mode, and it pulls off clean, fast shifts. It even holds gears for as long as you dare, not forcing an upshift in the upper reaches of the rev range. Downshifts, especially with the driver mode set to Sport, elicit pops and crackles from the two (real) exhaust tips out back. They're not overdone either: just enough to remind people of the Supra's mission.
I hate to be that person, but given how addictively fun the Supra is, it's a shame there's no row-your-own option. The auto is very good, but it can't match the level of interaction of a good stick. Toyota hasn't outright ruled out an eventual manual: it wants to know there's a solid business case first.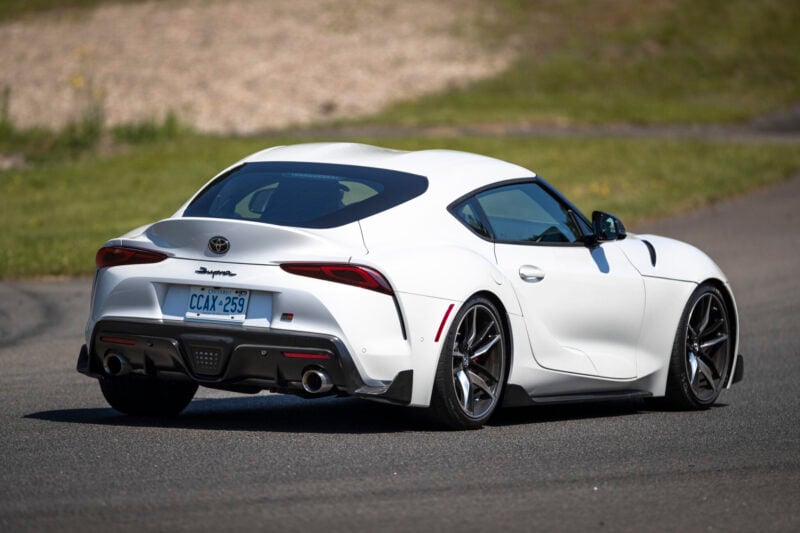 That's great and all, but how is it on the road?
Most of our time spent driving the GR Supra on public roads is done on the highway. It's important: this isn't meant as a weekend warrior, but as a daily driver.
One look at the 19-inch wheels might have you preemptively searching for local chiropractors, but the Supra's everyday ride is very compliant. Stiff, sure, especially if you keep Sport mode activated after you've left the track. But the chassis' inherent stiffness means the suspension doesn't need to be made of concrete. Ride quality is therefore quite good — certainly better than the 86 I drove earlier in the day.
Those wide sills and a smallish door opening do take a toll on ingress and egress. It's not Elise levels of gymnastics, however. Once inside there's a solid amount of space, with that double-bubble roof providing plenty of room for a helmet. Vision out is generally good, though that stylish roofline makes for a considerable blind spot. Luckily there's a standard detection system.
The trunk is also commendably vast. The opening is narrow, but once it's cleared, you can fit a surprising amount of kit in the Supra. You'll be able to easily access it from the cabin too, making this a very good long-distance companion.
What other toys does the Supra come with?
In Canada, there's a really simple answer: everything. There's one trim level, and it's fully loaded. Us northern folk also get a choice of the red leather interior on certain colors, which is limited to special editions in other markets.
That means an 8.8-inch touchscreen, color heads-up display, Apple CarPlay, and Toyota Supra Connect, which features emergency calling, roadside assistance, concierge service, and a dedicated app.
Also included is a 500-watt, 12-speaker JBL sound system, complete with a pair of subwoofers directly behind the seats. The usual suite of features — AM/FM, USB and Bluetooth, voice recognition — is present.
Standard safety features include eight airbags, forward collision warning, emergency braking (with pedestrian and cyclist detection), lane departure, and auto high beams.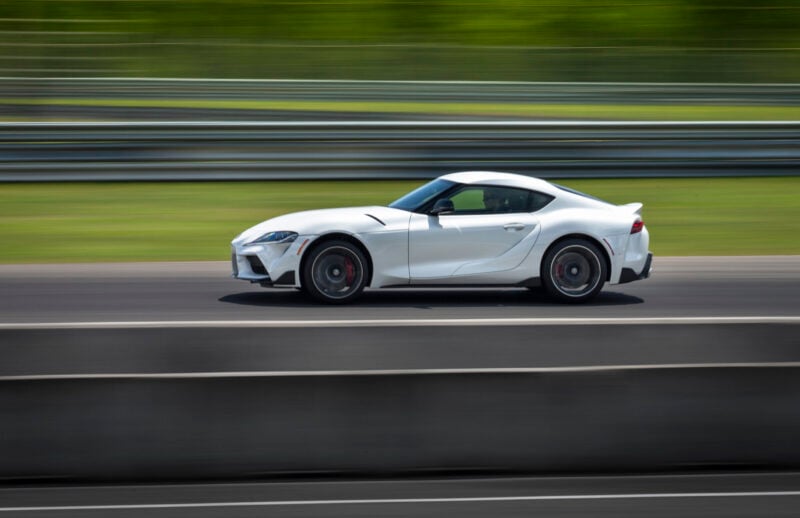 Who'll buy a GR Supra?
That's a fascinating question. Two decades is a long time for a name to be off the market. It's allowed the MkIV Supra to attain almost mythical levels of status, with a whole generation raised on Fast and the Furious and Gran Turismo. Kids that grew up only knowing the Supra legend from the screen are now adults with the opportunity to own a new one.
There's also the older Toyota faithful looking for something more fun — and there's a lot of those types. Previously, they'd have to look to Lexus for something with this sort of performance and status.
We'd wager the Supra will be responsible for a lot of conquest sales too. Over here in North America it occupies a unique space in the $50k-$70k bracket. Plus, Toyota's openness about it being a starting point for customization is a rarity in this day and age.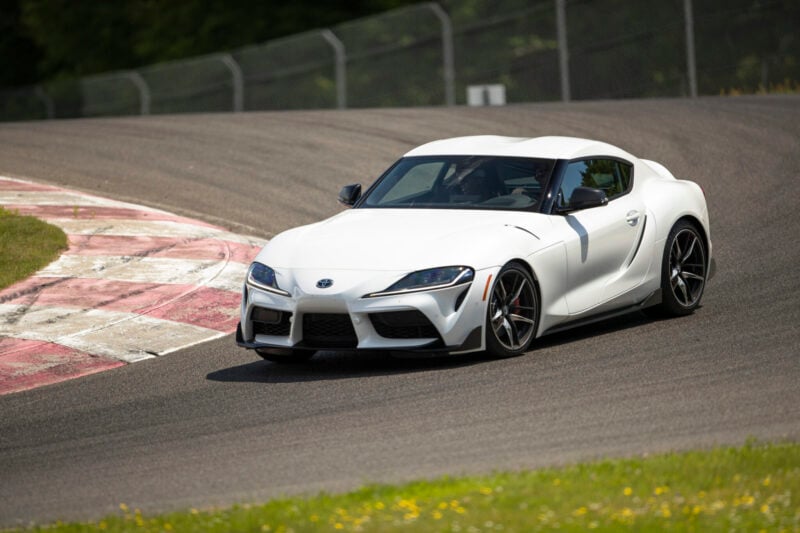 What else will tempt them?
Sticking to two-seaters, there's the Corvette Stingray, Nismo 370Z, Porsche 718 Cayman/Boxster, and the BMW Z4. The Corvette is on its way out for a vastly different, likely pricier mid-engined model. Nissan really ought to retire the Z at this point too. It's much cheaper than the Supra, even in Nismo form, but it can't match the Toyota's breadth of abilities.
The Porsche duo is a sterner challenge. They offer purer dynamics and the choice of a stick, but are saddled with a boring (if effective) turbo four. You'd be spending at least a few thousand in extras to match the Supra's specs too, nevermind if you want the more powerful 350hp versions.
Then there's the sibling. We haven't experienced the new Z4 yet, but it's hard to ignore. It's tougher on the wallet in six-cylinder trim, though if you want the open-air experience, that's the only option on this platform. There's also the M2 Competition, which should make for a very interesting comparison…
Widening the net there's the pony cars from Ford and Chevrolet. The Mustang and Camaro offer more pace and (barely) more space, but bring a few hundred extra pounds along for the ride. For Supra money you'd be looking at absolutely fully-loaded versions of the Bullitt or SS, or stretching to the slightly more expensive GT350 and ZL1. Both feature stonkingly fast engines — an 8,000rpm screamer in the GT350, and a huge 650hp in the ZL1 — but are very different propositions than the Supra.
Europeans gain a wildcard in the form of the Alpine A110. Read up on all the prime competitors in our Supra versus key rivals article.
What's the conclusion?
The new Supra was never going to please everyone. There are those that believe it should've followed the GT-R and NSX in the march upmarket. Nevermind that they probably weren't in the market for one anyway: when the Supra left our shores in '98, it was so expensive Toyota couldn't give it away.
Those that bemoan its BMW connection also ignore that if it weren't for the partnership, there wouldn't be a Supra at all. Given how accomplished this car is, with strong performance on road and track, attention-grabbing styling, and a compelling price, that'd be a shame. Considering this year's allocations are already sold out in Europe and Japan, we'd say Toyota made the right call.
Believe the hype: the Supra is back, and it's special.
Verdict:
Toyota GR Supra
Fast, capable, and comfortable, the GR Supra is an exciting return to form for one of the most famous of Japanese badges.
Learn more about
how our rating system works
.
Quick Facts
Power
335hp (340ps, 250kW), 365lbft (495Nm)
Layout
Front-engine, rear-wheel drive
0-60mph
4.1 seconds (est)
Top Speed
155mph (limited)
Price As Tested
$64,990 (CAD)
See more articles on Toyota and Toyota Supra.