Polyphony Digital has announced the official 2023 Gran Turismo World Series esports championship, which is set to begin this coming weekend on Saturday May 13 — and there's some major changes afoot.
Once again the series will be contested as two separate championships, with the Nations Cup for players representing their country and Manufacturers Cup which will see players pick a marque with which to associate themselves.
However the two championships won't run entirely concurrently as we've seen across the World Series events to date, but in two separate blocks. Nations Cup will run seven online rounds in May and June, with Manufacturers Cup following in June and July.
With the full Manufacturers Cup calendar yet to be revealed (Update 31/05: this has now been announced), the schedule is as follows:
2023 Gran Turismo World Series Nations Cup
Round 1 – 13 May – Circuit de Spa-Francorchamps/Gr.3 – 24 laps
Round 2 – 17 May – Fuji International Speedway/Gr.2 – 30 laps
Round 3 – 20 May – Deep Forest Raceway/Super Formula SF23 – 24 laps
Round 4 – 24 May – Autodrome Lago Maggiore GP/Gr.4 – 20 laps
Round 5 – 27 May – Autodromo de Interlagos/Gr.1 – 25 laps
Round 6 – 31 May – Dragon Trail Seaside/VW Scirocco Gr.4 – 28 laps
Round 7 – 3 June – Grand Valley Highway 1/Gr.3 – 30 laps
2023 Gran Turismo World Series Manufacturers Cup
Round 1 – 7 June – Circuit de Barcelona-Catalunya National/Gr.4 – 23 laps
Round 2 – 10 June – Road Atlanta/Gr.4 – 20 laps
Round 3 – 14 June – Nurburgring Endurance/Gr.3 – 7 laps
Round 4 – 17 June – Sardegna Road Track – B/Gr.3 – 25 laps
Round 5 – 21 June – Circuit de Spa-Francorchamps 24h/Gr.4 – 16 laps
Round 6 – 28 June – Watkins Glen Long Course/Gr.3 – 20 laps
Round 7 – 7 July – Autodromo de Interlagos/Gr.3 – 30 laps
Both act as qualifiers for a pair of live events later in the year, consisting of the World Series Showdown in August — which will take place in Amsterdam for the first time for a live event — and then the World Finals in early December at a location yet to be confirmed.
So far, so familiar, but Nations Cup is switching format from a solo tournament to a team event similar to the Manufacturers Cup.
This will see drivers vying for points for their nation during the seven online rounds, and the top 12 countries from around the globe will qualify for the live events. There each nation — five from the EMEA region, two each from North America, Central/South America, and Asia, and one from Oceania — will be represented by its top three drivers.
The same format will continue for the Manufacturers Cup, with the top 12 brands — including series partners Mazda, Genesis, and Toyota — heading to the live events with the best-placed driver from each of the three regions: Americas, Asia-Oceania, and EMEA.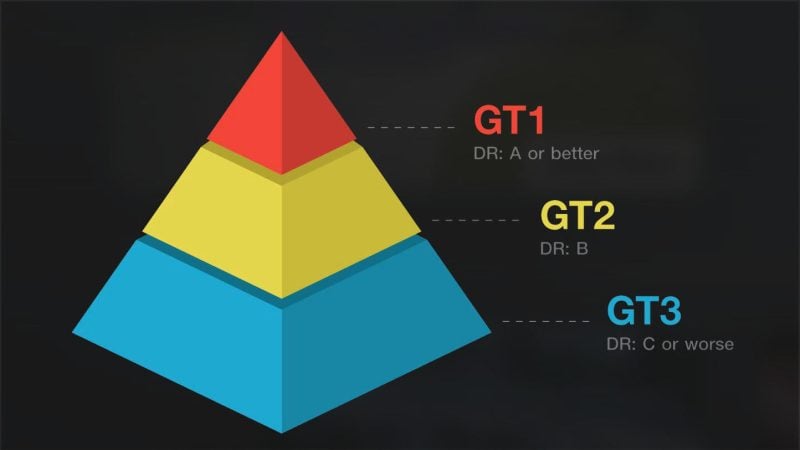 As we've seen in previous seasons, the championships will be divided into three leagues, with players slotting into one of the three depending on their Driver Rating when they first enter the event.
You'll need to be in the GT1 League in order to be eligible to reach the live finals, and also to experience the races in their championship format, requiring a Driver Rating of A or better to qualify.
Players with a Driver Rating of B head into GT2 League, with those at C or lower in GT3 League. The regulations here will be slightly different, and the races will be shorter in length. However there'll also be more chances to take part, with just three entry slots per round for GT1 League and ten for GT2/GT3 Leagues.
You can enter each round of the championship as many times as you wish, but be aware that only your last entry will count towards your tournament points tally — even if you are disconnected and score 0. However it's your best three rounds across the seven that determine your overall score.
We'll bring you more updates on the schedule, including Manufacturers Cup races, and the venues for the live events when we have them. Good luck to all participants!
See more articles on Gran Turismo World Series.