When we reviewed the Mitsubishi Eclipse Cross a few weeks back, we felt it was a nice step forward for a brand that has been in the doldrums.
Well, Mitsubishi isn't standing still and has introduced yet another new model this year. Sticking with the theme, it's another SUV, but this time it's a seven-seat affair that's intended to pick up the sales when the Shogun itself shuffles off later this year.
Dubbed "Shogun Sport", it's an Australian-market car now destined for the UK's roads. This week, we've been giving it a good work-out, both on and off the road.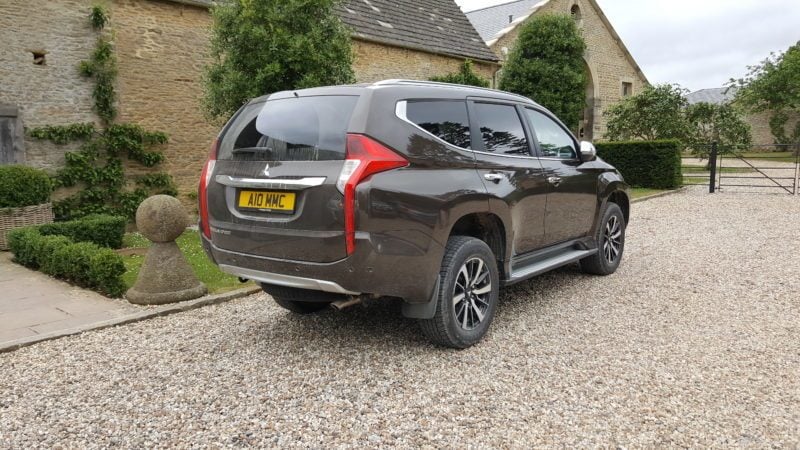 Is it a sporty Shogun?
No. And on both counts: it's not sporty and it's not a Shogun either.
Mitsubishi hasn't just rammed two words together for marketing purposes though. It's a throwback to the original Shogun Sport, which first arrived on the market in 1997. Back then it was a large, ladder-chassis SUV based on the brand's pickup truck — you may know it as the Pajero Sport or, more commonly, the Challenger (yeah, now our title makes sense, eh?). The modern version is exactly the same, in principle.
Beneath the skin, the Shogun Sport is a Mitsubishi L200 (also known as Triton) pickup. Behind the new, Eclipse Cross-esque "dynamic shield" fascia, it even uses the same 2.4-liter turbodiesel as the L200.
What are the new bits then?
While almost everything you can't see is the same as the L200, everything you can see is new.
The body and interior are all new, bringing a seven-seat layout and a much more car-like environment. Don't get us wrong, the double-cab L200 makes for a perfectly serviceable family car itself, but there's no hiding the truck's original purpose — it's all a bit wipe-clean. The Shogun Sport is, despite the agricultural greasy bits, a family SUV first.
There's also a new eight-speed automatic gearbox to improve on-road refinement and economy, with paddle shifters because… paddle shifters. Mitsubishi has also replaced the L200's rear leaf springs for a more sophisticated multi-link setup.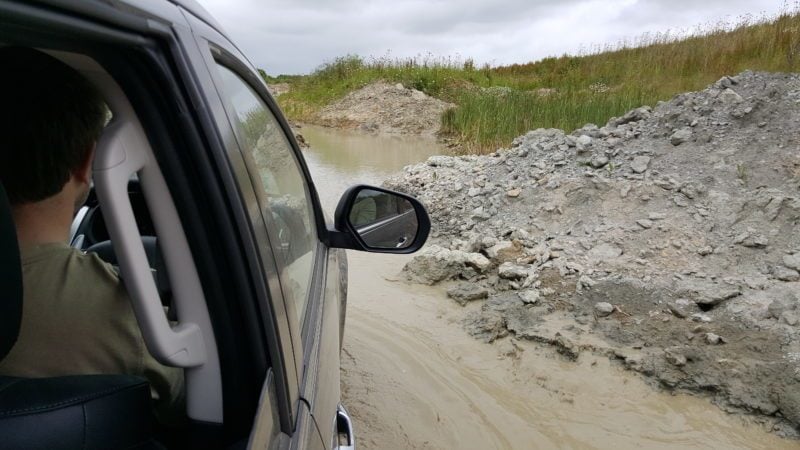 Is it more cultured on the road?
You might think that — after all, Mitsubishi has made all the right moves — but there's really not that much difference between the L200 and Shogun Sport. Getting down to brass tacks, we'd prefer to drive a distance in the Sho-Spo, but ultimately that really comes down to the heavier and less twisty back end and the fact it doesn't bang and rattle over every hint of a bump.
Perhaps we're doing it a disservice, but on most roads it's not the most civilized vehicle. It's not that it reacts particularly badly to lumps and bumps — it's certainly more noise than bounce — but it does rather reveal the pickup origins. As does the engine, which makes some very truckish noises a lot of the time.
This is made more obvious by the rather vague steering. Low speed corners and car park maneuvers require a huge amount of lock, and a significant central dead zone sometimes makes this more guesswork than anything else. That said, when you're done twirling the wheel, it does have a decent 36-foot turning circle.
Things pick up a lot on motorways though. As a long-distance car, the Sport is a decent place to be. On the standard 18-inch wheels there's not that much road noise and the resculpted mirrors drop wind noise to a more pleasant level.
Where the Shogun Sport comes most into its own element though is off the road. The Shogun Sport comes with Mitsubishi's Super Select II four-wheel drive system. This allows regular rear-wheel drive motoring for the fuel economy and, by the power of electricity, a set of low-ratio gears, and rear and center locking diffs for heading into the Australian Bush.
Around our quarry test route, the Shogun Sport wasn't stretched by anything. With 27-inch wading depth, 30° approach, 24.2° departure and 45° lateral angles you're going to have to go some to get into trouble. If extreme off-roading isn't your thing, there's also a set of simple presets called "Terrain Control System" that allows you to set the car up for gravel, mud and snow, sand and rock.
Chuck in a 3.1-ton towing limit and you can probably see the car's true purpose — a no-nonsense family workhorse.
What about the insides?
Sadly, the phrase "no-nonsense" usually equates to "horrible plastics, no toys". The Shogun Sport isn't exactly a major offender on this front, but quite a few of the interior materials are a lot nicer on the eye than they are to the touch. Most of the things you'll poke on a regular basis are better, although there are a few more old-school switches dotted about the cabin.
Specification is generally good. Mitsubishi will only sell two grades of the Shogun Sport, called "3" and "4". The "3" model includes full leather throughout, with electric seat adjustment in the front. The only change between the two grades here is that the "4" gains seat heating up front.
All cars also include the the seven-inch infotainment touchscreen. Like the Eclipse Cross this, curiously, omits satellite navigation in favor of Apple CarPlay and Android Auto. This means that navigation is only available to smartphone owners who don't mind using their data allowance — we got an alert from Vodafone while driving that we were using data on the supplied iPhones… It's a weird choice, considering how much other tech Mitsubishi bundles into the system. That includes a 360° camera on the higher spec cars.
Trailer stability control is also standard on all cars. For the £2,000 premium, the 4 model also packs in adaptive cruise control and a number of extra safety features. One of these bears the rather tongue-twisting name of "ultrasonic mis-acceleration mitigation system" (UMS), and essentially helps out when a driver stabs the wrong pedal in a car park.
You can't poke any holes in the car's practicality though. 131 liters in all seats up configuration is par for the seven-seat course, but this extends to 502 liters in five-seat mode and 1,488 liters with everything folded down. There's 72 inches of load length and you can, if you feel like it, stick a Euro pallet in the trunk. Little wonder Mitsubishi has made a commercial vehicle version of the Shogun Sport.
Who'll want it?
Mitsubishi's target audience is people who want or need a large off-roader, but don't want an overly complicated, expensive "Chelsea Tractor". It's also hoping that people who already have the original Shogun Sport, the Shogun itself, the Outlander (particularly the diesel) and L200 would consider swapping.
To be fair, it's a pretty niche crowd, which is probably why the original car sold just over 2,000 a year on average in the UK. The talents of the Shogun Sport are more suited to the country set for whom towing capacity and significant off-road abilities are most important. It won't be hard to imagine the car five-up and pulling a horsebox up over the Moors.
It's also likely to find some traction in fleets, particularly for companies operating in the wilds maintaining things like wind turbines and phone masts.
What would they buy instead?
It's a market sector that has become dominated by soft-roaders, as outright rock-crawling is less and less of a priority in heavily paved Britain. Mitsubishi has identified the Kia Sorento and Hyundai Santa Fe as targets on that basis, but we'd point a finger at the Nissan X-Trail as well.
Perhaps less realistic targets are the Toyota Land Cruiser and Land Rover Discovery Sport. These are cars that could sell on brand identity alone, even if they weren't so good at what they do (and they are). The price differentials may preclude any cross-shopping.
Also in Mitsubishi's sights is the SsangYong Rexton. As like-for-like rivals go, this one is spot on — the two brands even have similar origins in assembling the Willy's Jeep under license…
What's the conclusion?
Part of the charm of cars like the Shogun and L200 is that they are very deliberately agricultural. Neither is especially good on the road, but that's not the point. The point is that you work them hard in the day and you can, if you want, take the family out in them later on.
The Shogun Sport is an attempt to add a dose of civility to the whole thing, but it's ultimately not that much better on the road. That said, it's great that it's still so amazingly useful in working settings. The interior is a step ahead of its less couth brethren and, whether you like the quirky back end or not, it has a strong look.
For us it falls between the stools of Outlander-level comfort and the spirit of the Shogun — the unashamed cinder block of motoring. The eight-speed auto is a nice move towards refinement, but it'd be far more successful with an overhaul of the steering system and a change to the damper settings.
You probably won't need to worry about reliability though. Mitsubishi UK only sold 18,500 of the original car, between 2000 and 2007, and 65% of them are still on the road today.
Verdict:
Mitsubishi Shogun Sport 4
Feels every inch a converted pickup to drive, but decent kit, good looks and solid off-road credentials will serve it well
Learn more about
how our rating system works
.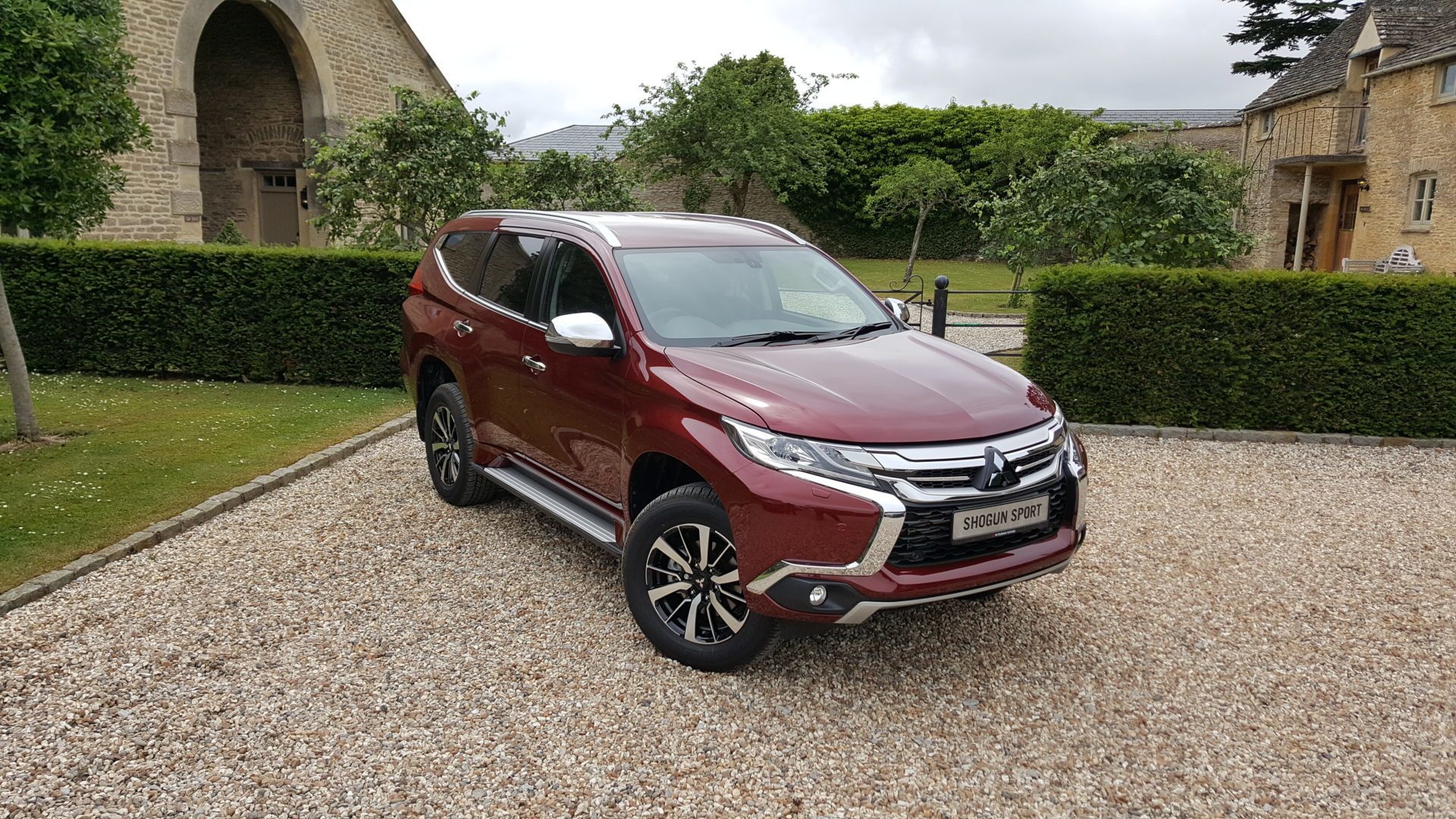 Quick Facts
Engine
2.4-liter turbodiesel
Power
178hp (181PS, 133kW), 317lbft (430Nm)
Layout
Front-engine, four-wheel drive
Top Speed
112mph (180km/h)
More Posts On...