Chances are you've read that review title and that's the first time you've even thought about Mitsubishi in a while.
It's a brand that has had its fair share of drama and change. 20 years ago it was making barely-disguised world rally cars for the road, fizzy hatchbacks and a literal supercar festooned with tech that's still rare on current vehicles. 10 years ago you could still get the rally cars, but it was more about the hardy pickups and proper trucks like the Shogun.
But the world changed on Mitsubishi and it became a casualty. It had a tiny, outdated product range and, Shogun and – rather revolutionary – Outlander PHEV aside, nothing really memorable. It got so bad that the shutters were about to come down when Nissan came in to buy the brand as a whole.
Even while all this was going on though, Mitsubishi was still developing new cars. This week we've been driving the last one it made before it became part of Nissan, the Eclipse Cross.
That's no Eclipse…
No, it's an Eclipse Cross. The "Cross" is important. While many of us may remember the Eclipse fondly as a small, sporty coupe – as driven by Paul Walker at the start of the very first Fast and Furious film – this very much isn't that. Mitsubishi has taken the name and… well, stretched it. Some of you may not be fans of the decision to use a badge more traditional of a sporty car in this fashion. Cars are always getting bigger and heavier anyway, so why shouldn't the Eclipse now be an SUV?
That aside, it is part of Mitsubishi's more recent reinvention as an off-road biased SUV manufacturer; that's probably part of what attracted Nissan, itself a crossover specialist, to snap it up.
What's new then?
It's an all-new car, so we'd be here for a good long time spelling it all out.
The Eclipse Cross uses a platform that should be relatively familiar. Co-developed with the then-DaimlerChrysler, the GS platform is under a rather surprising array of cars, including the Outlander (most obviously), Jeep Compass, Dodge Avenger and, for some reason, the Peugeot 4008.
There's quite a few similarities with the bigger Outlander, as it happens. Much of the underpinnings are Outlander, as is a good chunk of the front end – although Mitsubishi will tell you it's really more inspired by the XR-PHEV concept car. One thing that isn't shared though is our engine. That's an all-new, direct injection, 1.5-liter turbocharged petrol. Yes, that's one-point-five liters – 91 cubic inches.
For all the exterior similarities (well, as far as that weird split-level rear screen) to the Outlander, the interior is completely different. It's only the brand logo on the steering wheel that lets you know the cars are even slightly related.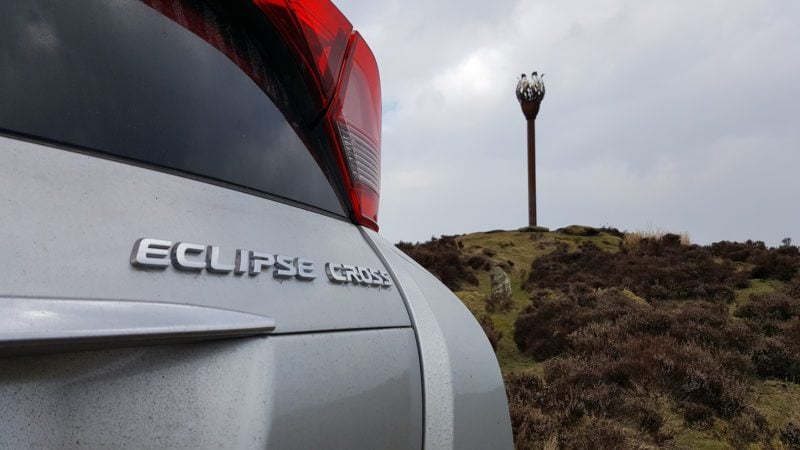 Great off-road, slow and soggy on it then?
Eh, not quite.
Bad news first. With the manual gearbox we have here, the Eclipse Cross isn't four-wheel drive, it's front-wheel drive. That means that almost all of the expectations you might have from the brand's off-road expertise need to go out of the window.
However, with that in mind, it's not actually a bad car on rough terrain. There's a good deal of ground clearance and, unless things get too boggy, it will make progress just fine. We took the car down the track in the images, with a few deep ruts, without any bother at all. Given that the Outlander, Shogun and L200 are all really rather good off-road, if you do get a 4WD version it should be rock solid.
The good news is that "slow" isn't really on the cards either, depending on your definition. It might only sweep a Coke can in each cylinder, but the new engine puts out 161hp. And while it seems big and heavy, in this specification the Eclipse Cross is lighter than any current BMW 3-Series.
That doesn't quite add up to hot hatch performance, but on paper it posts a 0-60mph time of 10.3 seconds — and that's rather conservative. More important than the power though is the torque. Again, there's not a demonic surge of thrust— 184lbft is fair if not spectacular — but it's present across much of the rev range. You'll find it gasping as you get near the redder bits of the tachometer, but from low to mid engine speeds it's rather eager.
As for the ride and handling, well that's a mixed bag. There's a lot to recommend it when it comes to comfort, particularly on the kind of roads you get up in British moorland and farming areas. It's fine on quicker, straighter roads too – almost relaxing, in fact. You'll notice more issues if you stick to city streets, and most obviously around asphalt that's tearing up or around speed bumps. There's a firm edge that just keeps it a few rungs down from the better cars in the class.
Yet the firmness doesn't result in sportiness. If you want to lash the Eclipse Cross down the bends you'll need to take a few brave pills first. It doesn't deal too well with rapid lateral weight transfer, although the stability control system will keep it from getting out of hand.
How does the cabin stack up?
Generally it's a remarkably pleasant environment. For the most part the bits you can poke are soft to the touch, while the bits that you can see are silvered or piano black. You don't have to poke too far before you reach some more brittle stuff, but that's not unexpected. There is one wrinkle in the materials, which comes by way of the two-piece surround on the infotainment screen. It's not the fact that it's faux-carbon fiber – Mitsubishi is hardly the first to use this material – but the fact it is two-piece. Sounds churlish, but you'll never, ever unsee the join now we pointed it out to you.
Layout is good for the most part, although the nice-looking tiered nature of the fascia means that the climate controls are a bit buried in a dark hole. That hole also provides a home for your mobile phone, although it's a little too small for some modern smartphones.
There is a bit of a curious mix of kit too. For instance, the infotainment system is a big, clear, 7-inch touchscreen… but it doesn't have satellite navigation. That's not just our spec, but any grade of the Eclipse Cross. Instead you've got the option of linking your phone up via Android Auto or Apple Car Play for a navigation feature. But the car does sport a head-up display, which seems like an odd thing to prioritise over standard navigation.
Other kit includes a powered, panoramic sunroof, a Rockford Fosgate speaker system and one of those cool 360° parking cameras, backed up with parking sensors at both sides.
The room is pretty generous too, and despite that trick rear end, you won't struggle to fit your head in the back unless you are outlandishly tall. It does impact on trunk space a bit, though 448 liters is still plenty.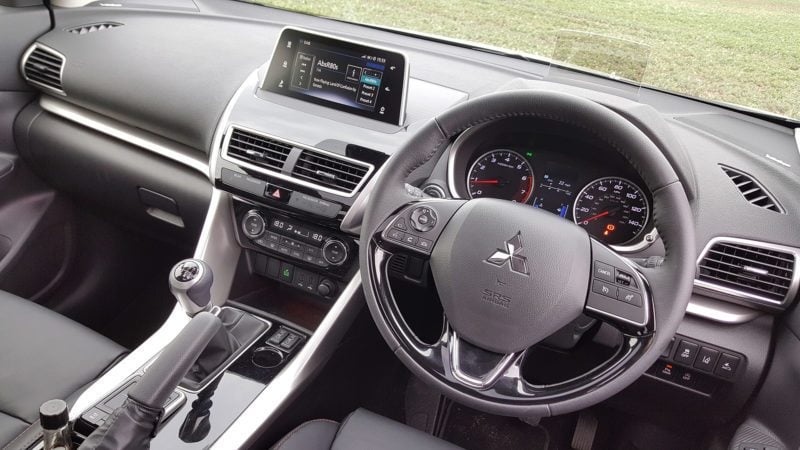 Who is the Eclipse Cross for?
Well, it's a C-segment crossover, and that means it's aimed at literally everybody. That's the point – they fill every role that normal hatchbacks do, with a slightly elevated driving position.
The lack of engagement means it's probably not going to sate the driving enthusiasts, but then people who love driving tend not to look at this market sector anyway. This is more a car to function as a main or only car for family duties – school run, supermarket trip and so on. Skipping out on a navigation system won't be a big deal for those who make regular journeys on the same route either.
What would they buy instead?
Remember when Tom Lehrer sang the names of the chemical elements to the tune of "I Am The Very Model of a Modern Major-General"? Or, if you're younger, when Yakko sang the names of the countries of the world to the Mexican Hat Dance? Well, naming alternative C-segment crossovers is a bit like that. So many cars. So many.
To pluck a few names randomly from a hat, the Eclipse Cross is up against the Nissan Qashqai (or Rogue Sport), SEAT Ateca, Skoda Karoq, Mazda CX-5, Ford Kuga and Volkswagen Tiguan. We see it more as a like-for-like rival to the Toyota RAV-4 though.
What's the conclusion?
Mitsubishi has been in the wars and, harsh though it sounds, a good chunk of that was of its own making. Some recent vehicles have not been up to scratch – the Mirage is consistently one of the lowest-rated cars in any market it's sold in, and the ASX is one of those cars you forget about entirely until someone mentions it.
The Eclipse Cross has quite a tide to turn then, and for the most part it manages it. The strong front-end styling immediately leaves an impression as does – whether you like it or not – that rather quirky rear. The cabin styling is far more flamboyant than many in the sector, even if it's not totally there with the class best in construction.
We'll need to concede that there's several cars in the sector that work better in individual areas (particularly handling) and as overall packages, but the Eclipse Cross has decent qualities and it combines into a nicely resolved vehicle. Whereas before you may have only considered a Mitsubishi if it was the closest dealer to your house, this is one that should be making your shortlist for test driving.
Verdict:
Mitsubishi Eclipse Cross 4
Not up with the class best, but the Eclipse Cross is a likeable – if a little flawed – entry to the sector.
Learn more about
how our rating system works
.
Quick Facts
Engine
1.5-liter turbo petrol
Power
161hp (163PS, 120kW), 184lbft (250Nm)
Layout
Front-engine, front-wheel drive
Top Speed
127mph (205km/h)
More Posts On...