Although it didn't top our staff poll for best Gran Turismo game, GT4 is nonetheless among the best — and best-remembered. Like GT2, its large and wild car list introduced the world to all sorts of bizarre machines that hadn't twitched the needle beyond their own circles.
One such car was the Amuse Carbon R. The menacing black machine from famed Japanese tuning shop Powerhouse Amuse first appeared in GT4, and — if you happen to have a spare million dollars — you can now own the one-off car yourself.
The Carbon R was an experiment from Amuse's founder, Hideki Tanabe. Amuse was far from alone in tuning the R34 Skyline GT-R, but for most the strategy was simply to add as much power as possible. Companies spent tens of thousands of dollars beefing up the RB26DETT engine, almost to the point of being unrecognizable, to pursue four-figure power outputs.
Tanabe's plan was different. Instead of winding up the power, he wanted to dial down the weight. A regular R34 GT-R came in at some 3,400lb (1,500kg), and even though the factory quoted 276hp was incredibly pessimistic, that's a lot of weight to haul about. Speaking to Option magazine, back in August 2006, Tanabe stated:
"It's unmistaken that the RB26DETT is one of the greatest pieces of machinery ever built. However, the chassis that carries one of Nissan's most coveted creation weighs in at over 3300 pounds; it serves as a great opportunity to shave some weight. By doing so, 120% of the potential of the RB26 can be extracted."
When Tanabe says "some", he too was being pessimistic. The Amuse Carbon R comes in at almost a full 1,000lb lighter than the stock GT-R, weighing in at 2,400lb (1,067kg).
That's achieved by a number of methods, but the primary one is given away in the car's name. Amuse stripped the white GT-R back of all its body panels, and replaced every single one with custom-made dry carbon-fiber items. That includes the doors, hood, front and rear fenders, wings, rear wing and diffuser, and even the headlights. All that remains externally of the original car are the roof and A- and C-pillars.
The weight-saving doesn't end there either. The Amuse Carbon R sports polycarbonate windows and a bare-bones stripped interior (the internal door cards are — you guessed it — also dry carbon fiber), and Amuse even ditched the fuel tank. There's now a 20 liter fuel cell in the trunk.
All the GT-R's complex four-wheel drive machinery adds weight too, so Amuse got rid of it and converted the Carbon R to rear-wheel drive, using a Nissan 300ZX six-speed gearbox and driveshaft.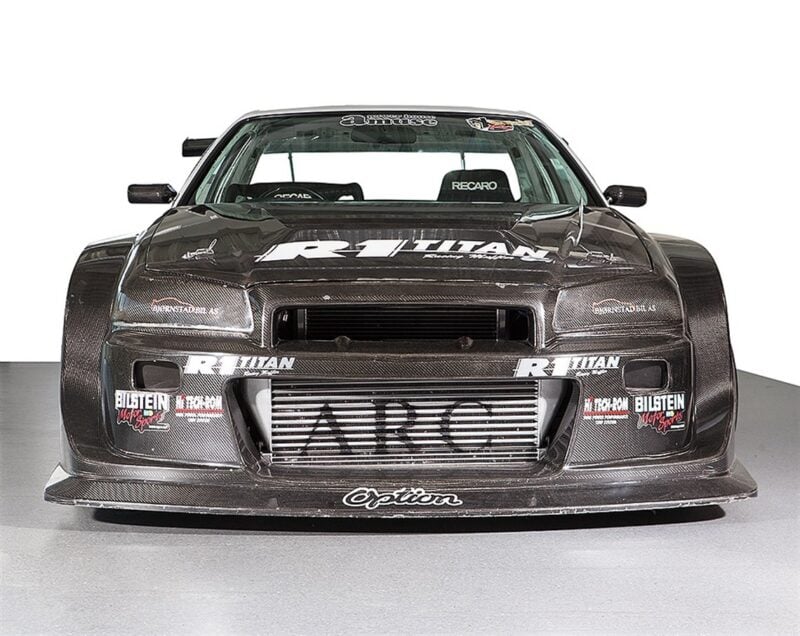 Amuse didn't entirely neglect the power aspect though. It enhanced the RB26DETT with N1 pistons and HKS cams, new intercooler, radiator, intake and titanium exhaust, plus a pair of its own GT-RS turbochargers. That makes the Carbon R good for some 520hp, and a power-to-weight ratio of 485hp/ton.
With all that put together, the Carbon R managed a 57.267s run of the Tsukuba Circuit back in 2002. For context, that's some two seconds faster than Nissan itself has managed in a 2020 NISMO GT-R.
The Carbon R ended up as a centerpiece in Powerhouse Amuse's shop in Kisarazu City, Chiba Prefecture, but after Tanabe's death in 2008 Amuse reportedly sold the car to a new owner in Europe. It has previously come up for sale, a couple of years ago, seemingly in the hands of someone in Norway, but has popped up again with a new owner in Germany.
If you're feeling particularly weighed down with cash right now and want the most expensive Gran Turismo collectable in the world, you can find the car's advert on RaceCarsDirect here.
Thanks to Mikey T for the tip!
More Posts On...