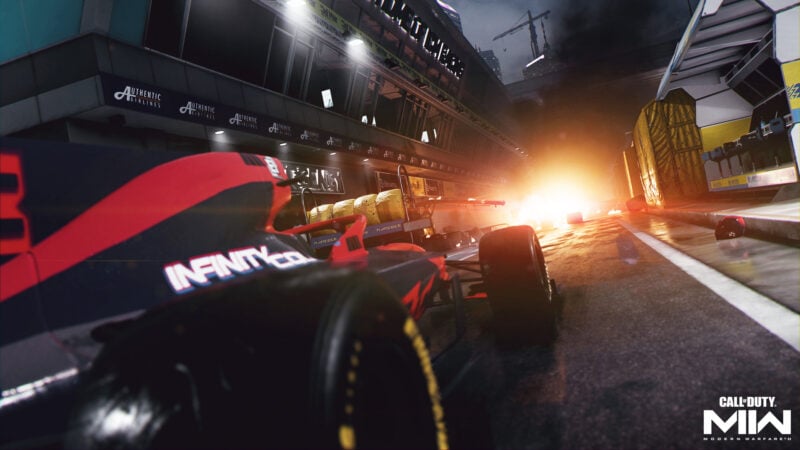 Fans of Formula One will have a new AAA game to get their F1 fix this September, and from what we can only describe as a very unexpected title: Call of Duty Modern Warfare 2.
As strange as it may seem, developer Infinity Ward has chosen Singapore's Marina Bay circuit to host a map for players to battle through in the first-person shooter when it launches in the autumn.
According to the official IW social media, this will be a 6v6 multiplayer map, rather than a location which hosts part of the main story. That means that we're unlikely to see anything as controversial as the "No Russian" mission from the other Call of Duty Modern Warfare 2 — which launched in 2009 and isn't technically related to the 2022 game.
The quick "flythrough" video shows off a lot of interesting detail, with the pit lane and pit garages a primary focus. However lots of public areas all seem to be part of the map, but the playable area looks to be hemmed in by the circuit itself — upon which the cars appear to be driving round oblivious to the gunfire and explosions.
As well as the natural obstacles of the buildings, F1-style cars — more akin to 2021 models than the new regulation 2022 cars — a safety car and a high-performance fire engine all appear in the clip. Given how prone to explosions vehicles are in Call of Duty games, we dread to think what a 140-liter tank of E10 will be like.
However IW appears to have played it safe with regards to just how close to the real thing these vehicles are. It's also pretty apparent that there's no official F1 branding, or any reference to any of the real drivers anywhere.
The clip appears to be centered around the paddock area of the Marina Bay Circuit, and it's likely all the action will be similarly confined. At nearly a mile end-to-end, the track is too large for 6v6 multiplayer and the Turn 8/14 pinch point would be a focus for endless noob tubes.
Infinity Ward has announced that the map will be part of the multiplayer beta for MW2. PlayStation users will get access first, on September 16 for early access and September 18 for all players, before Xbox users join in on September 22/24 — despite Microsoft's impending acquisition of publisher Activision Blizzard.
Call of Duty Modern Warfare 2 launches on PC, PlayStation 4/5, and Xbox One/Series on October 23.
See more articles on Call of Duty and Formula 1.