Man, time flies when you're having fun doesn't it? The good news is we're approaching the halfway point of the month, which means an update for Assetto Corsa Competizione is due.
Early Access players may now acquaint themselves with a new toy: the Ferrari 488 GT3. Things are starting to liven up as players now have access to four GT3-class racing machines. With last month's update adding multiplayer, online racing gets a little more interesting.
The Prancing Horse isn't the only thing new in today's update, as a fresh track location joins in on the fun too. The Hungaroring is best known as a venue on the Formula One calendar. With 14 turns on its 2.72-mile course, it's a technical affair. You'll need to keep a disciplined line for a good lap time as the track makes its way to ACC.
Another major addition with today's update is the inaugural version of the Broadcasting Software Development Kit. This will allow modders to work their magic and create overlays fit for livestreams. With ACC geared toward competitive racing, you can already picture where things may head. It's sure to become a popular feature moving forward.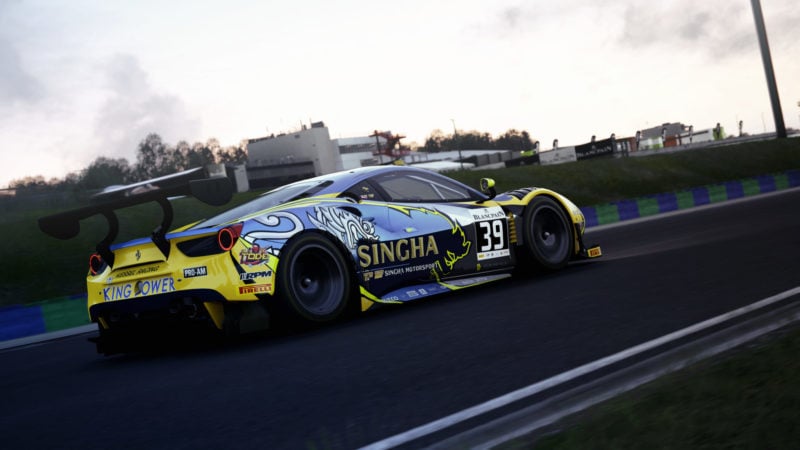 Players can access the Broadcasting SDK through an open source app. This gives them features such as:
Live timing updates: cars, drivers, race numbers, teams, track data, categories, positions+pic, deltas, laptimes, splits, session information, etc.
Track + condition live updates: temperatures, (rough) rain and wetness, cloud level
Tracking: Focused car is updated live and can be set via API
Camera control: Active camera is updated live and can be set via API
HUD: Active HUD page is updated live and can be set via API (also note we have 2 new HUD pages for shared use, so you can e.g. cycle through "Blank", "Timetable", "Broadcasting")
Live replay: Instantly jump back to a certain point and show a replay just by time and duration, or use one of the events
Networking: Applications are free to connect to multiple ACC clients, and clients will accept multiple connections from different controller applications. This should allow a flexible setup allowing multiple broadcasters across the world to collaborate and for example let one master application control what the audience and commentators see, so they will never again comment on something that isn't even on the livestream
Future versions of the SDK will support even more features, including weather forecasting, pit stop and tire data, and a full spectator mode.
You can still pick the Early Access game up for $39.99 (€34,99), and receive all previous and future releases. This includes the game's full retail release in summer 2019. You'll want to act with relative haste as the price will increase €10 come mid-January.
More Posts On...