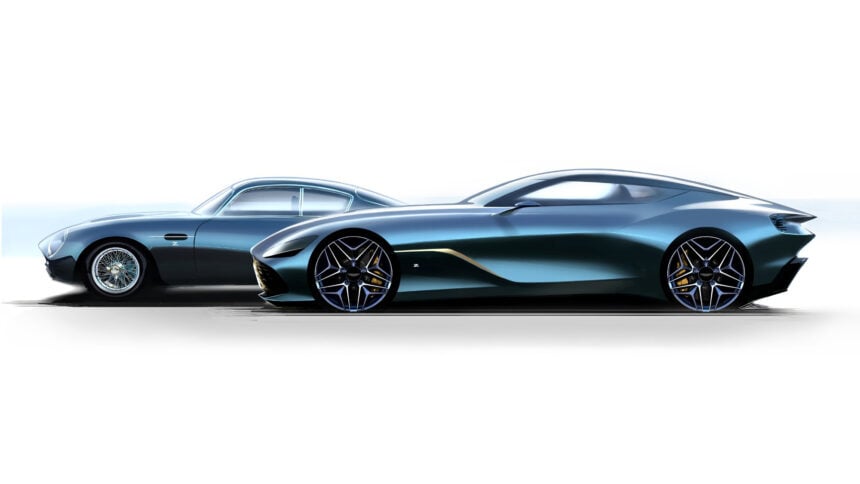 Aston Martin has revealed concept drawings of its new DBS GT Zagato, but if you want one there's a very slight catch.
Due for delivery in late 2020, the DBS GT Zagato is the latest collaboration in the 60-year relationship between Aston Martin and Zagato. It's based on the DBS Superleggera, Aston Martin's current most-powerful series production car.
It features classic Zagato cues, such as the "double-bubble roof". For the DBS, this roof piece extends all the way to the rear of the car, resulting in a vehicle with no glass rear screen at all. In fact Zagato will rebody almost the entire car, with unique headlights and characteristic front grille.
Aston Martin and Zagato will build just 19 of these cars, but if you want one you can't have one. There is no price on the DBS GT Zagato, and that's because it's only available as part of a two-car collection.
The DBZ Centenary Collection will feature not only the DBS GT Zagato, but the car that started the relationship off: the DB4 Zagato. Aston Martin is building 19 "continuation" versions of the DB4 Zagato — vehicles built to the exact specification of the original — to celebrate Zagato's 100th anniversary this year.
Each DBS is paired to a DB4 and the cars are not available separately. The price for the duo is £6m ($8m) before local taxes, making each among the most expensive and rarest cars ever made. They'll have some way to go to match the $13.3m auction price for an original DB4 Zagato "2VEV" from the 2018 Goodwood Festival of Speed though.
Marek Reichman, Aston Martin Lagonda's executive vice-president and chief creative officer, said:
"In the DB4 GT Zagato Continuation we have one of the world's most beautiful and instantly recognizable pieces of car design. Creating a car fit to stand alongside it was always going to be a formidable challenge, but also a great motivation.

"Both design teams at Aston Martin and Zagato have together risen to the task magnificently; taking the already fabulous DBS Superleggera and shaping something which retains its identity as an Aston Martin, but expresses itself as only a Zagato can. Sensational-looking and extremely rare, it is the modern incarnation of a timeless icon."
More Posts On...