Aston Martin has recently been hosting a special event for its VIP Le Mans guests, and apparently surprised them with a special guest of its own.
As shown in this promotional image with tennis champion Serena Williams, the company brought a nearly production-ready version of its Valkyrie hypercar.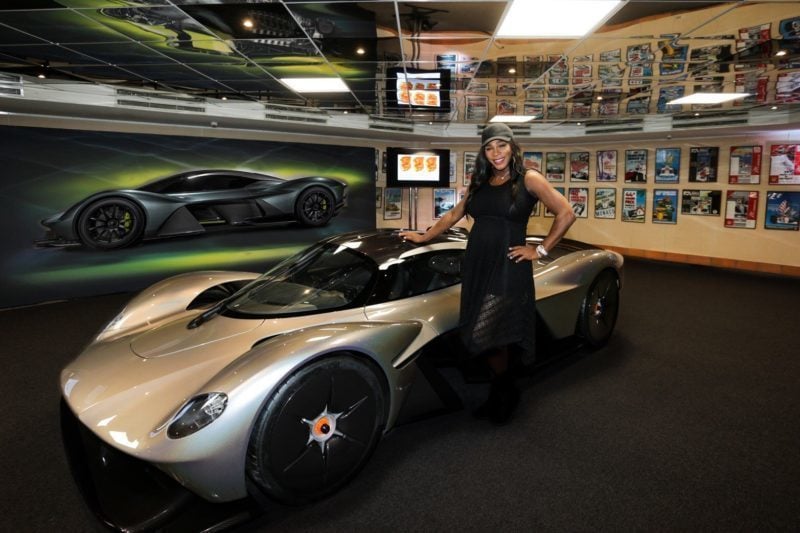 If you've missed it, Valkyrie is the company's new name for what was previously known as the AM-RB 001. The car is a collaboration between Aston Martin and Red Bull Racing, to make an F1-inspired road car.
Valkyrie will use a naturally aspirated, 900 hp Cosworth V12, paired to a Ricardo seven-speed automatic gearbox. A target power-to-weight ratio of 1hp/kg (1,016hp/ton) means that the car will use a lot of exotic materials in its construction.
It will use a carbon fiber tub built by Multimatic, the same company responsible for the Ford GT. The wheels too are clearly carbon fiber, saving that all-important unsprung mass.
As we can see from the image with Williams, the Valkyrie is no more than four feet tall. She wasn't the only person in attendance at the Aston Martin Art Of Living event, held in Monaco, and others shared their own images and thoughts.
https://youtu.be/d0rSvS0ciYg
Despite the quality and orientation issues, this video shows several more details. The interior is a far cry from the usual Aston Martin luxury. Instead it's a simple form with three information screens cascading away from the driver. There's also new headlights and tail lights, made by British LED specialist Wipac.
The images also make it clear just how much aerodynamic knowledge has gone into the car. With Adrian Newey's hand at the tiller, it shouldn't be much of a surprise. That said, the Valkyrie's diffuser is absolutely monstrous.
Aston Martin isn't the only company currently making a car of this type. Mercedes-Benz is making one of its own — and now it seems like the game is truly on.
See more articles on Aston Martin, Red Bull, and Valkyrie.