As Aston Martin winds production down on the old Vantage in favor of the new car, it's decided to give it a bit of a send-off.
Dubbed the V600, this special edition Vantage is, in-part, a 20th anniversary celebration of one of the brand's most famous cars. The original Vantage V600 was a brutal, twin-supercharged, 600hp beast. Briefly the most powerful production car available, the 200mph V8 Vantage had a similarly daft, $500,000 price tag.
2018's V600 is a slightly different animal. For a start, the Noughties car is over 440lb lighter thanks to the bonded aluminum VH chassis. It's also based on the V12 Vantage, and produces 592hp with a naturally aspirated engine.
That's 27hp up on the stock V12 Vantage S and, like that car, the V600 uses a seven-speed manual gearbox. Aston hasn't published any performance figures, but we reckon it'll make some marginal gains over the Vantage S's 3.7s 0-60mph time and 205mph top speed.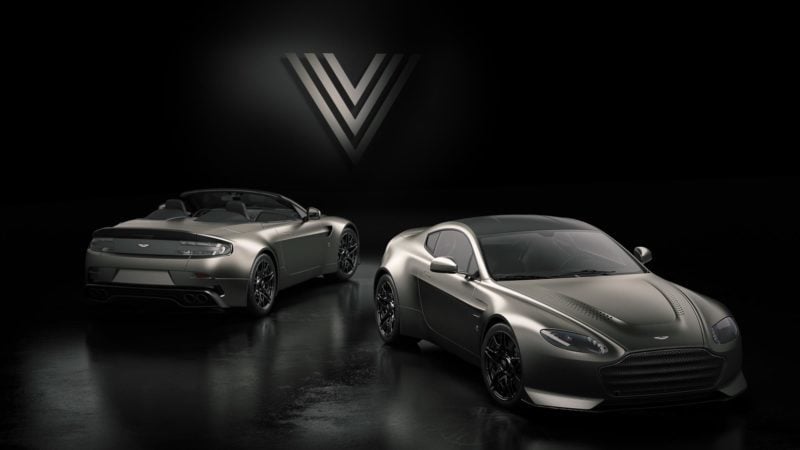 Aston has given the car a few styling nods towards the original. Aside from the odd tweak to the body work, there's a larger bulge on the hood and a larger, darkened grille. That assists with the required cooling for the extra power.
At the rear there's a unique carbon fiber diffuser and quad exhaust system. You'll also find forged aluminum centerlock wheels made just for this car.
The cabin continues the dark theme. There's plenty of carbon fiber but also lashings of dark anodized aluminum. There's lightweight seats, a carbon fiber center console even unique driver information dials for the V600.
The car is actually a commission through Aston Martin's "Q" branch. One customer clearly wanted something a bit special to remember the car by. Marek Reichman, chief creative officer at Aston Martin said:
This is precisely why we created our 'Q by Aston Martin – Commission' service. Our customers can create truly bespoke sports cars by personally collaborating with myself and Aston Martin's design team. The V600 name remains a classic in Aston Martin's heritage and I'm proud to see it adorn the V12 Vantage V600 once again.
Aston Martin will only produce 14 V12 Vantage V600s, with seven each of the coupe and convertible models. They're available on request, which also explains why Aston Martin isn't discussing a price.
The run of 14 cars will be the last Aston produces on its VH platform, which it debuted with the Vanquish in 2001. Should you want one, you'll need to get in quick; Aston Martin will deliver the cars in the third quarter of 2018, and that will be that.
More Posts On...