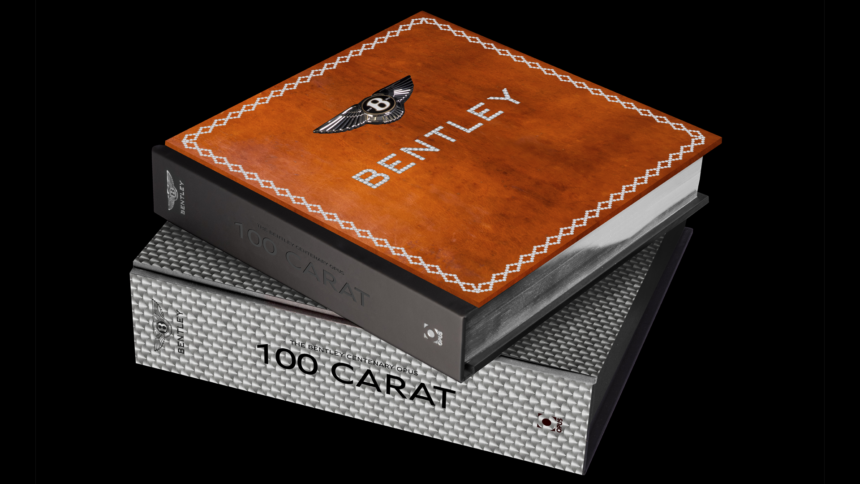 Bentley is celebrating its 100th anniversary this year. To mark this milestone, the brand is rolling out a complete history of its company with a new book. However, don't expect it at your local Barnes & Noble or Waterstones.
It's called the Bentley Centenary Opus, and it's about the most impressive book we've ever seen. The book comes in at over three feet wide when opened, and tips the scales at a whopping 66lb (30kg). Bentley says that's the heaviest automotive history book ever published, and who are we to disagree.
With nine chapters spanning over 800 pages, it's as comprehensive a brand archive as you'll ever see committed to print. Naturally it's packed full of glossy photos, including never-before seen photos, plucked from deep within the Bentley vaults.
Opus, a specialist in luxury book publishing, binds the book by hand with the same leather you'll find in Bentley's cars. Customers even get to choose the color too, so they can match it to their own car if they wish.
While that might seem pretty opulent, Opus and Bentley aren't quite finished there. A special run of seven (one for each continent) 100 Carat Edition books will feature 100 carats worth of diamonds on the cover surrounding the company's logo. The badge itself is identical to those on the Centenary model cars, finished in either white gold or platinum.
If you think this sounds expensive, you're right. The top-tier 100 Carat Edition comes with a price tag of £200,000 ($256,000). That's only marginally less than the price of the flagship Bentley Mulsanne we tested earlier in the year.
Thankfully, there are more affordable options too. For a mere £12,500 ($16,000) customers can choose the Mulliner Edition. While still pricey, each of the 100 books comes with watercolor paintings of 56 Bentley models on silk paper. There's also a selection of 20in x 24in Polaroid Portraits too, marking the first time the world's largest Polaroid camera has been used to photograph cars.
The Mulliner Edition also gets a unique piece of Bentley history. Each book has a piece of a front-left tire of Bentley's 24 Hour of Le Mans-winning Speed 8 race car. The car actually used the tire in the race, and Opus inlays the piece into the inside cover of the clamshell presentation box.
If that's still a bit too rich for your blood, there is a less expensive third choice. With a price tag of a mere £3,000 ($3,800), the Centenary Edition is a little more obtainable, even if it's around 190 times pricier than a standard hardcover new release. That's limited to a run of 500 items.
There's a number of bespoke features for each book too. Customers will get the opportunity to have their own car photos on special pages in the book, including their Bentley story as part of the 100-year history. Mulliner Edition owners can also request that Opus photographs their cars to the same professional standards. Just to complete the personalization process, you can have your name on the cover too — in gold or silver.
Bentley staff members also sign the books, but whose signature you get depends on the edition. For the Centenary Edition, this includes Design Director, Stefan Sielaff. For the Mulliner though, you'll get chairman and CEO Adrian Hallmark's autograph.
If you want to get your hands on one of these books, you can inquire through the Opus website.
More Posts On...