Bentley has revealed a very special Flying Spur from its bespoke creation arm, Bentley Mulliner, which it states is a commission for a "world-famous customer".
It's called the Reindeer Eight, and it represents something of an upgrade from the customer's current ride. Rather than a sleigh pulled by eight cloven-hoofed ruminants, it's 17-feet of Bentley pulled by eight cylinders.
Mulliner's specification for the Reindeer Eight sticks with a traditional color scheme. The exterior paintwork is a new, unique shade called Cricket Bauble, based on the existing Cricket Ball red.
At the nose you'll find a new hood ornament. There's a gold, 3D-printed reindeer which replaces the traditional Flying B, and there's plenty of other gold accents too. Hand-painted gold styling lines on each side trail the gold Bentley wing badges, and the chrome hood strip has a gold retrim.
The carbon styling package also features gold finishes, with gold splitter, diffuser, side sills, and boot lid spoiler. V8 badges on each side are now unique gold Reindeer Eight badges.
Naturally the 22-inch wheels are also gold and — of course — fitted with all-season tires. A diamond-pattern finish adorns the lower half of the car, representing snowy mountain peaks far below.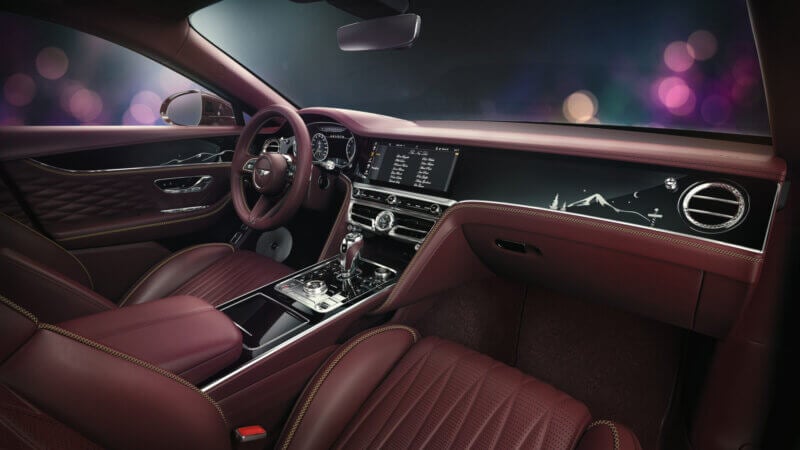 This theme continues on the inside. The seats all feature the same Cricket Bauble coloring, along with gold cross-stitching — which represents 18 hours of work and uses 115 meters of thread. Bentley comments that the owner's name is also stitched into the driver's seat, along with his wife's name ("Mary Christmas", we assume) in the front passenger seat.
A grand black veneer panel across the dashboard and through into the doors themselves features a North Pole winter night scene. The engine start button plays a sleigh bell sound as it reveals the 12.3-inch touchscreen via the rotating display. This apparently store a Naughty and Nice list…
According to Bentley, which hasn't officially revealed the customer's identity, the new owner is "looking forward to putting 41 million miles on the clock before the end of the year". We can't think of a more comfortable way to do it.
If you're keeping an eye on NORAD's Santa Tracker this year, remember you're not looking for a sleigh flying past, but a a Bentley Flying Spur…
More Posts On...