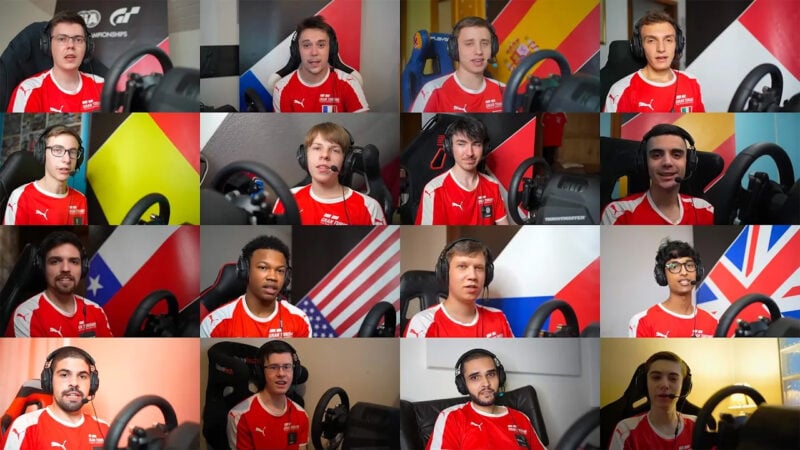 As Gran Turismo fans are likely aware, August 5 is the birthday of series creator Kazunori Yamauchi.
Yamauchi turns 54 years old today and, to mark the occasion, Gran Turismo's video production partner company Blackmonkey has produced this surprise birthday video card.
The video includes birthday wishes from very many of the FIA Certified Gran Turismo Online Championship drivers, as well as personal messages from world champions Igor Fraga, Takuma Miyazono, and Daniel Solis, and Olympic champion Valerio Gallo. There's even one rendition of Happy Birthday To You from Richard Castro…
As well as the messages there's a short sequence showing some of the celebrations from a number of the World Tour events — which unfortunately could not take place throughout 2020 or 2021 — including the World Finals, showing the dozens of drivers who have become part of the Gran Turismo family.
Yamauchi responded to the surprise video card by saying "Thank you for your birthday message. I received a wonderful video message from the players. Next year will be the 25th anniversary of the "Gran Turismo" series. I will continue to dedicate myself [to it]".
Of course 2022 not only marks the 25th anniversary of Gran Turismo, but the scheduled launch of the next game in the series, Gran Turismo 7, so there's plenty to be excited about. It would also be the third successive game to launch in a notable anniversary year, following on from Gran Turismo Sport's launch in the 20th anniversary year, and GT6 which was tied into a global 15th anniversary promotion and celebration.
GTPlanet would also like to add our birthday wishes too, so happy birthday Kazunori Yamauchi!
See more articles on Kazunori Yamauchi.