When Bugatti revealed the Divo last year, it said it signaled a return to the brand's coachbuilding tradition. Today it's unveiled a car which very firmly rubber-stamps that statement.
Bugatti calls it "La Voiture Noire" (The Black Car), and you're looking at the most expensive new car in the world. How expensive? A cool €11 million ($12.5m)… before tax. With the local inland revenue office taking its cut, that's reportedly well north of €16m ($18m).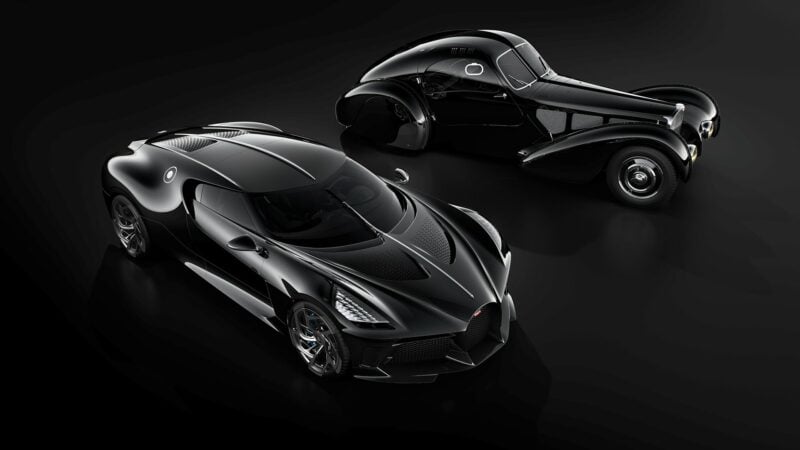 LVN is a one-off creation for an un-named "Bugatti enthusiast". The individual in question has a fascination with one of Bugatti's most famous cars: Jean Bugatti's own 1936 Type 57SC Atlantic, also known as La Voiture Noire.
The modern car is, according to Bugatti, a reinterpretation of the original. Aside from the obvious differences in engine placement, Bugatti has tried to recreate the ethos behind the pre-war car but with modern forms and technology.
Naturally the end result looks quite different. The two cars share the prominent center ridge line — and the deep black gloss paint — but otherwise there's few similarities.
However, that's not to say it's not met the goal. As Bugatti president Stephan Winkelmann points out, the car reflects modern design just as much as the 1936 car reflected the French culture of its time.
Part Chiron and part Divo, LVN has some unique touches that distinguish it from both. Styling flourishes include the wraparound glass house — which resembles a helmet visor — while the car's nose is considerably longer too. Bugatti has hand-made every single component on the unique carbon fiber body, which likely accounts for a significant portion of that price tag.
Of course as a modern Bugatti, the LVN sports the 8-liter, quad-turbo, W16 engine, good for 1,479hp and 1,180lbft. There's a minor difference in the car's exhaust system, with six tailpipes instead of the usual four.
Speaking at the car's unveiling, Winkelman commented:
"The true form of luxury is individuality. 'La Voiture Noire' is now at the cutting edge of automobile production. It is a sculptural beauty with unique technology, the ideal grand tourisme. 'La Voiture Noire' is a far more than a modern interpretation of Jean Bugatti's Type 57 SC Atlantic. It is a feast of aesthetics"
One thing Bugatti hasn't yet revealed is the car's interior. The suspiciously tinted windows prevent us getting any kind of look at the inside, although we're sure the unidentified owner will be happy with it.
You'll be able to catch La Voiture Noire on the Bugatti stand at the 2019 Geneva Motor Show through to March 17. There it'll sit alongside the less expensive and more common Chiron 110Ans, built to celebrate the marque's 110th anniversary.
See more articles on Bugatti and Geneva Motor Show 2019.