After a tease lasting a little over a month, Bugatti has taken the cover off its newest model.
Keeping with tradition, the model is named for a famous Bugatti driver of years gone by. It's called "Divo", in honor of Albert Divo. Divo won the Targa Florio endurance race twice in the late 1920s, driving a Bugatti Type 35.
While Divo is its own new model, it shares a great deal with the Chiron. Indeed just about everything beneath the new body — which the brand terms a "modern interpretation of Bugatti's coachbuilding tradition" — originates from the Chiron. However the two cars differ in purpose. While Chiron is luxurious high-speed machine, Divo, according to Bugatti, "is made for bends".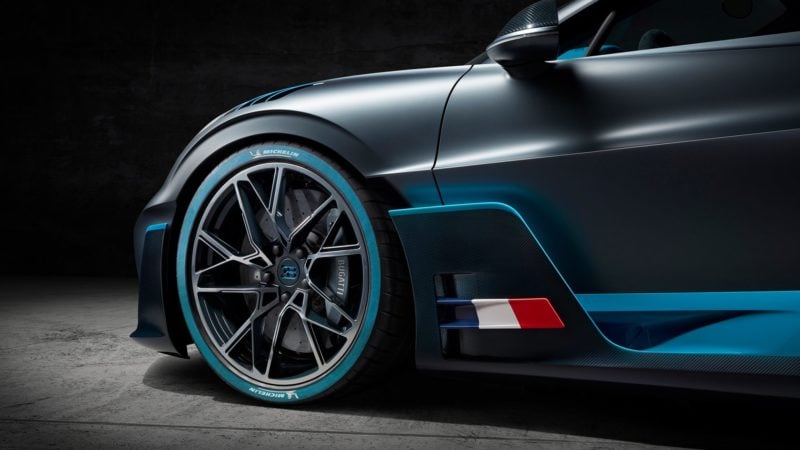 This starts with new suspension settings. Bugatti has adjusted the standard Chiron geometry, including increasing the wheel camber, in order to give the Divo more stability in the bends at the expense of straight-line performance. Although somewhat vague on the details, Bugatti will say that the Divo has a higher lateral acceleration figure, at 1.6g.
Part of this comes down to reworked aerodynamics. The Divo no longer needs to slice through the air efficiently in pursuit of the last tenth of a mile per hour. Instead it can put that air to work creating downforce. There's a new, wider rear spoiler and a reworked front end, including a new splitter and reworked intakes. All in, this adds up to an extra 200lb downforce over the Chiron.
Although it may seem like a token effort, Divo is also 77lb lighter than the Chiron. This is mainly achieved through the even more extensive use of carbon fiber and a reduction in the sound deadening materials. Lightweight wheels cover carbon brake discs, reducing unsprung weight.
All stacked up, the Divo can get round the 3.85-mile long Nardo handling circuit over eight seconds quicker than the Chiron. That's three seconds better than even the Chiron Sport.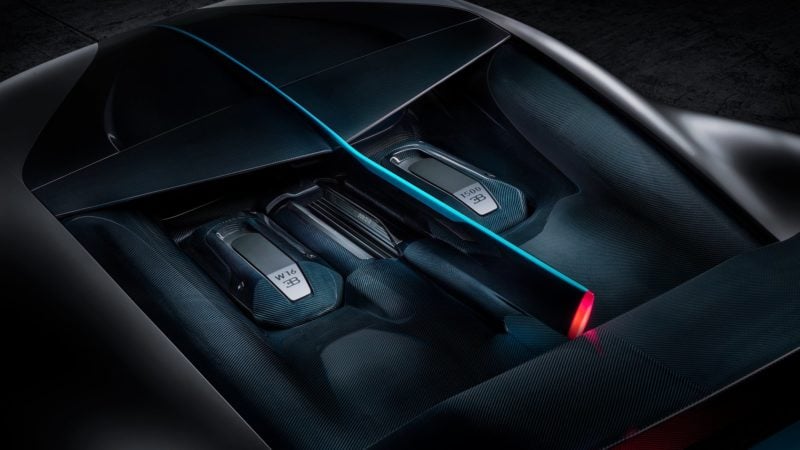 If a lofty top speed is still important to you, fear not. Divo still packs the potent 1,479hp, eight-liter W16 engine, driving a seven-speed dual-clutch gearbox. It will still reach a limited top speed of 236mph, although that does make it the slowest car Bugatti has made in a quarter of a century.
Should all of this be enough to convince you to buy, you're a little too late, sadly. Bugatti showed off the car to a small group of hand-picked Chiron owners earlier in the year, and immediately sold all 40 cars. That's despite a list price of €5m ($5.8m) before tax. Yes, that's the price of two Chirons.
Bugatti president Stephan Winkelmann said:
"When I took up my position at Bugatti at the beginning of the year, I soon learnt that our customers and fans were waiting for a special vehicle which would tell a further story for the brand in addition to the Chiron. The Bugatti team was also very eager to implement a project like this.

"To date, a modern Bugatti has represented a perfect balance between high performance, straight-line dynamics and luxurious comfort. Within our possibilities, we have shifted the balance in the case of the Divo further towards lateral acceleration, agility and cornering.

"The feedback from our customers was overwhelming. We showed the Divo to a small group of selected Chiron customers. All 40 cars were sold immediately – this was fantastic confirmation for the Bugatti team which had put so much dedication and passion into the project."
See more articles on Bugatti.