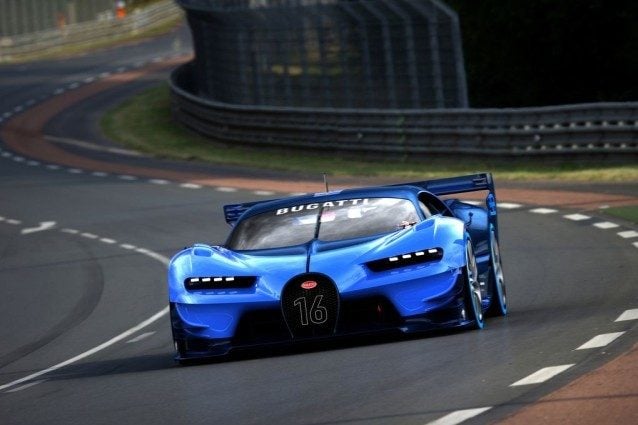 The Frankfurt motor show may only open to the public on September 17th, but Bugatti has taken advantage of the press days beforehand to reveal a life-sized model of the virtual Vision GT car it has been teasing us with for weeks.
Further information on the car itself is still somewhat thin on the ground. The feature presentation was somewhat shy on power figures, for instance, but it was revealed that the Bugatti Vision GT uses the famous 8.0 W16 powerplant and will reach a theoretical 250mph on the straights of the Circuit de La Sarthe.
More interestingly still, the mock-up has been shown moving under its own power – setting it apart from some of the other full-sized VGT replicas we've seen, unveiled as static models at previous motoring events. Promisingly, the real thing also has a full and somewhat lavish cockpit, even sporting a plaque signed by Kazunori Yamauchi.
While we're still waiting for the car to debut in the game however, there is a large image gallery to pore over in the intervening period.
Let us know what you think of the Bugatti Vision GT by joining the discussion on our forums!