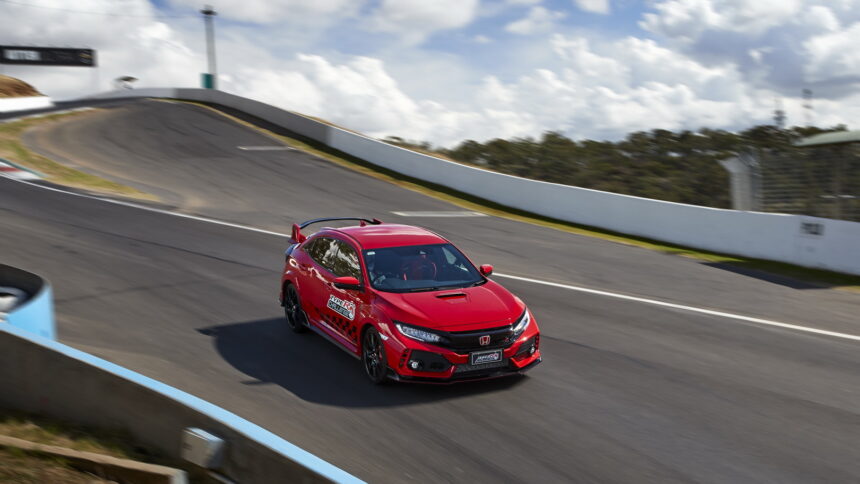 Formula One world champion Jenson Button has claimed another record at Australia's Mount Panorama circuit. The 2009 winner and reigning Super GT champion drove Honda's Civic Type R to set the fastest lap for a front-wheel drive production car at the 3.86-mile track.
It's the latest milestone in Honda's "Type R Challenge". Honda originally conceived it as a mission in 2018 to beat, or set, FWD production car records at five famous tracks around Europe. However the challenge has continued through to 2019, and across continents.
Button had previously used the Civic to set a fastest lap at the Hungaroring, Hungary, back in August. That followed four previous records from Tiago Montero at Estoril, Matt Neal at Silverstone, Bertrand Baguette at Spa, and Esteban Guerrieri at Magny-Cours. Of course Honda also claims the fastest FWD lap for the Civic Type R at the Nurburgring too.
For Honda's first attempt at a non-European lap record, Button was the ideal choice. He already holds the unofficial lap record at Mount Panorama, setting a 1:48.8 lap in 2011 driving a McLaren-Mercedes MP4-23 in an F1 promo event. The Brit has also taken a V8 Supercar around the mountain, swapping seats with Craig Lowndes for another exhibition drive.
Over the course of Easter Monday, April 22, Button put the Civic Type R through its paces. After 14 laps of chipping away at the time, he set the new record at 2:35.207. That's an average lap speed of 89.56mph around the circuit's 23 corners.
Button commented:
"Anything you drive around Mount Panorama is pretty amazing. Up across the top of the mountain, the Type R is so fast through there, so once I got into a rhythm and got used to the speed you carry, it was really good fun.

"I definitely put the car through its paces and it was quick time, 2 minutes and 35 seconds is a really good time in a front-wheel drive car, and it was hot as well, so I think if it was cooler, you could go a bit quicker, but I do feel like a got everything out of the car."
More Posts On...