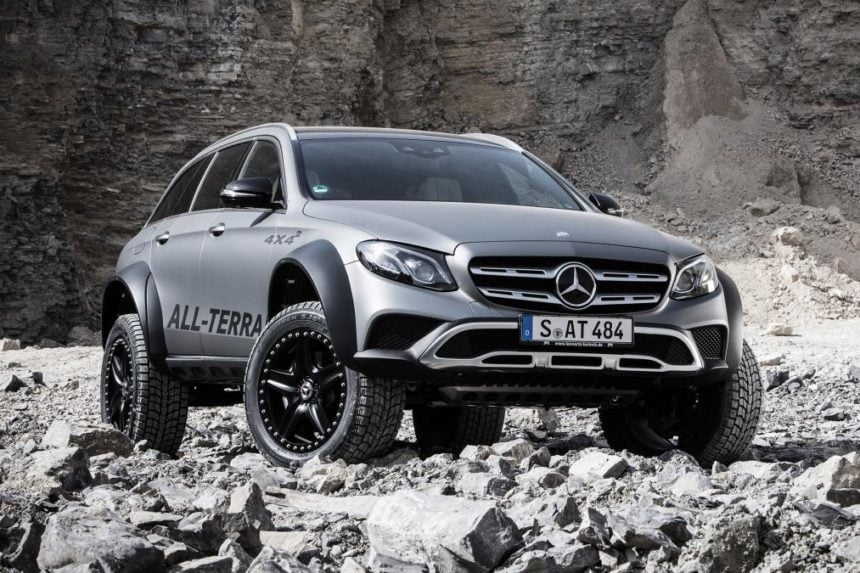 Mercedes is no stranger to making some pretty wild and crazy off road vehicles. The six-wheel drive G63 and Unimog are just a few of its offerings. However, a man named Jürgen Eberle thinks there should also be one more added to the mix. He may have even created the craziest off roader yet.
Eberle is an engineer on the E-Class team at Mercedes. He also enjoys bringing his work home with him and tinkering with it in his spare time. Six months ago Eberle began an undertaking of modifying the new E-Class All-Terrain wagon because he felt it didn't live up to the "All-Terrain" name.
The modifications start with a lift. He raised the E-Class up an inch and a half and added some off-road cladding to the car. So far, so boring, but then Eberle had a stroke of pure genius – the kind that usually occurs after several steins of pilsner.
First, he secured a set of portal axles off the G-Class 4×42. Then he asked his managers for a little bit of playing around money. The bosses agreed, and several colleagues jumped on board to help with the project.
By adding the portal axles, the E-Class now had 15.7-inches of ground clearance, triple that of what the standard car. Eberle also widened the track, adding nearly eight inches.
With its new suspension setup, the E-Class is able to conquer some pretty gnarly terrain. It can conquer boulders to fallen trees with ease. It is also even capable of fording nearly 20-inches of water.
The electronically controlled AWD system does pretty well to keep the 20-inch wheels spinning. It's not perfect though, as the 4×42 misses out on mechanical and locking differentials. With the addition of these off-road essentials, the E-Class would be pretty much unstoppable. It could probably even give the new X-Class a run for its money.
The engine remains the standard 3-liter bi-turbo V6. As a result, this is good for 329hp and 354 lb-ft of torque to all four corners. The drivetrain also still has the same seven-speed automatic transmission.
Mercedes-Benz is reportedly so impressed with Eberle's creation that it's under consideration as a limited run model.
More Posts On...