Mercedes-Benz has finally taken the wraps off its X-Class premium pickup truck. According to the brand, it's the first of its kind from a premium manufacturer.
Three trims are available ranging from the basic and rugged to the high-end and cushy. The Pure trim level aims to attract those customers seeking a workhorse. The top of the line Power trim gets the ultimate in luxury and caters to those looking for an urban truck. The Progressive is a mixture of the two levels.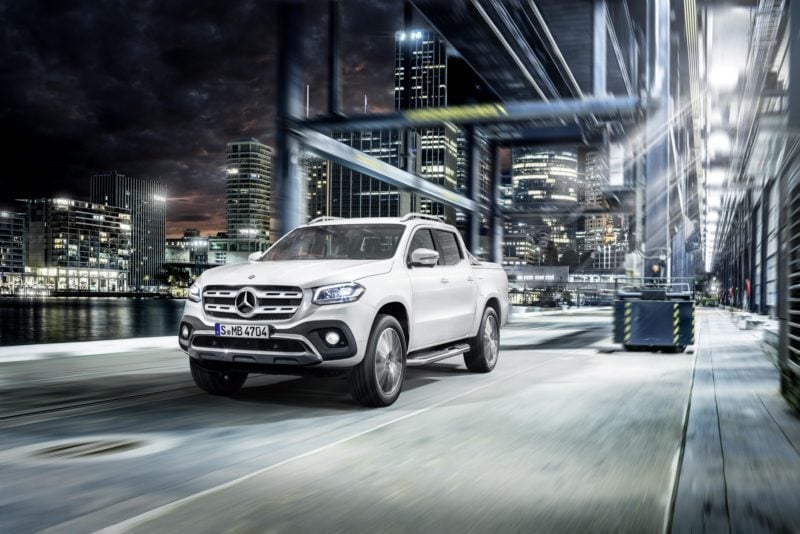 Engine choices upon release consist of a range of engines. The 2.3L diesel is available in both a turbo and bi-turbo configuration producing 165 hp and 190 hp respectively. Starting in mid-2018 a diesel V6 will also be available that produces 258 hp and over 400 lb-ft of torque. A 165 hp gasoline engine is also available in select markets.
At launch, the X-Class gets a 4MATIC engageable AWD system with a permanent AWD option coming in 2018. For extra traction off-road, an optional locking rear differential is also available.
In true pickup truck fashion, the X-Class rides on a ladder frame. Unlike most pickup trucks, the X-Class gets a multilink rear suspension instead of the traditional leaf springs. With a payload of over 2,000 lbs it is clear the multilink did not remove any of the truck-ness buyers expect. Meanwhile, in true German fashion, Mercedes helpfully points out that the X-Class will be able to carry 17 full 50-liter beer barrels.
Towing capacity is 7,700 lbs with the largest engine. Mercedes says this is enough to haul your 26-foot yacht or your three horses. Not both.
Even with its luxury backing, the X-Class engineering allows for it to conquer some rugged terrain. With eight inches of front ground clearance and the ability to ford two feet of water the X-Class suits most weekend warriors. Low range gears and optional hill descent assist will also help when the going gets rough.
Mercedes plans to offer a wide range of customization options both inside and out. With several fabrics, patterns, and colors for the interior there is something for everyone. Mercedes claims to have the widest range of interior options of any truck on the market. Outside the pickup is treated to a host of styling bars, tonneau covers, and other bed accessories. A canopy is also offered for those customers wishing to make their X-Class look more like an SUV.
Like most Mercedes, the X-Class comes with several electronic features. An integrated SIM card keeps the truck connected and accessible through a smartphone. Owners can view useful vitals on the truck and are able to locate where they parked through an app. Also, Mercedes claims this is the first pickup to offer live traffic information.
Starting at €37,294 in Germany the X-Class is not cheap. A base Toyota Hilux starts around €25,000 and the Ford Ranger around €28,000 in the German markets. The good news for buyers seeking a less expensive option is that the truck will share similarities to the Renault Alaskan and Nissan Navara.
The X-Class is available throughout South America, Europe, Australia, New Zealand, and Africa. Unfortunately, there are no plans to bring the X-Class to North America at this time.
More Posts On...