Welcome to week two of GTPlanet's DiRT Rally World Tour. Last week we looked at two of the game's more technical locations; Wales and Monaco. The focus on this week will be on two locations that are far and away the fastest countries rally moguls will have to deal with: let's take a look at Germany and Finland.
Germany – Hammerstein (Ibiza F2 Kit Car)
For pure driving pleasure, you'll be hard pressed to find a better track than Hammerstein in Germany. This fast track doesn't throw too many unexpected corners or obstacles at you, but does limit you severely by the lack of corners that can actually be cut – despite its open-plain looks. Many hairpins and severe degree turns have their outskirts littered with rocks to stop you trying to go too fast in your weapon of choice. That being said, there's an incredible sense of achievement when you do manage to hit the apex just correctly in Germany, and with practice you can have some seriously speedy runs.
The level of danger in Germany is generally less than its other speed-based counterpart, but that doesn't mean it's totally free of some scary sections. The forests give a cautious vibe you are used to seeing in Wales and require a bit more extra care. The ability to go fast is still entirely possible, but it is important to understand when you are pushing the track limits, otherwise you'll get a face full of bark – resulting in a possible DNF. Keen drivers will also note that escalation changes are very apparent from driving up mounds to barreling down huge drops in the forest zone. Planning ahead is key, as is knowing when to maintain speed and when to slow down. Generally though, its fast and flat fun in Germany. This locale is perfect for testing out the Group B beasts that may be undriveable in some of the more … eccentric countries.
Finland – Iso Oksjarvi (Citroen C4)
Some say that if you can make it through Finland in a rally car without breaking it, you must be lying. The term "Flying Finn" is no better illustrated than in Iso Oksjarvi – a treacherous car-eater of a run that is four minutes of sheer pain. A run that's arguably just as fast as Hammerstein but with added bounce … make sure your suspension isn't faulty to start with because by the end it may be gone. Watching the run above, its clear that the true challenge of Finland is being at one with yourself and the air. Approach is key and a failure to recognize this could end terribly.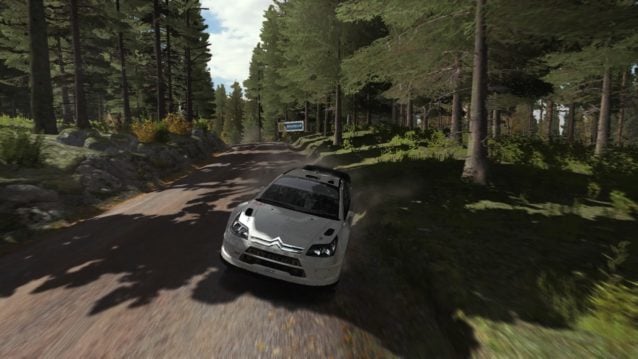 The jumps themselves are clearly a hazard but this is heightened even further due to the ditches frequently found at the side of roads on the Finland tracks. Your co-driver will usually advise you to stay central through your run to avoid some possible wheel damage. The visuals in Finland are also standout for me: I love the Autumn/Fall vibe and it provides a nice backdrop to the inevitable crash and burn every so often.
With 4 locations covered, the final article will look at Greece and Sweden, two completely contrasting venues that both have their own unique challenges.
See more articles on DiRT Rally and Gameplay Videos.