In my review of DiRT Rally I praised the game heavily in many areas. One such area I would like to explore a bit deeper and make a point of is just how good the locations are within the game. This is the first of three articles that showcase all six countries represented in DiRT Rally. The format will be simple: each country will get one showcase track that I will drive in a car I either haven't driven at all or one I haven't driven much, in order to give a good look at how each track feels to a regular driver as opposed to an 'expert'. All runs are also made against the 'community delta' for those curious as to what time I'm comparing to. So, let's begin, shall we?
Wales – Dyffrn Afon (Renault 5 Turbo)
Rally events in the United Kingdom are known for being arduously tough and unforgiving – DiRT Rally's Wales representation meets these expectations, with wildly sweeping roads and dull weather amongst the many obstacles your rally journey will be subject to. The choice for looking at what Wales can offer is Dyffrn Afon. Dyffrn is a sprint circuit that begins in a tightly packed forest that leaves little margin for error, throwing high grade turns just to warm you up from the pouring rain.
From here you are lead out to a huge countryside field with a road that is still as small as before. Against the backdrop of a wind-farm, drivers should pay close attention to the co-driver's pacenotes as there are a plethora of 'deceptives' and immediate hairpin corners that mess with your usual open area mentality of 'go fast' that is triggered by the looping hills and fields. Simply put, this is a stage that wants to trick you into believing you are safe, before throwing a huge challenge in your face out of nowhere. It's simply fantastic to drive.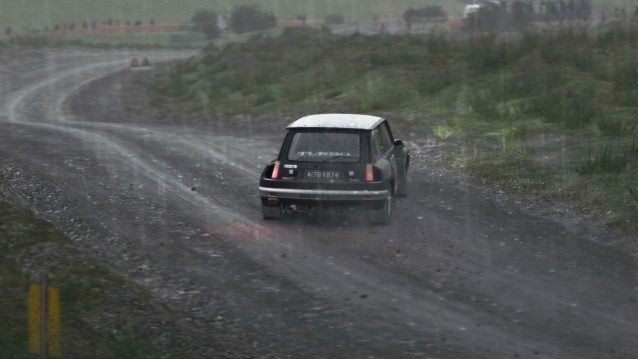 The latter half of the track relies heavily on bad road camber and downhill sectors that test your nerve in moments where you are relieved of car control duties. Forward planning is imperative and aligning your machine prior to these moments is key to a fast time. Finally, before dropping back into the forest you will be pushed to navigate a section of the track lined up on top of a small hill. To one side, there is a dangerous mound that will derail even the most stable of 4WD rally cars, and to the other, a harsh drop that will all but end any chances of a podium finish.
This track sums up what makes Wales so special in DiRT Rally: the sheer fear of driving in a claustrophobic-yet-open area that is entirely unforgiving is an unmatched feeling in any other racing game this generation.
Monaco – Col de Turini (Ford Escort RS Cosworth)
For most Motorsport fans, Monaco brings visions of beautiful skies, Hollywood-esque personnel and a city circuit world-renowned for its classy, unique set-up unmatched by any other circuit in the same category. Rally fans however know Monaco for its misty, ice-ridden, twisting alpine roads that push WRC drivers to the very edge. Codemasters has captured this vibe in its entirety as shown in the Col de Turini run driven above in the iconic Ford Escort RS Cosworth.
From the offset, you are greeted with a 2-severity corner and from there it is clear that this is the standard you should be expected to deal with in the Alps. Severe corners that shimmy between left and right lead you straight into the tight, controlled hairpins that leave no margin for mistake – there's even spectators and an ambulance waiting for you around the half way point at one of these hairpins, just in case. Your 'wiggle room' seems to get smaller and smaller as you cautiously navigate the trial thanks to the numerous snowbanks and dangerously gap-ridden walls. This is a true test for any aspiring rally driver.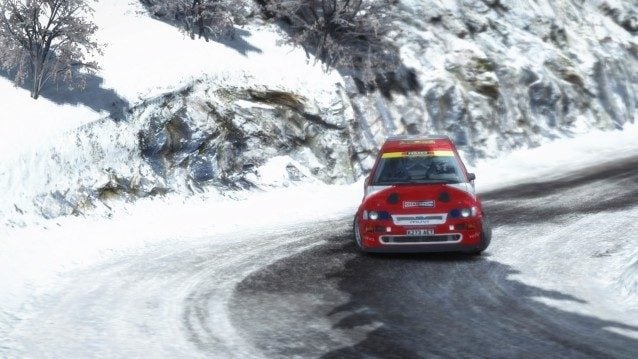 What separates the wintery nature of Monaco from the likes of Sweden are the ice patches that slither on the asphalt roads. Not only are you keeping an eye ahead to what corner is to come but also on the road right in front of your eyes. A 4-severity can quickly escalate to a critical crash if you don't pay attention to what's in front of your nose. Playing on chase cam is asking for trouble: you simply don't have the scope of vision to consider the black ice that lurks within.
Monaco may mean luxury for some but for a rally driver it means exhaustion.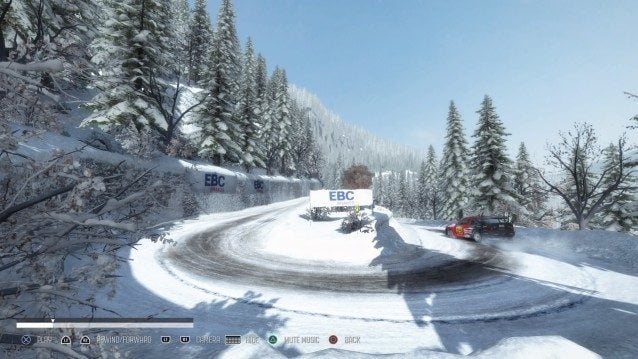 That wraps it up for this week's two locations. Next week will focus on some of the more fast and dangerous areas Europe has represented in the game.
See more articles on DiRT Rally and Gameplay Videos.