When it comes to performance cars, there's not many names bigger than Mustang.
Born out of the Pony car era of sporty coupes — a class below the monster muscle cars — Mustang is one of the most enduring brands and, save for the occasional mis-step, has been in production in broadly the same form for over fifty years.
In fact the Mustang marque as a whole is so well-known and loved that when Ford introduced this sixth generation model in 2015, it made the decision to bring the car to Europe. That means that, at long last, us Brits get to drive a production Mustang, so we've been doing just that.
That's… right-hand drive…
Good, isn't it? Along with selling Mustangs in Europe for the first time, Ford's also making them in right-hand drive for the UK (and Asia and Australia).
Aside from having the wheel on the right side of the car, it's pretty much the same as the vehicle sold in the USA. There's coupes and convertibles, V8s and EcoBoost turbos, and even manual and automatic. Obviously we've gone for an automatic, V8 coupe, for peak Mustang.
So what else is new?
Well, just in case a right-hand drive Ford Mustang sold in UK dealerships wasn't quite enough, Ford has also finally adopted independent rear suspension.
It's a somewhat controversial move, and one Ford was previously quite resistant to. Nevertheless, as the brand moves more towards 'world' cars — what it terms the "One Ford" approach — it's had to make some concessions. While this does mean that the Mustang is probably a few tenths of a second off down a drag strip, it gives the car more European road manners, especially in the wet.
Otherwise it's the same old Ford Mustang we've come to know and love. V8 up front, driven wheels out back and lots of smoke and noise.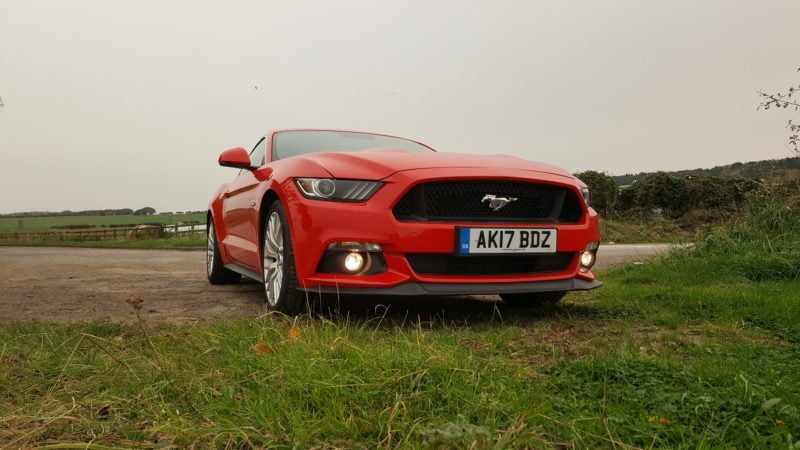 How does it fare on Euro roads?
There's an impression of size about the Mustang. In fact about all American cars — any description of any US-market car over here will start with the words "big" and "brash". We're going to start a Mustang swear jar for those words.
Really, the Mustang isn't all that b… large. Certainly there's smaller 2+2 coupes; Toyota's GT86 is just under two feet shorter, but it doesn't have to fit eight cylinders under the hood. Take something that does though, like the Lexus RC F, and you'll find the Mustang is smaller. Ever heard anyone in Europe say the RC F is too b… oversized for our roads? Us neither.
That said, you really do sit very far away from the front end of the car, and judging it accurately when you're negotiating a car park is a little nervy. Particularly with that bulging bonnet. Otherwise it's fairly compliant around town, and isn't hugely fussed by patchy tarmac.
It's not too bothered about the open road either. Ford's decision to go for independent rear suspension rather than a live axle brings some culture to the ride, but if there's a dynamic benefit we can't really spot it, on the public roads at least. It almost seems like a lazy performance car, in that you can keep up with most things in front of you, but you're not really working at it.
Don't get us wrong, the Mustang doesn't exactly flop about. There's a moment of weight transfer but it will tuck into a corner keenly and a little trail-braking goes a long way. That said, you won't arrive at your destination and have to catch your breath to lower your heart rate.
Whether that's a good thing or not depends on your point of view. Some people like a really agile car that's rewarding to get right, other just like covering ground at an unholy pace. We can see the appeal of both, particularly when there's a V8 to accompany it.
And the V8 seems to be the better option of the two we get in Europe. We did attend the launch back in 2015 and found so little difference in terms of fuel economy that it almost seemed churlish to opt for the supposedly better EcoBoost. We nearly drained the tank at 20mpg (Imperial) and the official UK rating is 20.9…
Get it on a long run and the V8 makes more sense still, and stick the car in Sport+ mode and you'll scare small children around town. We know because we did. Sorry. It's also excellent for overtaking, as the admittedly sluggish six-speed gearbox (it's due to be replaced with a ten-speed unit soon) kicks down and all eight cylinders scream up to 7,000rpm.
Ah, but American interiors are cheap aren't they?
Okay, there's perhaps a nugget of truth in this, but it's not quite so clear-cut. Yes, the Mustang absolutely is not as well made, or made from the same quality materials as, say, an Audi TT (what is?) at the same price. But it's not exactly cheap.
In a few places around the cabin it's a little sub-par, perhaps. This car had 600 miles on it when it arrived on our driveway, so it's barely had time to be abused, but there are indications of things not quite fitting right. The trim behind the "Mustang Since 1964" badge wasn't tucked in properly, for example. And some materials are superficially nice but don't meet the touch test.
That's not the case everywhere though. We love the little machined metal toggle switches down at the bottom of the center stack. One controls the driving modes, so it'll see a lot of use. The one that controls the hazard warning lights could be a little clearer though.
Nonetheless, there's a lot of Ford parts in the cabin that you'll recognize from elsewhere in the range. Parts bin maybe, but Ford isn't making cheap cars these days. Gone are the days of the Dagenham Dustbin, and welcome to the brave new world of the £40,000 Mondeo that wears a Vignale badge.
In fact the Mustang's interior reminds us a lot of the Mondeo. It gets a great pair of similarly comfortable front seats (partially electrically adjustable), cool ambient lighting and the same Ford SYNC3 infotainment system. You can also throw heated and cooled front seats into the mix, and a neat driver information display in the binnacle.
You're not missing out on any toys, certainly. SYNC takes care of the navigation, reversing camera and DAB radio (or Sirius, in the US), along with the climate control and Bluetooth phone connectivity. You've got a couple of USB slots and a 12v charging port too.
One feature you do get that we're not aware of on any other production car is the electronic line-lock. This is buried in the track apps menu in the driver information display and effectively acts as a front-wheel handbrake. Why? So you can spin up the rear tires and warm them up ahead of your next run on the strip, obviously. Yes, we used it. No, we didn't mow down any spectators at a car meet…
Rear seat space isn't terrific. This is typical 2+2 fare, so the back is only really suitable for children. The large doors and bothersome manual seat recliners hamper actually accessing the rear though, so make sure they're old enough to navigate through the space left by the seatbelt (this is clipped into the seat back) and strap themselves in.
On the other hand, trunk space is excellent. Over 400 liters (14.4 cu.ft) is plenty enough for most purposes and better than many family cars.
Who's going to buy a Mustang?
While the Mustang may be comparatively cheap in Europe, it's not exactly the teens-first-car it is in the States. It's still forty grand of hard-to-insure muscle car, and that narrows the market down to the car's other traditional buyer: the fortysomething male.
That's pretty much the case with any sporty model in the UK though. The Mustang has the added benefits of being b… less small and more comfortable than most, and should easily fit a wife and a maximum of two young children, rather than a mistress.
However it's got a famous enough name and a broad enough appeal to be on most people's modest lottery garage.
If not a Mustang, what else would they buy?
That's a tough one to answer, as there really isn't anything quite like the Mustang in Europe. It hits three usually mutually exclusive marks all at once: it's not very expensive, it has a 400hp V8 and it's b… a good sized coupe.
Cheap and quick gets you a Toyota GT86, or the Mazda MX-5 RF. But they're tiny, and £25,000 isn't exactly playing fair with the £40,000 Mustang. A little more money gets you a BMW M2, Audi TT or a Porsche 918 Cayman, but these are highly strung track attack weapons, not languid continent eaters.
The nearest rival in essence is the Lexus RC F, but at over £60,000 you can buy three Mustangs for the price of two Lexuses.
If we were on our way to the Ford showroom, cash-in-hand and wanted to try something that hit as many of the same buttons as possible, we'd probably go to Nissan. The 370Z, particularly in Nismo form, is just about the Mustang's closest rival.
What's the conclusion?
Any way you cut it, this Mustang is such a capable and endearing car that it's a mystery why Ford hasn't thought to sell it in Europe before now.
It looks remarkable on the roads and isn't fazed by the mix and match asphalt and potholes that the UK seems to specialize in. Okay, it's not the last word in point and shoot B-road bullets, and body roll is not quite as well-contained as it is in the German sports cars, but it is fun in its own way, and firing up the V8 doesn't get old.
Those who like their car interiors to be effortlessly chic, as in current Volvos, or designed to the highest tolerances and made from only the most suedey suede may turn their noses up too, but the Mustang is one of the most user-friendly and personable performance cars around. The fact that there's no cheaper way to get a 400hp V8 is just a bonus. We're b… serious fans.
Verdict:
Ford Mustang GT
You might find hot hatches that will show it a pair of tail lights, but the cool Mustang has a sense of occasion few cars at any price can match
Learn more about
how our rating system works
.
Quick Facts
Power
410hp (416PS, 306kW), 391lbft (530Nm)
Layout
Front-engine, rear-wheel drive
Top Speed
155mph (250km/h)
More Posts On...