If you want to experience the most challenging racing around, you need to leave the race track behind. We don't mean taking to the skies, but getting away from the safety and sterility of the millpond smooth asphalt, catch fencing and gravel traps of circuit and street racing.
Yes, rally is where it's at. It's one of the stiffest tests of driver skill and bravery, inches from trees, rocks and the lure of gravity, but also a serious test of machinery. 100mph on a race track isn't that hard for most cars, but 100mph on pock-marked, winding, undulating road will soon find the weakest link of your car's components and break it.
Having proved its ability on circuits with Formula E, it's now time for electricity to go out into the harshest environments for a vehicle. With that in mind, Alejandro Agag, the founder and CEO of Formula E, is launching Extreme E.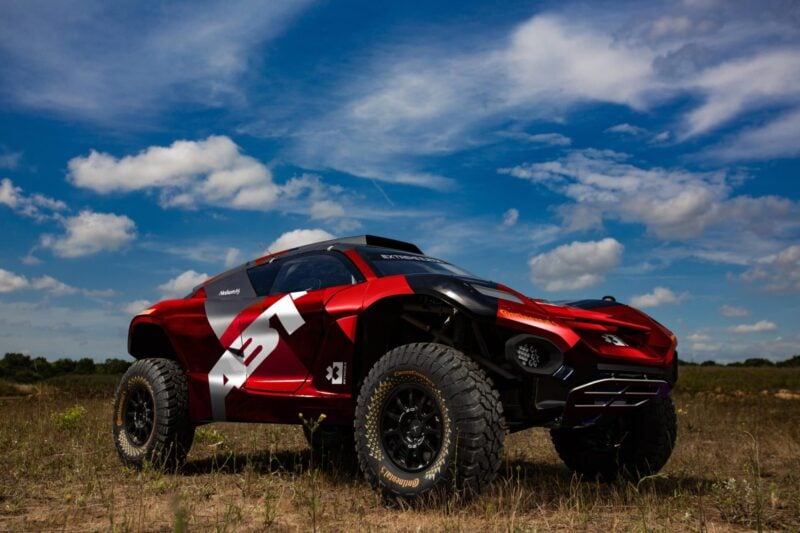 Extreme E is an off-road challenge for electric SUVs. 12 teams will go head-to-head in a series of off-road stages around the world in a variety of environments, in purpose-built Odyssey 21 buggies.
Like the Formula E car, Spark Racing builds the Extreme E SUV. It packs a 400kW motor (equivalent to 536hp), in a niobium-reinforced steel alloy tubular frame. Coming in at just under 3,650lb, the Odyssey 21 can hit 60mph in under 4.5s. However, the teams are able to develop their car's powertrain, along with some select areas of bodywork to allow them to replicate road car models.
The series has hand-picked locations both to provide the sternest of challenges, but also to raise awareness of the difficulties those environments currently face. Extreme E will visit the Arctic Circle, a Himalayan glacier, the Amazon rainforest, and the Sahara Desert. When it launches in 2021, the first race will take place at an undisclosed island in the Indian Ocean.
Despite only launching the buggy at last weekend's Goodwood Festival of Speed, Extreme E already has three of its 12 teams. Venturi, HWA Racing, and Abt have all joined the series; you may recognize all three as Formula E teams.
Unusually, Extreme E will also use a mobile paddock. The series has commissioned the light cargo liner RMS St. Helena to act as a base of operations. It will sail to each race location, where it will provide the garages, hospitality, accommodation, and broadcast center required to run a race series. The teams and cars will all be based at the ship, heading out to the 4-6 mile stages for racing.
The series is starting tests on the vehicles this autumn, with deliveries to the teams in March 2020 ahead of an inaugural race in 2021.