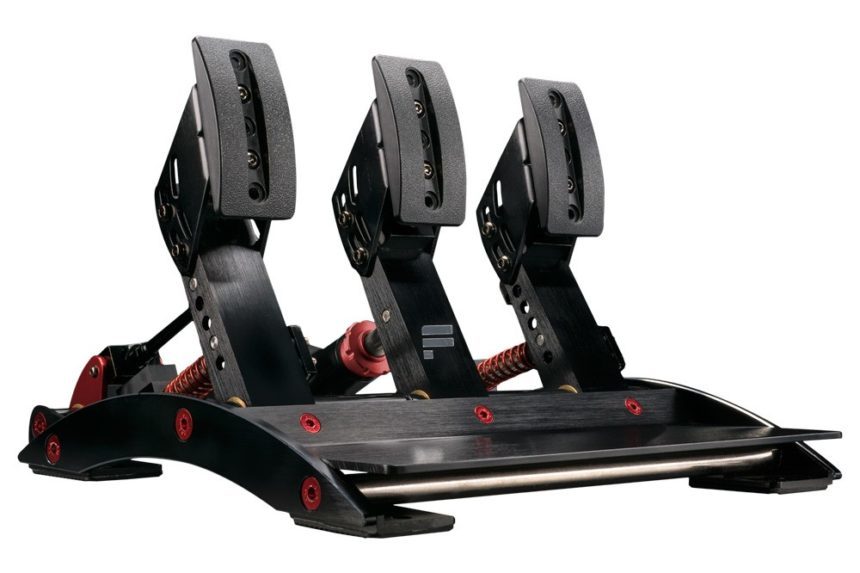 Sim-racing accessory manufacturer Fanatec has just announced a new version of their "ClubSport Pedals", a popular upgrade used by many GTPlanet members.
Although still sporting the same general design as earlier generations, the V3 pedals bring some fairly significant upgrades over the V2. Notably, the V3 includes a heavy-duty load cell on the brake, rated up to 90kg. The brake pedal is also adjustable, and now both the gas and brake pedal include a small vibration motor to bring some novel sensations to the sim-racing experience.
The full list of upgrades includes:
Vibration motor on gas pedal indicates rear wheel spin and oversteer.
Pressure sensitive brake with custom made 90 kg load cell sensor.
Adjustable brake stiffness and travel without tools.
Utra high 12bit resolution on all axis.
Alternative D-shape race plates in curved design. Ideal for standing pedals.
Pedal extension to adjust the angle of the pedal plate and to change the angle of the whole pedal arm.
Re-designed electronics. Parameters like deadzone and brake sensitivity can be adjusted through the tuning menu of the wheel and during the race.
New design of the gas pedal to allow a quick exchange of the springs. Two springs with different strength are included.
Optional damper kit for gas and brake. The hyraulic dampening resistance can easily be adjusted with a knob.
The ClubSport V3s are available for pre-order from Fanatec's website for €359.99 / $299.95 USD, and the hydraulic damper kit is available for €79.95 / $69.95 USD. Fanatec has announced that customers waiting for their ClubSport V2 pedal orders will be automatically upgraded to the V3 hardware at no additional charge. They're estimated launch date is August 31, 2015.
Stop by our Sim Racing Hardware forum for more analysis and discussion! As always, you can support GTPlanet by ordering via one of the affiliate links above.
More Posts On...
The original comments for this post are no longer available.