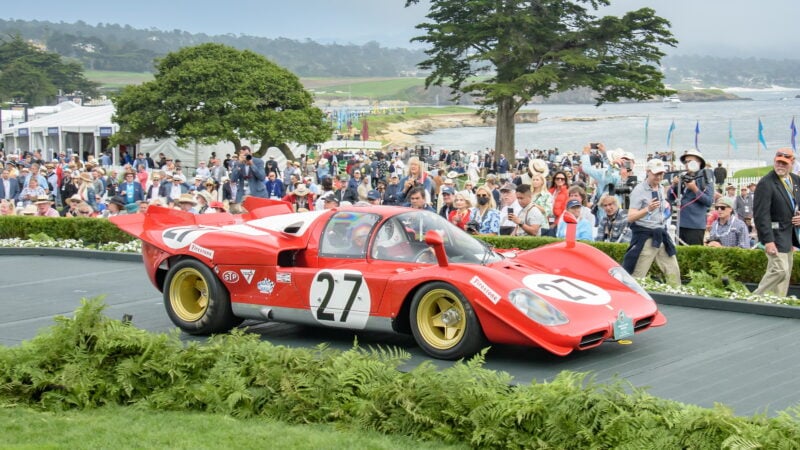 Gran Turismo creator Kazunori Yamauchi has selected a 1969 Ferrari 512 S Berlinetta once driven by Jacky Ickx and John Surtees as the winner of the Gran Turismo Award at the 2021 Pebble Beach Concours d'Elegance.
After an enforced break in 2020, the Pebble Beach event returned for its 70th anniversary event a year late. As the closing feature of the spectacular Monterey Car Week, the Concours d'Elegance is a showpiece event celebrating the best preserved — but still fully operational — vehicles in vintage and classic motoring.
As with every event since 2008, Yamauchi was part of the judging process which would eventually see a 1938 Mercedes-Benz 540K Autobahn Kurier win best in show. However he was also there to select a car for his own award, the Gran Turismo Award.
This year's selection is perhaps a little unusual. The Ferrari 512 S Berlinetta from 1969, owned by Swiss collector Pierre Mellinger, is one of very few race cars selected to win the award over the last 14 years, and the newest machine to win so far. However it has some pretty interesting history.
As chassis number 1004, this 512 S was the second made of 25 cars in total. The 512 made its racing debut at the 1970 24 Hours of Daytona, after a last-minute homologation, and chassis 1004 was among them. Driven by six-times Le Mans winner Jacky Ickx and Peter Schetty, the car retired after 115 laps — Ickx jumped into a sister 512 S which finished third.
After that came a podium finish in the 1970 Monza 1000km, in the hands of another legendary driver. Schetty again shared driving duties, but this time with John Surtees — the only person to be world champion on both two and four wheels.
The car's racing career ended with a class win, and third overall, at the 1970 Targa Florio. Three-time Targa winner Nino Vaccarella and team-mate Ignazio Giunti were the only Ferrari on the lead lap after the 11-lap race, in the middle of four Porsche 908s.
As well as winning the Gran Turismo Award, the Ferrari 512 S now becomes eligible for inclusion with the Gran Turismo series. Thus far five of the previous winners have appeared in digital form in the series so far, while the 2019 winner is present in the Gran Turismo 7 reveal video we saw in July 2020.
Given what we know of the time taken to capture vehicles for the game series, any debut for the 512 S is likely to come in GT7, where it would provide interesting competition for the Porsche 917K.
The full list of Gran Turismo Award winners at the Pebble Beach Concours d'Elegance is:
2008: Lamborghini Miura P400 Bertone Prototype '67
2009: Alfa Romeo Giulia TZ2 carrozzata da Zagato '65
2010: Abarth 1500 Biposto Bertone B.A.T 1 '52
2011: Plymouth XNR Ghia Roadster '60
2012: Ferrari 500 Mondial Pininfarina Coupe '54
2013: Aston Martin DB3S '53
2014: Maserati A6GCS Spider '54
2015: Cunningham C-4R Competition Roadster '52
2016: Ferrari 330 P4 Drogo Spyder '66
2017: Mercedes-Benz S Barker Tourer '29
2018: AAR Eagle Indy Car '66
2019: Alfa Romeo 8C 2300 Zagato '31
2021: Ferrari 512 S Berlinetta '69
Featured image via Pebble Beach Concours d'Elegance.
See more articles on Ferrari, Gran Turismo Awards, and Pebble Beach Concours d'Elegance.