Sony's PlayStation 5 games event has revealed the thing we were all waiting for: Gran Turismo 7.
The presentation confirmed that the next iteration of the 23-year Gran Turismo series will arrive for the new console, although it's not clear what the launch window for the title will be. However, the clip gave several insights about the new GT, along with dropping one enormous bombshell: Trial Mountain is back!
Series creator Kazunori Yamauchi appeared at the start of the segment to introduce the game, and clue fans a little into what to expect. When we spoke to Yamauchi in summer 2019 he suggested that the next game would represent the "past, present, and future" of GT, and that certainly seems to be the case from what we saw.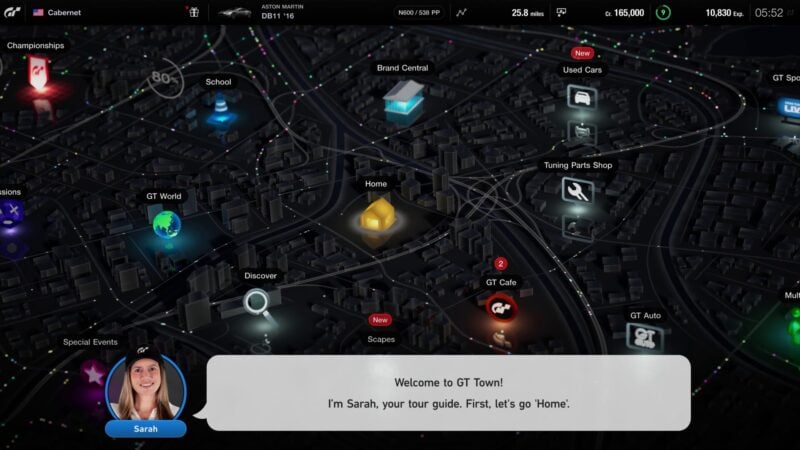 Along with the racing action, the GT7 sequence revealed something of the home screen. This bears more than a passing resemblance to that of Gran Turismo 4, with game sections spread across a city map. These sections include the things we've become used to in GT Sport, such as Brand Central and Scapes, but also a number of other features from previous titles.
The new main screen revealed the return of GT Auto, a Tuning Parts shop, and — surprisingly — Used Cars. There's also sections for Multiplayer, GT Live, GT Sport Mode, and Championships, along with a Driving School and Special Events section. Yamauchi also stated in the video that players would be particularly interested in the campaign mode, although it's not clear where that fits in just yet.
Also in evidence in the home screen is a blending of Gran Turismo features. It appears that the Daily Workout, or some system based on Mileage, carries over from GT Sport, as does XP and leveling. It's particularly interesting to note though that the selected car in the video has both an N-class rating from GT Sport and a PP — Performance Point — value from GT5 and GT6.
Meanwhile the racing action took us to a very surprising location, with the fictional Trial Mountain circuit. A firm fan favorite, Trial Mountain has been absent from the current generation, and no doubt players will be overjoyed to see it return. PD has redesigned the circuit somewhat, with both straights altered and a reprofiled final chicane, but nonetheless it's a welcome sight.
Naturally the trailer also featured some new vehicles, including a first appearance in the game series for the single-seat BAC Mono road car and the Porsche 917K. Several vehicles in the clip are also in GT Sport, including the new Mazda RX-Vision, suggesting that Sport's car list may make the jump in GT7 mostly intact.
We'll bring you more on Gran Turismo 7 as we get it, including that all-important launch date! In the meantime you can re-watch the clip below: