When Forza Horizon 5 launches this November, players will be able to take control using a new, limited edition controller designed by Playground Games for the event.
The controller is intended to capture the spirit of the new Horizon Festival, based in Mexico, and is indeed as colorful as the murals that will adorn the streets of the fictional Mexico.
On the front, the controller features a translucent yellow plastic body which allows you to see through into some of the inner workings. That includes a Forza logo, but also an unusual custom version of the left rumble pack. This offset weight, which creates the rumble sensation as it rotates, has red faces which — as the official trailer suggests — looks as if it simulates the moment of combustion in a engine's cylinder, as piston meets the burning fuel-air mix.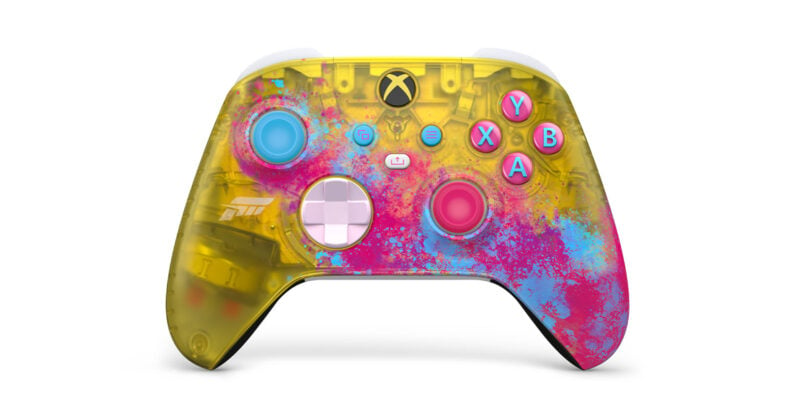 However you can't quite see everything inside, as there's a splash of further color across the front. This represents the daytime fireworks we've seen throughout the game's footage so far, which feature paint powder instead of combustible materials to allow for visibility.
The pink and blue paint colors extend to the two control sticks, view and menu buttons, and the control face buttons. There's also a hybrid d-pad, featuring the deep dish of the Xbox Elite controller d-pad, as with other Series X controllers.
To the rear, the controller is predominantly white, with a Horizon Festival logo, though the right and left triggers are blue and pink respectively. Both triggers, both shoulder buttons, and the controller grips themselves feature textured surfaces to replicate the feeling of a steering wheel.
Players who pick up the FH5 Limited Edition controller also get a few extra bits to show off in-game. There's a specific shirt for your avatar, an exclusive victory emote which allows you to set off a powder firework, and a Forza Edition 1932 Ford De Luxe Five-Window Coupe, in a special livery inspired by the controller.
You can pre-order the controller now at your local Microsoft Store, and it's priced at $74.99/£59.99/€64.99.