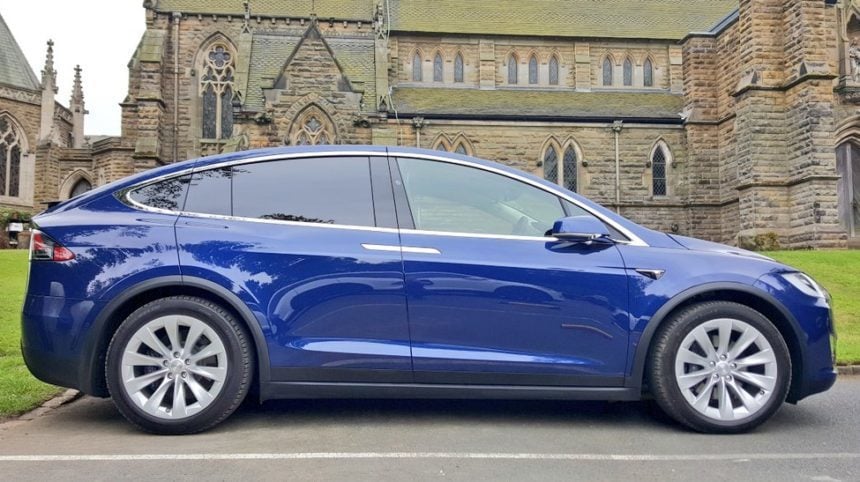 While other manufacturers are turning to electrification in droves, the brand that started it all off in earnest was Tesla. It's still the only name most people think of when you say "electric car", and we've had the chance to test out a couple of examples.
What's this?
Our steed for the day is the Tesla Model X 100D. It's an all-electric, all-wheel drive SUV, available with five, six or seven seats, all of which are front-facing. Clever, double-hinged "falcon" doors aid rear seat access, and a smart sensor system contains all the hardware needed for the headline autonomous driving functions, should you choose to specify them.
100D?
Tesla names its vehicles after the most important bits: the battery pack and motor. The numbers represent the battery pack capacity in kilowatt-hours — so this one is 100kWh. It grants the Model X a larger range than the 90kWh, which it replaces, and 75kWh options — with Tesla quoting up to 351 miles per charge.
The "D" after the number means it's a dual-motor car, with a motor on the front axle and another on the back. Some cars also get a "P" before the number. This is Tesla's performance option, with a much more potent rear motor, but our car is the plain 100D.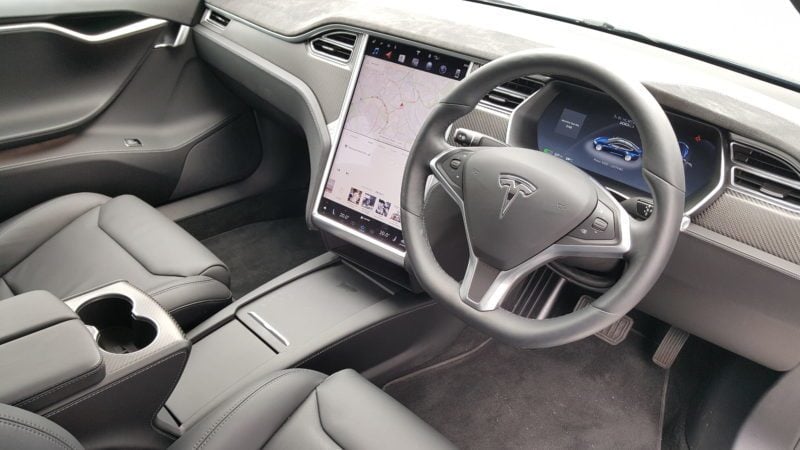 It seems a little ponderous?
Well, it's certainly a big car. It's as long as a Range Rover, it's over seven feet wide and it tips the scales at an eye-watering 2.4 tons. I'm not sure whether I can drive it on my standard driving licence or if I need minibus permissions too.
It doesn't seem any less huge on the inside either, until you actually drive it. While you will remain a little conscious of narrow lanes and roads with width restrictions, the Model X doesn't feel like a large car. While we've driven some big stuff — at least for European markets — there's nothing quite this size that feels quite as ordinarily car-like.
That's no mean feat, particularly as the natural home of the electric car is the city. We pottered around one of the UK's largest cities and a provincial market town and not once did the X feel out of place.
Despite the obscene 20-inch wheels (22s are an option!), it didn't grouse about the road surface either. The regenerative braking makes it excellent in stop-start traffic, as you can practically operate the car with just the right-hand pedal.
On the open road, it's a beast. That right-hand pedal isn't an accelerator any more, as the X doesn't accelerate; it simply ceases going at one speed and starts going at a new one with no perceptible change but a mild whirr. You can stare at the speedometer if you like — it doesn't even recognize that the intervening numbers exist. And remember, this is slower than the P100D…
But the weight does come into play. Tesla packs all of the heavy electric gubbins low down and in the floor, yet they're still there. It shuffles through bends quicker than it has any right to and with very little lean, but it's pretty punishing on those thin tires.
The brakes — 14-inch discs up front, 14.5-inch at the back — are meaty, but they have a lot of car to slow down. We floated the idea of a bit of fun at a local track, but it quickly became a discussion about which component would overheat first: the tires; the brakes; or the battery pack.
What about equipment?
Strangely the equipment levels on the Model X are pretty much standard across the range. Whether you splash out north of £140k for a P100D or stick with an entry 75D model, you get largely the same kit. What you pay extra for is the battery pack, with the range and performance benefits thereof.
This intrinsically makes the 100D a less compelling value proposition, but the toys are plentiful. Tesla supplies every Model X with a colossal 17-inch touchscreen that controls every vehicle function — in fact there's only two buttons in the entire dashboard, with a hazard warning light button as the law requires and a glove box release Tesla put there simply for symmetry.
It's a key system and includes a HDD-based navigation system with real-time traffic information and charger guidance. This will keep you updated with charging options — including superchargers, destination chargers and rival chargers — and advise you of available charging capacity. It will give you ideal routes via charging points and recommend the time you'll need to charge at each. The car even warns you if it thinks you're going to drive out of range of a charging point. Your first 40kWh of charging at superchargers is free each year too.
All cars also come with collision avoidance and autonomous emergency braking. In fact all of the autonomous system hardware is included and you can specify what you wish to unlock by a software update. This ensures that, when full autonomy is available and legal, you can simply pay to turn it on. As things stand, Tesla only makes Enhanced Autopilot available. This includes speed and lane control, along with self-parking and a "summon" function to bring the car out of tight spaces.
However, all exterior paints other than black are extras. As is anything other than "multi-pattern" seats. Our test car also loaded in a premium package that adds a high-grade cabin air filtration system labeled as "Bio Weapon Defense Mode".
Who's going to buy this?
Surprisingly, this one's a winner with fleet managers. Despite the lofty price, it gets very favorable tax breaks for being a zero emission vehicle. The decent range means it's a reasonable sell for working drivers too. UK law mandates a break from driving after a couple of hours, so that gives drivers plenty of time to hook the Tesla up to a supercharger and top it up. Like the Model S, there's a good chance that minicabbers, or Uber drivers, will look hard at the X.
That aside, the Model X fits the same market as any other luxury SUV. Although the interior might not be top of the class, the draw of the electric powertrain and the showy falcon doors might upstage better-appointed motors in the five star hotel car park bingo.
What else might they buy instead?
A hundred grand plus an SUV equals Range Rover. There's myriad other rivals, but the Rangey is the default choice, and with good reason. It's not electric (yet) but otherwise it's what Model X buyers will look at instead.
If we pretend that the Range Rover doesn't exist, there's a few solid candidates. The Mercedes-Benz GLE, Audi Q7 and BMW X5 meet the price, size and performance parameters, and all have hybrid options. The Volvo XC90, in T8 hybrid spec, is another good bet. Porsche has a hybrid Cayenne too, although that's a little smaller.
The only other electric SUV in the pipeline is Jaguar's I-PACE, although that will be a five-seater. That's due to hit the market in 2018.
What's the result?
There's a lot of theater and drama to the Model X. Even getting into it is an event, thanks to those rear falcon doors. Tesla tells us that's a feature for parents — you don't have to crouch under a roof while leaning into the back to strap the kids in — but we don't believe a word of it. Once you're inside, there's a 17-inch touchscreen and a panoramic windscreen that never seems to stop.
However, you'll still see evidence that — for now at least — Tesla is a low volume car manufacturer. Many materials are good on the eye but not so great on fingertips, and not necessarily screwed together as well as you'd expect in a £100,000 car. The Mercedes gear selector stalk is a bit of a disappointment too – it punctures the Tesla veneer of completely fresh thinking.
Few people will have cause to complain about range though. The 100D can drive non-stop for about five hours on a charge, and that's enough for most journeys. You can't argue with the amount of room, comfort or pace of the thing either. It's probably the pick of the range, and the only price you'll pay for it all is the price.
Verdict: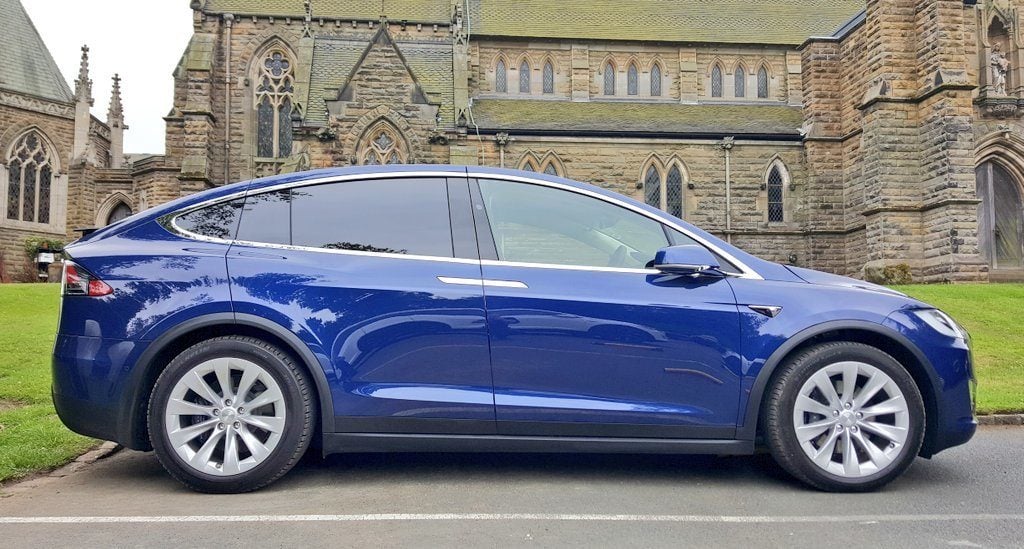 Quick Facts
Power
442hp (449PS, 330kW), 325lbft (440Nm)
Layout
Dual-motor, four-wheel drive
Top Speed
155mph (249km/h)
More Posts On...