After many teases, F1 legend and former Indy 500 champion Emerson Fittipaldi has pulled back the sheets on the latest entry in the Vision Gran Turismo roster on the ground in Geneva: the Fittipaldi EF7 Vision GT.
The Pininfarina-designed racer will not only be coming to GT Sport, but — unlike other VGT cars — this one will get built and sold in limited numbers to customers. The lucky few who will take the car home will get lessons on how to tame the beast from Emerson Fittipaldi himself.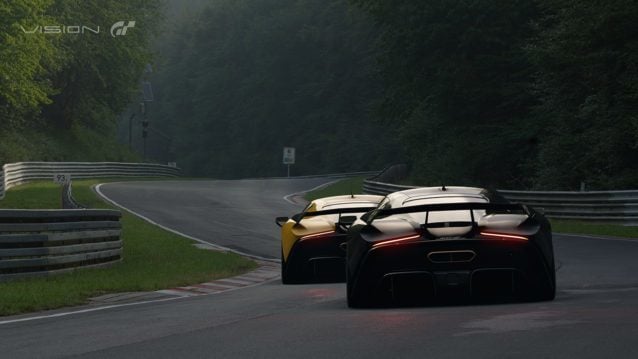 The completely carbon fiber car is the output of Fittipaldi's vision alongside Pininfarina, and race-bred German engineering firm HWA AG. The car boasts an incredible aerodynamic package featuring an intricate diffuser, a huge rear wing and air inlet pods at the side of the car.
The EF7 comes with a naturally-aspirated V8 which sends drive to the rear wheels via an integrated gearbox, suspension and braking system developed by HWA AG.
"The EF7 is an exciting car that embodies Pininfarina's DNA in terms of style and innovation, Emerson's championship race experience and HWA AG's flawless engineering skills," said Pininfarina Chairman Paolo Pininfarina. "Our collective team was able to turn a dream into a driving machine."
Kazunori Yamauchi, President of Polyphony Digital, was delighted with the car and added "The Fittipaldi EF7 Vision Gran Turismo by Pininfarina boasts a collective of some of the automotive world's best partners, and it is a project we're honored to be a part of."
The car eschews the modern trend of active aero for a smoother shape. The front and rear wings combine with the massive diffuser to keep the car planted at speed. To our eyes, there is a hint of Ferrari's track-only FXX program cars in the profile (both the Enzo-based original and the La Ferrari-based FXX K), and a splash of the Koenigsegg Regera in the rear taillights. All in all, the EF7 is a handsome machine.
The reveal comes with a new Gran Turismo Sport trailer featuring the car in a wind tunnel, then being unleashed at several tracks that sadly have all been seen before. It is worth noting however that the interior wasn't shown in-game, so it might not be modeled quite yet (not the first time for a VGT car).
For those hungry for more GT Sport news, what we first heard last August remains the story now: the game is targeting a release at some point this year.
Take a gander at the car in the gallery below, and stay tuned for more news out of Geneva!
Gran Turismo Sport is scheduled to launch on PlayStation 4 later in 2017.
See more articles on Emerson Fittipaldi, Geneva Motor Show 2017, Kazunori Yamauchi, Vision Gran Turismo, and Vision GT.