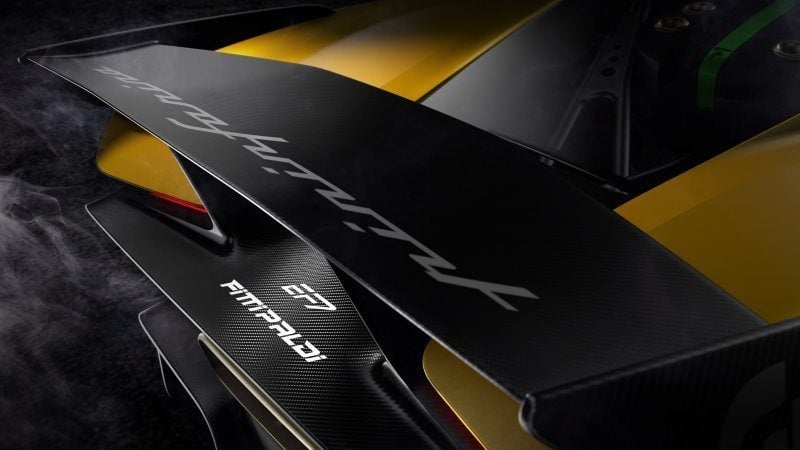 February began with the taunting reveal of the latest addition to the "not even halfway done" Vision GT Project. The Fittipaldi EF7 is headed by the legendary Italian coach-builder Pininfarina, and bears the initials of the two-time F1 and Indy 500 Driver's Champion Emerson Fittipaldi. Set to be revealed in earnest next week, March 7 at the Geneva International Motor Show, some new information has emerged before its big day.
Once again brought to our attention by Tassie_tiger, the new information reveals very little. As seen in the above image, a new quarter view reveals more of the vehicle's rear end and spoiler, and its namesake branded accordingly. More details have been added to the manufacturer's website as well — it's here that things become a little more interesting.
The newest VGT car is expected to make an appearance in the yet-to-be-released Gran Turismo Sport, and while it isn't mentioned outright, the latest addition on the website appears to echo that gesture:
Fittipaldi and Polyphony Digital have teamed up to ensure supercar and video game enthusiasts worldwide can push the limits with a virtual version of the EF7 Vision Gran Turismo in the Gran Turismo racing series.

Further, Gran Turismo and the FIA, the Fédération Internationale de l'Automobile, have created the FIA-certified Gran Turismo Championships, a new platform for motorsports. Fittipaldi said: "eSports is a sure future, and partnering with the Gran Turismo team to replicate the feeling of driving the EF7 Vision Grand Turismo was eye opening."
As mentioned previously, the EF7 will be powered by a normally-aspirated V8 engine sending over 600 horsepower to its driven wheels, and will weigh around 1,000 kg. A brief glimpse of the front of the EF7 also revealed a radical design language, not unbecoming of Pininfarina. Only six days remain until the Geneva Motor Show is underway.
More Posts On...