This is a guest article from one of our own here at GTPlanet. You may remember community member Nathan Howe from our previous article on his dirt track exploits in New Zealand. Now, he's embarking on an even bigger adventure.
Some of you may have read on here about Team Hooncorp's participation in the New Zealand 24 Hours of LeMons in September 2017. If you've never heard of 24 Hours of LeMons, to put it simply, it's champagne motorsport on a lemonade budget! The rules couldn't be easier: purchase a car for $999 or under, build it up to predetermined safety specifications (rollcage, one-piece seat, harness, kill switch and fire extinguisher), give it a theme of any sort, then hope that it survives the entire weekend!
For the September event Hooncorp used a Holden VN Commodore built as a rally car, hastily prepared for the circuit, that had every reason to break down, blow up or fail in any other catastrophic fashion, and yet somehow by the grace of God we survived the whole weekend, and even managed a respectable 17th position! (You can read that story here.)
On May 12–13, we're doing it all again, but the stakes are rising to never-before-seen heights. The folks at LeMons have announced New Zealand's first full 24 hour endurance race, and Hooncorp's jumped right in. The original Hooncorp "Cyclops" Commodore will be returning to the track, refreshed and reconditioned (and with both it's headlights this time), plus we're building a brand new car for the event!
The new toy in the garage is a Nissan Pulsar Autech, with a 2.0-liter four-cylinder front-drive layout. Pumping out an honest 200hp, and weighing somewhere in the realm of 2,000lb, this weapon will stand a solid chance at a high placing! The goal will be of course to win — why would you enter a motor race for any other reason?! — but getting both cars across the line at the end of the 24 hours will be an astronomical feat in itself.
The action's going down at the Hampton Downs Motorsport Park. Hampton Downs has hosted two of the previous three 24H LeMons NZ events, and is known for having some particularly tricky corners even for the best behind the wheel.
Multiple elevation changes, a fair share of blind corners and only a couple of long straights to gather your thoughts means that the slightest lapse in concentration may spell disaster for your checkered flag hopes. Add in the pitch black of night that will flood the track for 15 hours of the race, and you're left with one of the most exciting, and indeed scariest races in New Zealand motoring history!
Piloting the two Hooncorp lemons will be ten drivers with experience levels ranging from "New Kids on the Block" to "Marky Mark". This lineup will be including two of GTP's very own. I (Nismonath5) will be captain of the Pulsar, while McClarenDesign will be part of the team in the Commodore. That's right, McD will be travelling all the way from Oklahoma, USA to Auckland to participate in this race!
Of course, a record setting event like 24H LeMons wouldn't be complete without a few famous faces within the roll call. New Zealand Legend Of Speed Racing Ray Williams will be in attendance. Racing Ray holds eight NZ land speed records including the coveted "outright" speed record, which he bested in 1996 using a Porsche 930 Turbo. He clocked in at 316.92km/h down the flying kilometer, and his records still stand today.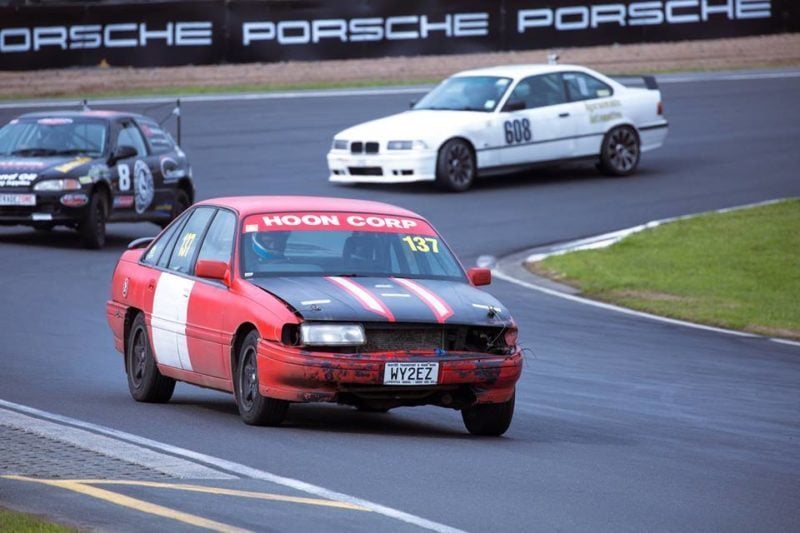 Also making an appearance on the track is Michael Pickens, seven-time New Zealand midget champion; Callum Hedge, who at just 15 is the youngest winner of the NZ Formula 1600 championship; and Gene Rollinson, who has driven everything from karts to V8 SuperTourers. But by far the most prolific entry this year is "Speedycop" and his gang of outlaws in a very unique *ahem* Mach 1 Mustang!
Speedycop is, of course, renowned for his crazy automotive creations, including but not limited to: an upside down Camaro, a sideways VW van, and a literal helicopter car! This time the crew is headed for New Zealand to, in his words, "kick some Kiwi ass." He's also managed to secure two-time Daytona 24H winner Randy Probst on his team, adding yet another racing legend to the event. Hooncorp will make sure to bring the heat!
If you're interested in keeping in the loop with Hooncorp and our lemon-flavored motorsports adventures, you'll want to keep an eye on the associated forum thread. There, I'll post live updates as regularly as I can over the course of the event, including race positions, drivers, lap times, and other noteworthy developments. If you'd like to go one further and follow our build progress and news leading up to the event, you can find our Facebook page here, and our Drivetribe here.
More Posts On...