Welcome back to GTPlanet's Member Motorsports Spotlight. I'm a GTPlanet forum member and sim racer with a passion for real life motorsports. You can read all about my motor racing exploits in the first installation of this recurring series.

For the fourth interview in the series, we're keeping it down under, but have found yet another form of motorsport to feature: dirt racing! This week, we've interviewed GTPlanet member Nismonath5, aka Nathan Howe.
You race on sims, and in real life. Which came first?
"I started out in the virtual world. Ever since I was learning to walk I was playing the original Gran Turismo and Colin McRae Rally games. Not that I was racing, I was mostly smashing up the cars for fun just to see the damage and messing around rather than actually going fast."

How did you get into real life racing?
"My dad's a mechanic by trade and owns a storage unit in town, so from a young age I was already helping him by maneuvering cars of all shapes, sizes and transmissions around a tight parking lot. My first taste of raw speed was in a fun little go-kart dad owned. We'd take it to a small disused parking lot that made a neat L shaped track, and pull out the stopwatch. Good times!
"I wouldn't take on other drivers until I was 11. My family hosted the Hooncorp Winter GoKart Challenge, an endurance racing league that basically provided professional Speedway drivers something to do during the off-season. They'd tour the various indoor kart facilities around the city, and engage in some epic team endurance racing, sometimes in excess of 300 laps.
"Anyways, at one race that I went to, one team had a driver pull out just hours before the green flag dropped. There must have been truly no one to fill the space, because dad sent me, at only 11 years old, into the field to compete! Sitting there on the grid for the first time, heart racing, a bunch of pro's all around you, you never quite forget that rush!
"After that performance, I joined team Hooncorp for the next few seasons. When professional drifting team Rattla Motorsport joined the series for the 2014 season, I was asked to drive alongside them, and I was part of their team, alongside Curt Whittaker, Shane Allen and Kristin Vermeulen that placed 3rd overall that season!
"Finally, I decided to get into a full size car. I got a Nissan Pulsar VZ-R dirt track car that I talked about here, and entered the Waiuku Dirt Track Club. That was a real learning curve as far as car control and pack racing, and in the one season I did there, I placed 3rd overall in my class! And it all took off from there…
"I'd also like to mention that I did have a crack at getting into top-tier motorsports. Read about that story here."
Tell us about your experience on sims. How did you get into sims, what games have you played, which do you play now? Do you race in a specific league or series? Any particular results you'd like to highlight?
"As I mentioned earlier, I started out with the original GT and Colin McRae games, and I've always been a sim racer. Arcade racers like Mario Kart or Wipeout don't really have the same appeal, personally. When I upgraded to the PS2 I bought Gran Turismo 4 and Race Driver 3. Those were — still are — awesome games, still worth a boot-up even today!
"I got GT5 long after the online servers were terminated but that didn't dampen my enjoyment, and finally, I got GT6 about a year and a half ago! This was my first experience in real-time human competition as opposed to A.I. No more ramming rivals off track or using them as brakes! Nowadays I'm a regular at the GT6 Car Of The Week club, and I have those members to thank for making me as good as I am at competitive sim racing."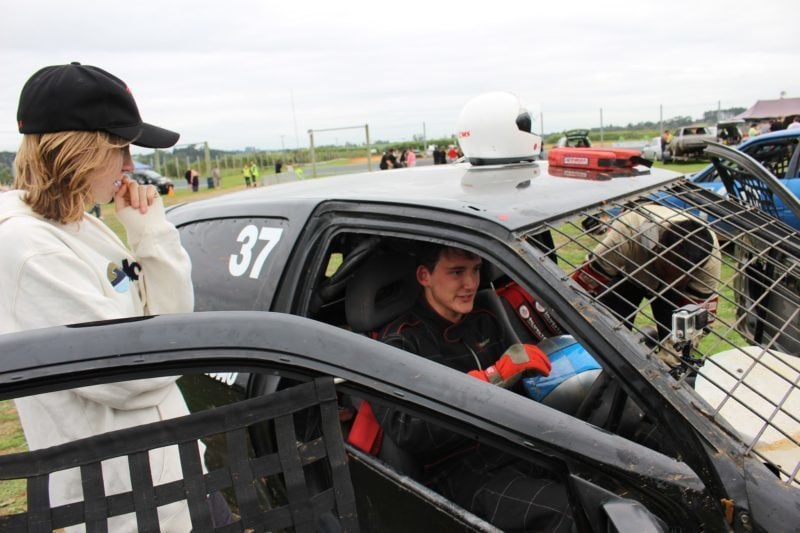 Now I'd like you to talk about your real life racing experience. Which series do you drive in, what is the race format?
"Currently, I don't participate in a series, my motorsports has kind of taken a back seat to my education, being in my last year of college. However, I have entered the 24H of LeMons, a budget endurance racing series, comparable to the Chump Cars in the States or the 2k Cup, a series with a similar vibe but more focused on much shorter races. Details are still under wraps so I can't share much here, but the plan is to enter a team with multiple vehicles — we have our eyes set on the top prize!
"The layout isn't a straight 24-hour start-to-finish race, as you may think. It's broken up into three smaller races, which is great because if we all but write off the car one day, we can pull an all nighter and be ready to carry on the next morning!"
Can you talk about the tracks you've driven on? Which are your favorites? How many races have you run in total? Any successful results you'd like to talk about?
"Obviously, I'm still young, so the list of tracks I've driven on is still comparatively small, but I've been lucky enough to drive some pretty epic tracks even in my young age. The list goes like this (In order from most mileage to least):
Waiuku Dirt Track (24 races)
Waihi Beach Dirt Track (8 races)
Pukekohe Park Raceway (Modern layout) (6 test days)
Meremere Dirt Track (3 races)
Pukekohe Park Raceway (Old layout) (1 test day)
Hampton Down's Raceway (1 test day)
"My favourite is definately Pukekohe Park. It's fast, it's flowing, it's simple and yet so challenging. One of those 'easy to learn, difficult to master' tracks. Hampton Downs was fun, but a prick of a track for me, with a few hairy off-camber corners really testing my talent time and time again.
"One day at Waiuku, just before the first race of the day, the Pulsar's gearbox cracked, so I needed a loaner car to get me through the day's racing (You see, my only goal for the dirt track season was to start and finish all 24 races, that is, achieve a 100% finish rate).
"A mate of mine offered me his car, so I chucked some of my own gas in it and… won all three races that day! Now, the tradition at Waiuku is that when you win your first race, you get a bucket of water from the trough poured over your head, full of pond scum and other goodies. Since I hadn't just won my first race, I'd hat tricked it that day, they decided to instead toss me into the trough."
What car(s) have you raced in real life? Do you own a race car, or do you rent from someone? Did you help with the build, do you perform any of the maintenance?
"I've only raced a handful of cars in real life, but here's my top 5:
"Nissan Pulsar VZ-R Dirt track car: My weapon of choice for the dirt track!
"Toyota Levin Dirt Track Car: Loaner car that I steered to victory!
"Toyota 86 Touring Car: Used in my shot at getting into the big leagues. All the professional goodies, loads of grip, and a sexy, throaty sound. A real blast to drive!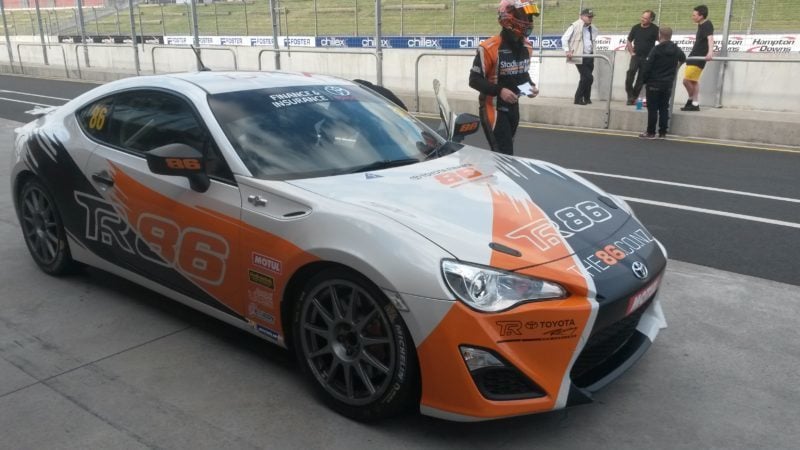 "Nissan Lucino racecar: Looks like a regular Lucino, but check under that hood. There's an SR18 hiding where the regular GA16 should be. Other than that, it's just a cheap, fun car with a cage, good for thrashing and having fun!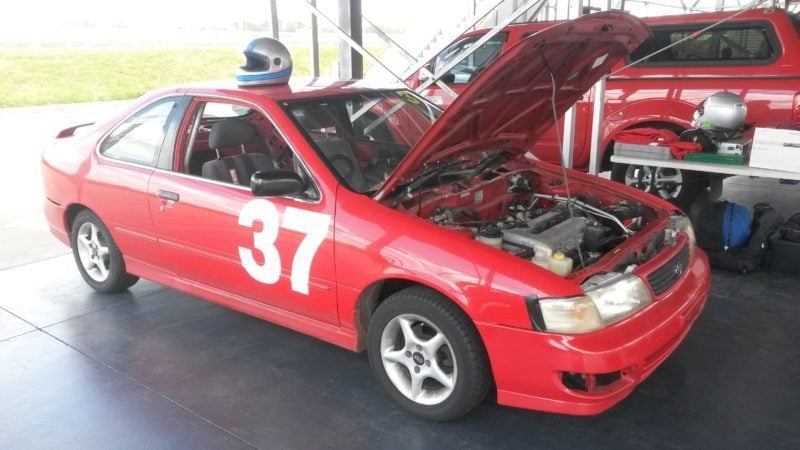 "Nissan Pulsar Autech: A genuine Autech, and one of the possible candidates for our LeMons program. Currently a street car, but a gutsy street car at that!
"As far as race car ownership, well I don't own any. Dad owns the Pulsars and Lucino. The fact is, my career is at the moment very much a 'Daddy pays the bills, I drive' thing. And as much as I hate that, I'm eternally grateful because if not for him I'd have never even sat in a race car.
"I try to contribute as much as I can, but with him juggling work, and me juggling college, our availability clashes more often than not. After college though, I'll have a lot more time to spend at the shed, getting my hands dirty and becoming more mechanically-minded."
Talk about the connection between real life and sim racing. What aspects of sim racing translate to real life racing, and vice versa? What aspects do you find different between the two?
"Sim racing definitely helps drivers, most notably with the very basics of racing. It gives a rough idea of how things like tyre degradation, fuel load and different tuning setups affect a vehicle's characteristics. You can also use it to learn the layout of a track, provided it's featured in the game. Race Driver 3, despite being an older game, features Pukekohe Park Raceway. Although it's the old layout, lacking the extra chicane installed just before the hairpin, it's still good for practicing 80% of the track.
"Having said that, nothing beats practicing in real life. You need to really feel it, 'driving with your arse' as my dad would call it. The simulators may be continually blurring the line between virtual and reality, but nothing will ever teach you as well as the real deal. Now obviously, the real deal is more expensive and will be a rarer commodity than simply turning on your PlayStation and choosing 'free run', but I would highly encourage anyone looking to refine their racecraft to attend a track day at their local racetrack, even mileage in gutless old jalopies can prove invaluable.
"So yeah, real life and the sim can pull a few parallels. One key difference I've found though is that in the sim, you tend to make ballsier moves than in real life, because if you mess up, you just hit reset and you're away in a fresh new car. In real life, your life is potentially on the line."
How about some on board video or pictures of your driving? Or any pics you have of the car build, maintenance, podium celebrations. Whatever you might have.
"These are from my last meet at Waiuku. The races themselves were pretty poor because of a few setup issues and less than ideal track conditions, but I managed to finish, and that's all I came to do!
To wrap up, let's focus more on the community here. When did you join GTPlanet, and what brought you here? How does GTPlanet help you connect to real life racing, and sim racing? What keeps you coming here?
"I came here Feburary last year, mainly to keep tabs on the GT6 Car Of The Week Club. Eventually I started to broaden my horizons and visit other forums, and nowadays I mainly browse the COTW thread, the Duel Of The Week thread, Virgin Australia Supercars thread, as well as whatever other threads might be striking conversation!
"I've found some amazing tracks courtesy of the GT6 user-created track database, and yeah, it's become my go-to place for gaming news and banter! GTPlanet, there's nowhere I'd rather be!"
OK, so one final question. When's your next race, and how do we keep up with your real life racing?
"My next event will be the 24H LeMons, at Hampton Down's from 15–17 September. Currently working on building the car, going to be using a VN Commodore V6. The goal is simply to see the chequered flag.
"As far as keeping up with my adventures, I have a collection on Google+ for that, called Aspiring Young Racer. My Youtube channel is Nismonath5."
See more articles on GTPlanet Member Motorsports Spotlight.