StarLight Garage presents a brand new electric car, the Renovo Coupe 2015.
This car combines the good looking classic lines of the old days racing cars with high technology under the hood and lots of muscles in disguise.
Renovo claims to be America's First All-Electric Supercar.
The Renovo will debut at 2014 Pebble Beach Concours D'Elegance.
Suggestion by CostasDrifter
Renovo Motors, a Silicon Valley Car Company, is driven to create the world's most exciting vehicles. By harnessing the power of the latest electrical, mechanical, and software systems the Renovo team creates cars that redefine the driving experience. Their debut offering, the Renovo Coupe, sets multiple benchmarks in the EV supercar segment and demonstrates the performance, control, and excitement that is made possible by Renovo's patent-pending technology.
Renovo Motors sought to create an aspirational vehicle that demonstrates the performance, control, and excitement that is possible with EV technology.
The Coupe's sculpted drivetrain is on full display in its genuine, factory-modified CSX9000 chassis supplied by the world-famous Shelby American brand. Completely reimagined by award-winning designer Peter Brock, the CSX9000 delivers the features of a modern supercar while retaining the classic and race-proven aerodynamic silhouette of the original 1964 Le Mans winning car.
The Coupe sets a benchmark 0-60 time of just 3.4 seconds, the fastest of any production rear-wheel drive electric vehicle. The car's massive 1,000 foot-pounds of torque is available immediately from a dead stop and delivers perfectly linear acceleration that is unlike any car on the road today.
The mid-mounted twin sequential axial-flux motors deliver both power and efficiency, with optimized energy mappings for a wide range of driving conditions. When run at full throttle, the motors produce over 500 horsepower. More importantly, the drivetrain ramps to full power in just 37 milliseconds—about ten times faster than the blink of an eye—and further redefines how a performance vehicle can respond to the commands of the driver.
Multiple separate battery enclosures enable a performance-oriented weight distribution and minimize chassis volume requirements. The Renovo Motors drivetrain is less than 40% of the total weight of the car, and yet delivers the highest peak power in its class.
Specifications
0-60 in under 3.4 seconds

1000 ft-lbs of direct-drive torque instantly available

Twin sequential axial flux motors producing over 500 horsepower

Incredible throttle response with full power available in just 37 milliseconds

Patent-pending modular lithium ion battery technology

A curb weight of just 3,250 lbs

30 minute quick charge and 5 hour level 2 charge

Genuine, factory modified Shelby American CSX9000 rolling chassis

Flexible control system with dynamic in-cabin regen adjustment

Proudly built in Silicon Valley, USA

Entering limited production in 2015

Featured at the 2014 Pebble Beach Concours d'Elegance

Preview at the Gold Rush Rally to benefit the Taylor Lynn Foundation
OTHER CLASSIC CARS ARE HERE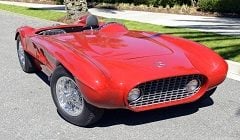 Last edited: