Continuing my trend of wanting more 80s/90s sports cars in GT, here's another set of cars I'd be excited to see.
When IMSA came up with the GTS/GTS-1 formula in 1992 (Grand Touring Supreme, silhouette cars with template bodies, but constructed as lightweight carbon-fiber tub cars a la the GTP prototypes - as fast in a straight line as a GTP car, faster around most courses than the Camel Lights prototypes) there were a few prominent factory entries. The Cunningham Nissan 300ZXs, the Jack Roush Ford Mustangs, and the Rocketsports Racing Oldsmobile Cutlass Supremes:
As built by Rocketsports, these three cars had small-block V8s ranging from 6 to 6.5 liters displacement. They were driven during the 1992 and 1993 seasons by team principal Paul Gentilozzi, as well as Darin Brassfield, Scott Pruett, and Irv Hoerr, among others. I don't remember Rocketsports winning any endurance races with these cars, but they won plenty of the sprints.
At the end of the 1993 season, Gentilozzi was to go drive Nissans, so he sold the operation to Harry Brix/Brix Racing, a Camel Lights team. The plan with Brix was to continue on as the factory Olds team in IMSA, eventually running the new Aurora GTS-1 body that was in the works, but that wouldn't debut until 1996. But, the Northstar-based 4-liter twincam V8 the Aurora was supposed to run WAS ready by '95, so Brix dropped it in the Cutlass, and took the re-liveried Oldsmobiles racing.
The result of the Rocketsports chassis, Aurora V8, and Brix team management was a bunch of wins and the IMSA GTS-1 championship for Irv Hoerr in 1995. Irv did well in 1994 too, but finished third in the points behind Nisan drivers Johnny O'Connell and Steve Millen.
By 1996, the Aurora body was ready and was immediately plopped onto the former Cutlass chassis. IMO, one of the prettiest cars ever to run in a GT series.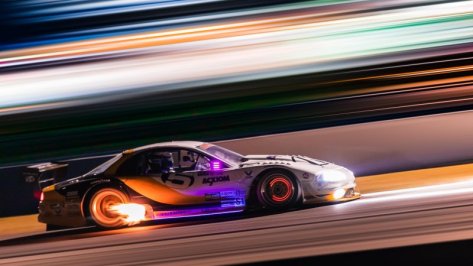 The Aurora program was just as successful as the Cutlass, with several sprint race class wins, a class win at the 1996 24 Hours of Daytona (driven by the father/son team of Charles and Rob Morgan, as well as Joe Pezza, Irv Hoerr, and Jon Gooding) and a second IMSA GTS championship for Irv Hoerr. A Riley and Scott prototype running the same V8 as the Aurora would also take the overall win at Daytona that year.
From the late 1980s until the late 1990s, the Cutlass Supreme body was a stalwart American racing, seeing duty in NASCAR, Trans-Am, and IMSA competition, winning races and championships everywhere it went. The Brix efforts with the Cutlass and Aurora represented the last moments of motorsports glory for a storied marque before GM shuttered them, and I'd be thrilled to see them immortalized in a game like Gran Turismo.
Last edited: