With 2021 now up and running, the first full Spring season of the new year is underway in Forza Horizon 4. Series 30 is now in the home stretch, so there's one last batch of events for players to chase after.
A 90s Alfa Romeo makes its way to the UK for the first time, along with fresh Playlist prizes for 50% and 80% completion. Let's open up the 2021 account by looking at Spring's content
155 Makes An Entrance
Leading the Playlist prizes this week is the 1992 Alfa Romeo 155 Q4. Despite the unassuming looks, there's some surprising racing pedigree underneath.
With success in touring car racing, the 155 comes with a punchy 2.0-liter turbocharged engine and four-wheel-drive. With 187hp, performance in all weather conditions should be suitably brisk.
If you want more extreme performance, there's the Bugatti Divo. Featuring a coachbuilt body, the Divo also receives important handling upgrades to the Chiron underpinnings. The powertrain is untouched from a regular Chiron, meaning an 8.0-liter, quad-turbocharged W16 that puts out a titanic 1,479hp.
Spring's Photo Challenge sends off Series 30 with a focus on Hoonigan. #KenBlockbuster wants you to take your best shot of any Hoonigan car. Over at the seasonal championships, prizes include the Porsche 718 RS 60 and the Hoonigan Ford Escort RS1800.
One of the most attractive prizes is another Mk2 Escort, but this time in full rally specification. This particular Escort saw success at the hands of Björn Waldegaard, including at the RAC Rally. Under the hood is a charismatic 2.0-liter engine with 255hp. On the dirt trails around the UK, the Escort will be right at home.
You can win the #5 Escort by participating in the Spring Playground Games.
Spring's events and prizes are listed below:
Mini Motors
Series: Road Racing Series
Cars: Ferrari 166MM, Porsche 550 Spyder, Meyers Manx, Austin-Healey Sprite
Restrictions: D Class, 500 PI
Prizes: 15,000 CR, 25,000 CR, Porsche 718 RS 60
Hitting The Gymkhana
Series: Road Racing Series
Cars: Classic Muscle
Restrictions: B Class, 700 PI
Prizes: 15,000 CR, 25,000 CR, Ken Block Helmet
Hooning It
Series: Dirt Racing Series
Cars: Hoonigan
Restrictions: S2 Class, 998 PI
Prizes: 15,000 CR, 25,000 CR, Hoonigan Ford Escort RS1800
The Trial: Retro Racing Green (Co-Op Championship)
Series: Street Scene
Cars: Retro Supercars
Restrictions: A Class, 800 PI
Prizes: Hoonigan Rauh-Welt Begriff Porsche 911 Turbo
Spring Games – Series 30
Series: Playground Games
Cars: Rally Monsters
Restrictions: S1 Class, 900 PI
Prizes: Ford Escort RS1800 #5
M68 Speed Trap
Season Objective: 270 mph
Open-Cast Cliff Danger Sign
Season Objective: 984.3 ft
Thicket Drift Zone
Season Objective: 56,000 points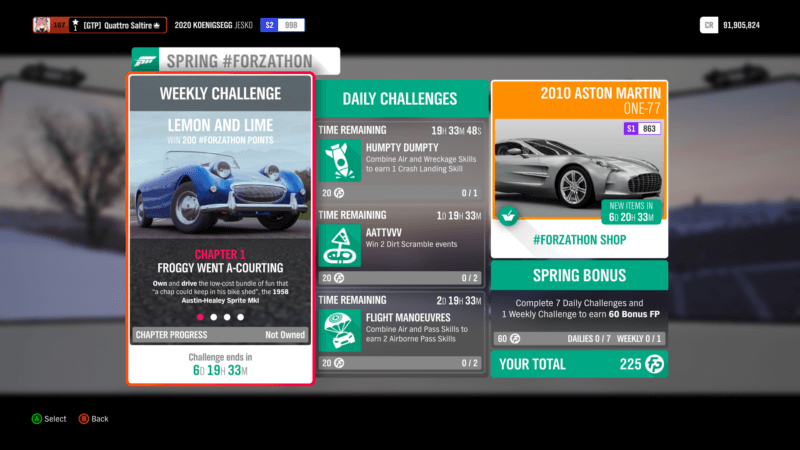 Forzathon Events
Its all about frogs in Forzathon this week, with the Austin-Healey "Frog-Eye" Sprite taking the spotlight. Hop in to this small roadster to get started.
Next, head to the races and closely follow other cars to earn 5 Drafting Skills. After that, head out into the countryside and enjoy a relaxing 10 mile drive in your Sprite.
Finally, put all your speed to the test by earning a total of six stars from Speed Zones to wrap up this week's challenges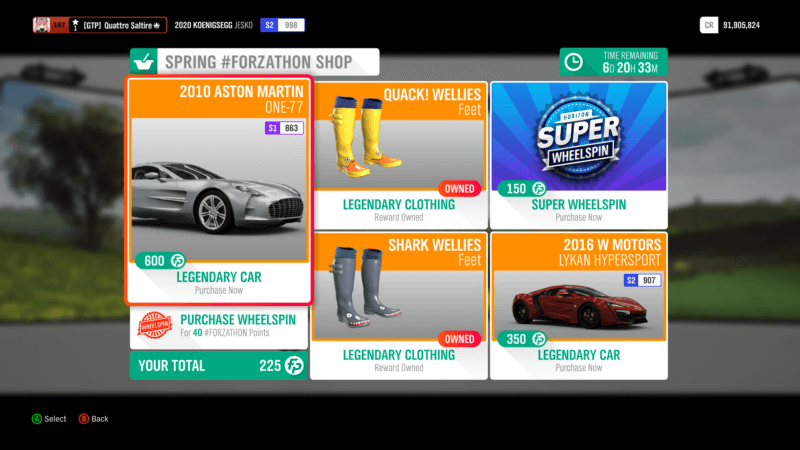 Forzathon Shop
Rare supercars take the mantle in the shop this week, led by the Aston Martin One-77.
With only 77 units made, the One-77 also stands as the fastest road-going Aston Martin ever made. Under the striking body lies a 7.3-liter V12 that produces 750hp, allowing the One-77 to sail north of 220mph.
You'll have to fork out 600 Forzathon Points to own the One-77, but in return, you'll be getting the automotive equivalent of an art form.
Joining it is the W Motors Lykan Hypersport. A relatively unknown brand, the Arabian Lykan is even more exclusive with a production run of just seven units. Along with enough angles in the styling to rival Lamborghini, there's also serious firepower. The Lykan makes 780hp from a 3.7-liter twin turbocharged flat-six sourced from Ruf.
At a tempting price of just 350 FP, the Lykan is a bargain compared to the Aston. Just don't try to attempt launching it off from tall buildings if you do buy one.
Clothing items this week include the Quack and Shark Wellies.
See more articles on Forza Horizon 4 Season Change.