It's another Great British Summer as a brand new season kicks off in Forza Horizon 4. Series 63 officially begins, meaning another mixed bag of events and content is up for grabs over the next four weeks.
Prizes take a more hardcore turn for Summer, plus both the full and seasonal playlists have more goodies in store for those who can complete the 50% and 80% objectives.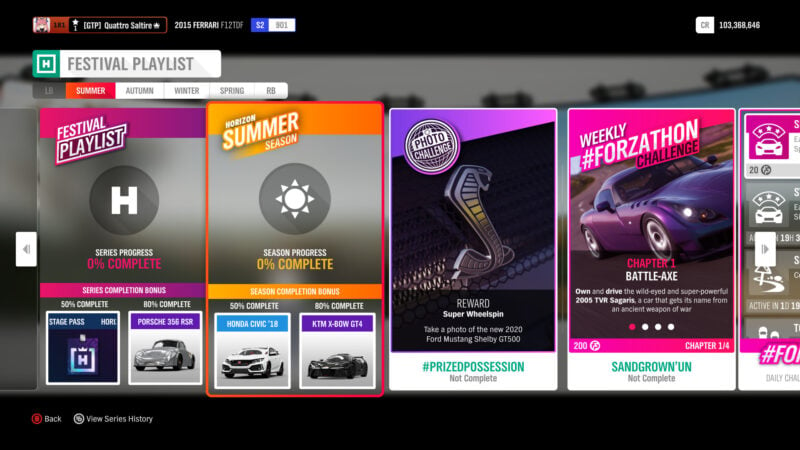 Fighting Fit
Honda leads the charge in the seasonal playlist prizes with the 2018 Honda Civic Type R.
While its styling may be controversial to some, the FK8 generation Type R is one of the fastest and most exciting front wheel drive cars around. The 2.0 liter turbocharged engine carries over from the previous generation, but has been upgraded to make 316hp. Putting all that power through the front wheels has required some serious engineering to avoid torque steer.
If you want to get even more hardcore, there's the 2018 KTM X-Bow GT4. Despite looking like a prototype, the X-Bow has been built to the tamer GT4 racing regulations. With the street car having no roof, the jet fighter canopy had to be specially engineered in order to it to comply. Along with other aerodynamic tweaks, the X-Bow makes 326hp from its Audi-sourced 2.0 liter turbocharged engine.
An Emory Porsche 356 RSR and a Horizon Backstage Pass are waiting for those who complete the objectives for the full playlist.
The first Photo Challenge for Series 63 is all about a certain #PrizedPossession. For this objective, you'll need to snap the 2020 Ford Mustang Shelby GT500. Championship prizes for Summer feature a host of cars including the BMW M3 GTS and Volkswagen Global Rallycross Beetle.
A particular highlight comes in the form of the 2004 Honda Civic Type R.
The EP3 generation is widely considered to be Honda's finest hour in the hot hatch market. The Type R's character is dominated by its 2.0 liter VTEC engine. With 197hp on tap, the EP3 demands that it be thrashed to its 8,000rpm redline to extract its maximum potential. Although it didn't make much power in its era, Honda still gave the EP3 independent rear suspension to aid with handling.
To get the Civic into your garage, you'll need to win the "Boiling Point" championship.
A fresh Showcase Remix also returns for this Summer season. "Motocross Purposes" straps you into an Ariel Nomad in a forest dash against a team of dirt bikes.
The Monthly Rivals goes electric for the latest series, as you'll need to hustle the 1,900hp Rimac Concept Two around Astmoor Heritage Circuit.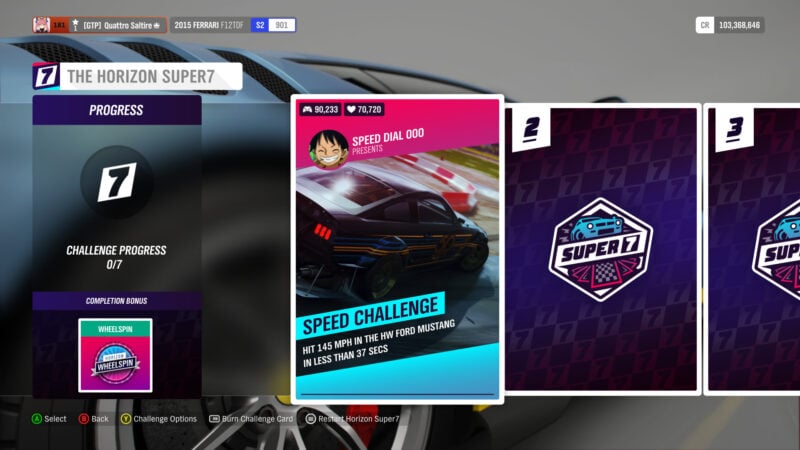 You can also take your skills to the latest round of Super7. Complete each of the seven cards and you'll be gifted with a Wheelspin.
Summer's events and prize list can be found below:
Boiling Point
Series: Dirt Racing Series
Cars: Retro Rally
Restrictions: B Class, 700 PI
Prizes: 15,000 CR, 25,000 CR, 2004 Honda Civic Type R
Forest Monsters
Series: Cross Country Series
Cars: Rally Monsters
Restrictions: S1 Class, 900 PI
Prizes: 15,000 CR, 25,000 CR, Volkswagen Global Rallycross Beetle
German Engineering
Series: Road Racing Series
Cars: German cars
Restrictions: S1 Class, 900 PI
Prizes: 15,000 CR, 25,000 CR, BMW M3 GTS
The Trial: Honda Cup (Co-Op Championship)
Series: Road Racing Series
Cars: Honda
Restrictions: A Class, 800 PI
Prizes: 2005 Honda NSX Type R
Summer Games – Series 63
Series: Playground Games
Cars: Muscle vs Tuner
Restrictions: A Class, 800 PI
Prizes: 1969 Nissan Fairlady Z
Super7 – Summer
Completion Prize: Wheelspin
Bamburgh Dunes Speed Trap
The Great Ridge Danger Sign
Season Objective: 915.4ft
Oldweir Speed Zone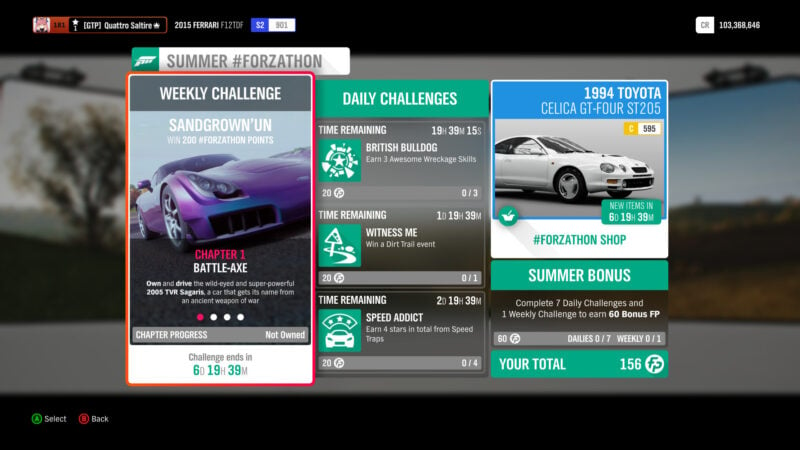 Forzathon Events
TVR takes the spotlight in Forzathon with one of the last cars to leave its Blackpool factory; the 2005 TVR Sagaris. Hop into this fiberglass hotrod to get the challenges rolling.
Next, unleash all 400hp as you'll need to head for the motorway in order to hit a target speed of 185mph. After that, push your bravery to the limit to rack up a total of 10 Daredevil Skills ducking through traffic.
Wrap up this week by going on a road trip against serious competition as you'll be required to win a Road Racing Series event at the daunting Goliath.
Forzathon Shop
Homologation specials take up the mantle in the shop, with the 1994 Toyota Celica on center stage.
Succeeding the ST185, the ST205 Celica would go on to become one of the most iconic rally cars of all time. It was also the last Celica to come with four-wheel-drive and is also the most powerful in its lineage. The 2.0 liter turbocharged engine develops a healthy 255hp. However its tenure in motorsport is overshadowed by Toyota's disqualification from the 1995 World Rally Championship after being caught using illegal turbocharger modifications.
The Celica will set you back 599 Forzathon Points, but you'll gain a car that stands out from the rally crowd for all ages, especially in a Castrol livery.
Another homologation legends is the 1988 Holden VL Commodore Group A SV.
In order to battle with the dominant Ford Sierra Cosworth in Australian touring car racing, Holden created its Special Vehicles skunkworks to work its magic on the VL Commodore. The main bodykit was made from plastic as carbon fiber would have been too expensive. It helped to reduce drag considerably and reduced weight as well. The 500 unit homologation run was extended by an additional 250 units due to excessive demand, but sales of those final models were very slow.
What isn't slow is the 5.0 liter V8 making 241hp. Despite the factory backing in its motorsport campaign, the Commodore failed to put a dent in the winning streak of the Sierras.
You'll also need 599 FP for the Holden, where you'll receive one of the greatest sports sedans ever to come out of Australia.
Avatar wardrobe items for this week are the Pink Biker Jersey and the Pelican T-shirt.
See more articles on Forza Horizon 4 Season Change.