Rain is pouring all over the festival as a new Autumn season is underway in Forza Horizon 4. As the second week of Series 63 speeds forward, players are braving the downpours to keep adding to their victory tallies in the latest events.
High speed and big fun are on the agenda for prizes, with the playlist offering more goodies for those that can complete the goals of 50% and 80% completion.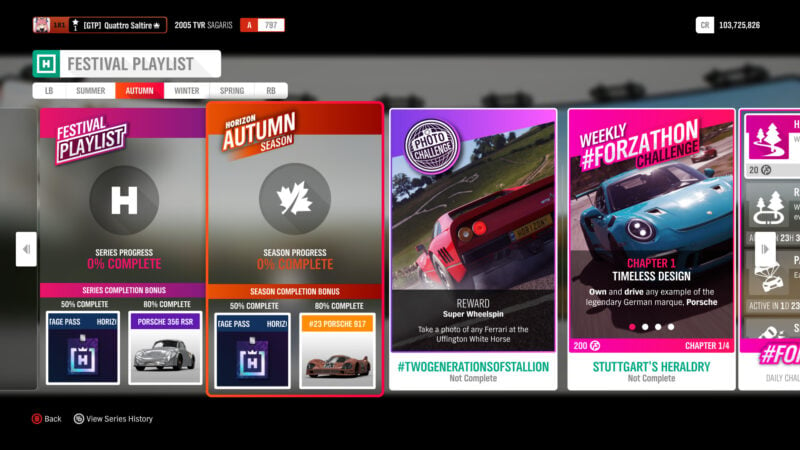 Breezy Does It
There's a single car up for grabs for completing the seasonal playlist: the 1971 Porsche 917/20.
In the sophomore year of the 917's iconic dominance at Le Mans, Porsche looked towards a middle ground solution of balancing speed and handling. The 917/20 is the result which combines the best areas of the 917K and the longtail LH.
Unfortunately, its proportions meant it was given a rather unglamorous nickname, which Porsche played on with a butcher's diagram to create "the Pink Pig". A 4.5-liter flat 12 powers the 917/20 and develops 600hp. Its only Le Mans start came in the 1971 event where it sadly retired.
You can also pick up a Horizon Backstage Pass to find more exclusive cars to add to your garage.
Horses are the star of the Autumn Photo Challenge. #TwoGenerationsOfStallion requires you to take a picture of a Ferrari over at the Uffington White Horse. The championship prize pool features machines to suit all tastes, including the Ferrari Enzo and the 1979 Chevrolet Camaro.
One car to aim for is the 1991 Peugeot 205 Rallye.
With the 205 GTI taking headlines, the Rallye was pitched as a cheaper alterative for those after similar thrills. Also aimed at amateur racers, the 205 was pared back to the bare minimum which allows it to tip the scales at just under 1,750lb. The 1.3-liter engine may make just 100hp, but the eager chassis and light weight demand that you thrash it every step of the way.
You'll need to complete the Autumn Playground Games to bring the Peugeot home.
The community continues to produce wild surprises for Super7 to keep players constantly on their toes. Complete all seven cards and you'll get a Wheelspin as a reward.
Events and prizes for Autumn are below:
All Fall Down
Series: Dirt Racing Series
Cars: Classic Rally
Restrictions: 100-600 PI
Prizes: 15,000 CR, 25,000 CR, Ferrari Enzo
Retro Rally Rumble
Series: Dirt Racing Series
Cars: Retro Rally
Restrictions: B Class, 700 PI
Prizes: 15,000 CR, 25,000 CR, 1979 Chevrolet Camaro
Heavyweight Champions
Series: Cross Country Series
Cars: Heavy Hitters
Restrictions: A Class, 800 PI
Prizes: 15,000 CR, 25,000 CR, Hummer H1 Alpha
The Trial: Trials and Tribulations (Co-Op Championship)
Series: Road Racing Series
Cars: Ferrari
Restrictions: S1 Class, 900 PI
Prizes: Aston Martin One-77
Autumn Games – Series 63
Series: Playground Games
Cars: Super Hot Hatch
Restrictions: A Class, 800 PI
Prizes: Peugeot 205 Rallye
Super7 – Autumn
Completion Prize: Wheelspin
Derwent Reservoir Speed Trap
Rannoch Shelf Danger Sign
Toft Speed Zone
Forzathon Events
One of the most successful sports car marques in history takes center stage as Forzathon puts the spotlight on Porsche. Choose any one of Zuffenhausen's best cars in your garage in order to get rolling.
Up next, showcase that motorsport pedigree by demolishing your competition on your way to winning three Road Racing Series events. Following from that, take your chosen Porsche for a long drive around the UK. Thanks to their seamless performance, the 26.2-mile objective should flash past.
Finally, demonstrate Porsche's surprise rally heritage by winning three Dirt Racing Series events.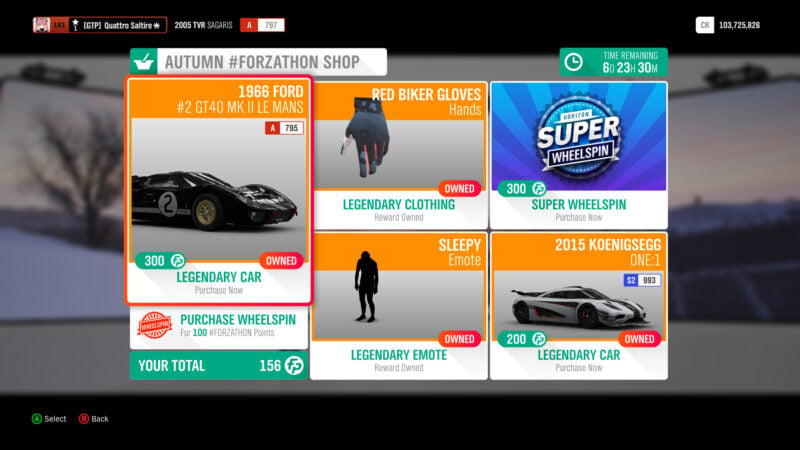 Forzathon Shop
A pair of speed demons from very different eras are in the shop this week, with the main stand occupied by the 1966 Ford GT40 Mk2.
The second iteration of the GT40 was built to improve on the areas where the Mk1 initially failed as part of Ford's obsessive bid to beat Ferrari at the Le Mans 24 Hours. Major alterations to the chassis and engine helped to improve handling and straight line speed.
That engine is a brutal 7.0-liter V8 with 485hp, allowing for a top speed north of 200mph. All of the combined changes to the GT40 helped kickstart an era of domination, with Ford going on to win Le Mans consecutively between 1966 and 1969.
The GT40 will set you back 300 Forzathon Points, and will also save you from spending millions of credits buying one from the autoshow.
Bringing the quest for faster speeds to the modern era is the 2015 Koenigsegg One:1.
The Agera RS was already extreme when it comes to going fast, but the One:1 ups the insanity factor two-fold. Designed to tackle corners as well as straights, the One:1 gets a wild aero kit that can produce up to 600kgs of downforce at speed. The real party piece comes from the Koenigsegg's incredible 1:1 power-to-weight ratio. That comes courtesy of a 5.0-liter twin-turbocharged V8 with 1,360hp in a car weighing just 1,360kg (2,998lb).
At 200FP, the Koenigsegg is even cheaper, and is a much more exciting way to embarass Bugatti.
This week's avatar clothing pieces and novelty items are the Red Biker Gloves and the Sleepy emote.
See more articles on Forza Horizon 4 Season Change.