The return of Spring marks a fresh new season this week in Forza Horizon 4. Speeds and temperatures are rising as we enter the final week of Series 21, with the last batch of content for the month now up for grabs.
Our final Playlist update for Series 20 brings some updated prizes for 50% and 80% completion. This week, an unusual competition Ferrari makes its way to Horizon.
Let's dive in to this week's content breakdown.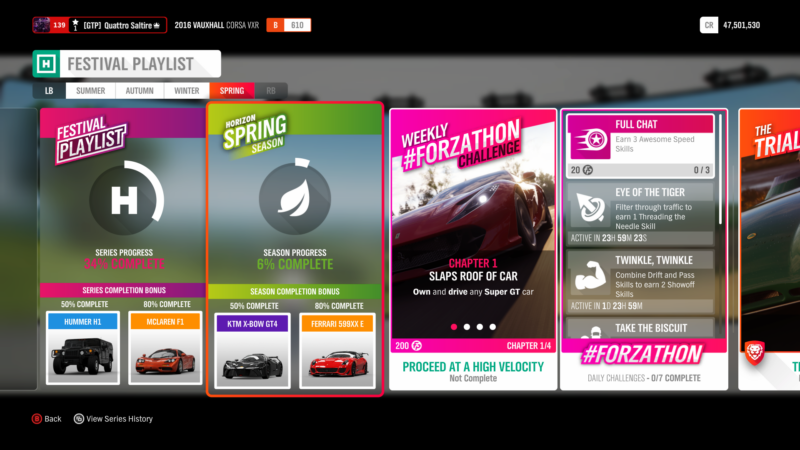 599 Gets Slippery
Racing cars dominate the seasonal Playlist prizes this week. First up is the KTM X-Bow GT4.
Normally identified as a motorcycle manufacturer, KTM built this strange-looking machine to comply with GT4 racing regulations. That means the normally roofless X-Bow now has a bespoke top, along with a raft of aerodynamic enhancements for more downforce. There's an Audi-sourced, 2.0-liter, turbocharged engine powering the X-Bow, putting out 326hp. The X-Bow GT4 may not be the fastest racer, but it still has plenty of potential.
At the more extreme end is the Ferrari 599XX Evo. Compared to the base 599XX, the Evo features an extreme new aero package. Ferrari has also heavily upgraded the 6.0-liter V12, to produce 740hp. As one of the fastest track cars in Horizon, the 599XX makes a very strong case for itself.
Seasonal championship prizes are populated by the Koenigsegg Regera and Renault Clio 197 this week.
One particular prize to look out for is the Ferrari 599 Formula Drift #117. Unlike the 599XX, this competition 599 has been built to shred tires on the drift circuit. Here, the 6.0-liter V12 now has a pair of superchargers, taking power above 900hp.
If you want the 599, you'll need to win the "Ferrari Rocher" championship to add it to your garage.
The final Showcase Remix event will see you strap in to the Lamborghini Countach in "Night Flight". You'll be racing to the Horizon Festival in the dark, all while trying to beat a Delta Wing aircraft.
Events and prizes are listed below.
Ferrari Rocher
Series: Street Scene
Cars: Italian Modern Supercars
Restrictions: S1 Class, 900 PI
Prizes: 15,000 CR, 25,000 CR, Ferrari 599 Formula Drift #117
Highly Sprung
Series: Dirt Racing Series
Cars: Hot Hatch
Restrictions: B Class, 700 PI
Prizes: 15,000 CR, 25,000 CR, Renault Clio 197
Old Habits Die Hard
Series: Road Racing Series
Cars: Vintage Racers
Restrictions: B Class, 700 PI
Prizes: 15,000 CR, 25,000 CR, Koenigsegg Regera
The Trial: Team Lotus (Co-Op Championship)
Series: Road Racing Series
Cars: Lotus
Restrictions: A Class, 800 PI
Prizes: Lotus Eleven
Spring Games – Series 21
Series: Playground Games
Cars: Retro Rally
Restrictions: B Class, 700 PI
Prizes: Ford F150 Trophy Truck
Slate Quarry Speed Trap
Season Objective: 142 mph
Northbound Danger Sign
Season Objective: 738.2 ft
Nether End Speed Zone
Forzathon Events
This week's Forzathon delves into Super GT cars (no, not the Japanese race cars; high performance tourers). Choose one of these cruise missiles to get things rolling.
Next up, display your cruiser's power by earning 10 Pass Skills during races. Afterwards, kick the tail out in order to earn a total of 9 stars in Drift Zones.
Finally, finish this week off by running to Edinburgh and getting 3 stars in the Princes Street Speed Trap.
Forzathon Shop
A mixed bag is on the cards for the shop lineup this week. Leading the charge is the Koenigsegg CCGT.
Originally designed for GT1 racing, the CCGT never saw competition due to a change in regulations. Had it raced, the CCGT would have used a 5.0-liter V8 pumping out 610hp. You'll need to fork out 600 Forzathon Points for the CCGT. If you want to experience what Koenigsegg's forgotten racer could have been, then it's worth the money.
Making a fresh return to the shop is the Maserati Levante S. The first SUV from Maserati aims to deliver sports car performance, with luxury comfort. Based on the Ghibli, the Levante uses a 3.0-liter, twin-turbocharged V6 with a healthy 424hp.
if you want the Levante, you'll need to spend 450 FP. That said, you might be better looking elsewhere from this one, as you will likely get a better deal from the Auction House.
Novelty items this week include the La Cucaracha horn and the Back Spring emote.
More Posts On...