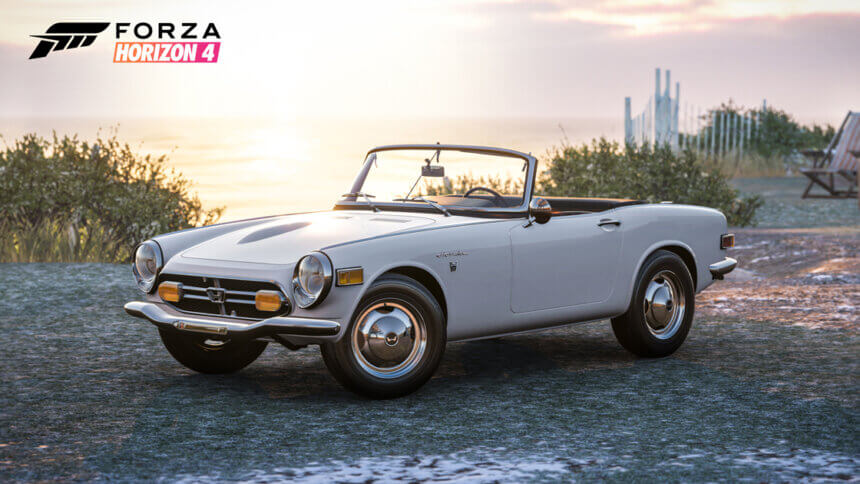 The spring sun is shining upon the UK once more to start a new season in Forza Horizon 4. We're into the final leg of Series 31 and there's one last batch of content up for grabs.
A tiny Honda scampers into the festival this week, along with a new set of Playlist prizes for 50% and 80% completion. Read on further to see what spring has in store.
Small Honda, Big Impact
Leading the Playlist prizes is possibly one of the most British cars ever: the 1991 Bentley Turbo R.
The big Bentley shared its underpinnings with the Rolls-Royce Silver Spirit, with luxury and size to rival a stately home. To move all 5,313lb, the Turbo R features an old-school 6¾-liter turbocharged V8. Even though the Turbo R makes 328hp, performance is equivalent to… well, a stately home.
If you do need to get somewhere in a hurry, there's the Nissan 370Z #64 Formula Drift. Campaigned by Chris Forsberg, this 370Z will get you places very quickly, but also very sideways. Under the widebody kit sits the V6 engine from the standard car, but increased to 4.0 liters. Along with twin turbos, the 370Z puts 1,015hp on to the road.
Series 31's final last Photo Challenge is a regal affair. #RoyalMilesPerHour wants you to snap your best Hypercar in front of Edinburgh Castle. Over with the seasonal championships, there's the 1974 Toyota Celica and the 1931 Bentley 8-Liter available in the prize pool.
The main prize this week is the 1970 Honda S800. This tiny roadster is the last of the two seater drop-top Honda sports cars before the S2000 would appear in 1999. The S800 houses an 800cc motorbike engine making what sounds like a paltry 70hp. However, the S800 also weighs less than 1,600lb, allowing for surprisingly sprightly performance.
If you want the S800, you'll need to win the "That 70's Championship" series.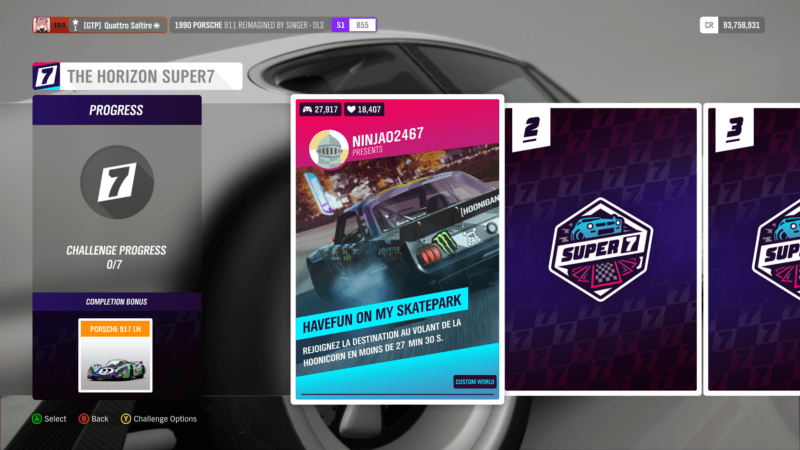 The latest round of Super7 challenges this week has the Porsche 917 LH as the completion prize. Complete all seven challenges to acquire this legendary racer.
Spring's latest events can be found below;
Strike
Series: Cross Country Series
Cars: Bowler
Restrictions: A Class, 800 PI
Prizes: 15,000 CR, 25,000 CR, Yellow Biker Jersey
That 70s Championship
Series: Road Racing Series
Cars: 1970s Collection
Restrictions: B Class, 700 PI
Prizes: 15,000 CR, 25,000 CR, Honda S800
Classic Collectibles
Series: Street Scene
Cars: Rare Classics
Restrictions: B Class, 700 PI
Prizes: 15,000 CR, 25,000 CR, Bentley 8-Liter
The Trial: Let's Go Places (Co-Op Championship)
Series: Dirt Racing Series
Cars: Toyota
Restrictions: B Class, 700 PI
Prizes: 1974 Toyota Celica
Spring Games – Series 31
Series: Playground Games
Cars: Mercedes-Benz
Restrictions: A Class, 800 PI
Prizes: Mercedes Tankpool24 Racing Truck
Super7 – Spring
Completion Prize: Porsche 917 LH
Peak Moor Speed Trap
Season Objective: 175 mph
Leap of Faith Danger Sign
Season Objective: 426.5 ft
Sudmoss Speed Zone
Season Objective: 150 mph
Forzathon Events
Forzathon continues the Porsche theme this week, but expands to cover the entire brand. Choose your preferred weapon to get started.
Next, prove Porsche's dominant motorsport performance by winning three Road Racing Series events. Afterwards, go on a marathon drive around the UK, completing a total of 26.2 miles.
Finally, demonstrate the hidden rallying pedigree of Porsche by winning three Dirt Racing Series events.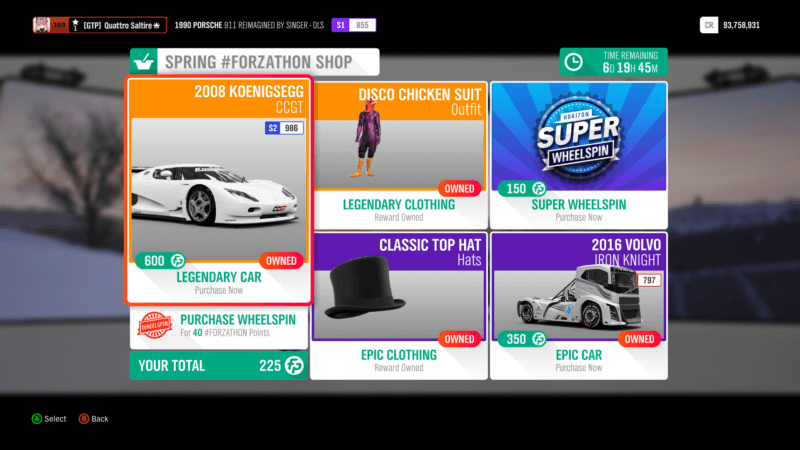 Forzathon Shop
Big hitters are the main course for the shop lineup this week, and taking center stage is the 2008 Koenigsegg CCGT. Built to satisfy FIA GT1 regulations, the CCGT was sadly scuttled before it had a chance to hit the track due to a last-minute rule change. Under the carbon skin of the CCGT lies a naturally aspirated 5.0-liter V8 making 610hp. With racing aerodynamics and suspension upgrades, the CCGT could have been a spectacular sight if it was allowed to race.
At 600 Forzathon Points, you'll need to have plenty of savings in your bank, but in return you'll get the opportunity to experience what a racing Koenigsegg could have been.
If you want something bigger, then it doesn't get much bigger than the 2016 Volvo Iron Knight. Despite being based on a Volvo lorry, the Iron Knight is as far from commercial as it gets. With a monstrous 12.8-liter turbocharged straight-six diesel engine, the Iron Knight makes a ludicrous 2,400hp and holds the title of most powerful vehicle at the Horizon Festival.
At 350 FP, the Iron Knight is reasonably cheap, especially if you want to frighten small sports cars racing down the motorway.
This week's clothing items include the Disco Chicken Suit and the Classic Top Hat.
More Posts On...