Sunshine falls over the UK once more this week for the start of a new Summer season in Forza Horizon 4. Summer also marks the beginning of Series 44, meaning a fresh remix of events and more returning prizes.
Porsche leads the way for the prize pool, along with a mixed up set of rewards for completing the full and seasonal playlist to 50% and 80%.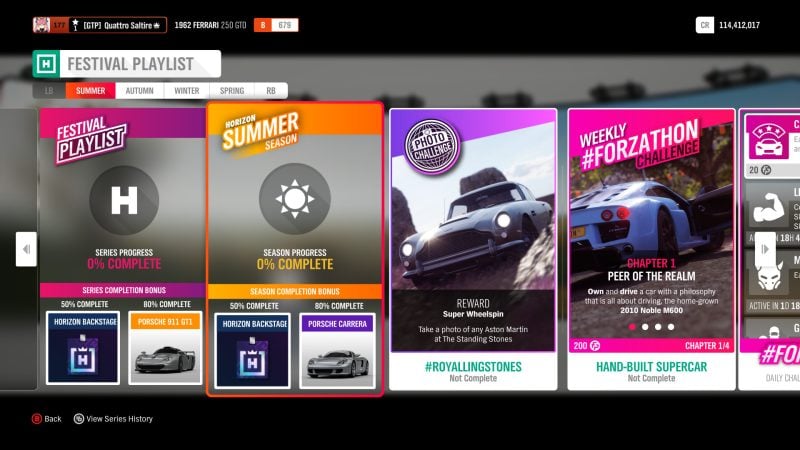 Stuttgart's Finest
Leading the completion prizes is the bonkers 1998 Porsche 911 GT1 Strassenversion.
A homologation special for GT1 racing in the late 1990s, this extreme machine caused controversy due to sharing very little in common with the 911 range. Despite this, the GT1 would go on to enjoy a very successful racing career, including victory at the Le Mans 24 Hours.
The 911 GT1 road car has a 3.2-liter twin turbocharged flat-six putting out 536hp. Thanks to its motorsport pedigree, this 911 should eat up corners unlike any other of its rear-engined stablemates.
Joining the GT1 is its spiritual successor, the 2003 Porsche Carrera GT.
This supercar also features motorsport technology, with its engine being derived from a stillborn Le Mans project. The engine in question is a 5.7-liter V10 making 605hp. However, the Carrera GT would gain noteriety for being dangerous at the limit, scaring even rally legend Walter Röhrl.
There's a couple of new Horizon Backstage Passes available as well if you're in need of a car that's harder to find.
The first Photo Challenge of the latest season sends you deep into the UK countryside. #RoyallingStones wants you to snap an Aston Martin over by the Standing Stones. Seasonal championship prizes feature more racing beasts including the Porsche 917 LH and Ford Fiesta RS WRC.
Moving away from Porsche, one prize worth looking at is the 2018 Bugatti Chiron. Taking on the difficult task of replacing the seemingly indomitable Veyron, the Chiron manages to push previous engineering limits even further.
Featuring a new chassis that has been compared to Le Mans prototypes in terms of stiffness, the Chiron also features improved handling over the Veyron. The 8.0-liter quad turbocharged W16 has been boosted to 1,500hp, allowing the Bug to sail to 261mph and beyond.
To claim the Chiron, you'll need to win the "Hype Tour" championship.
If you're up for a Showcase Remix, you can look towards "Night Flight". Here, you'll be racing a Deltawing aircraft towards the festival under the cover of darkness. Your weapon for this race is the equally intimidating Lamborghini Countach.
A new Monthly Rivals event has also arrived for Series 44, this time featuring the Porsche 906 Carrera 6 at Holyrood Park Circuit.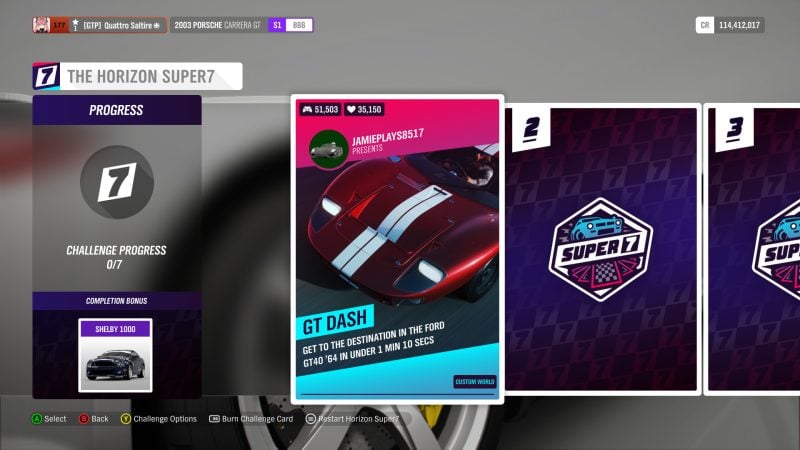 Super7 has a new set of cards on the deck to help kick off Series 44. Finish all seven and a Ford Mustang Shelby 1000 will be delivered to your garage.
Summer events and prizes are below:
Hype Tour
Series: Road Racing Series
Cars: Hypercars
Restrictions: S2 Class, 998 PI
Prizes: 15,000 CR, 25,000 CR, Bugatti Chiron
Summer Developer Championship
Series: Dirt Racing Series
Cars: Modern Rally
Restrictions: B Class, 700 PI
Prizes: 15,000 CR, 25,000 CR, 2017 Ford Fiesta RS WRC
Saloony Tunes
Series: Street Scene
Cars: Super Saloons
Restrictions: A Class, 800 PI
Prizes: 15,000 CR, 25,000 CR, Clown Mask
The Trial: Porsche Cup (Co-Op Championship)
Series: Road Racing Series
Cars: Porsche
Restrictions: S2 Class, 998 PI
Prizes: Porsche 917 LH
Summer Games – Series 44
Series: Playground Games
Cars: Offroad
Restrictions: C Class, 600 PI
Prizes: RJ Anderson Polaris RZR Pro 2 Truck
Super7 – Summer
Completion Prize: Ford Mustang Shelby 1000
Horizon Drag Strip Speed Trap
Season Objective: 195 mph
Mam Tor Danger Sign
Season Objective: 1,010.5 ft
Ambleside Approach Speed Zone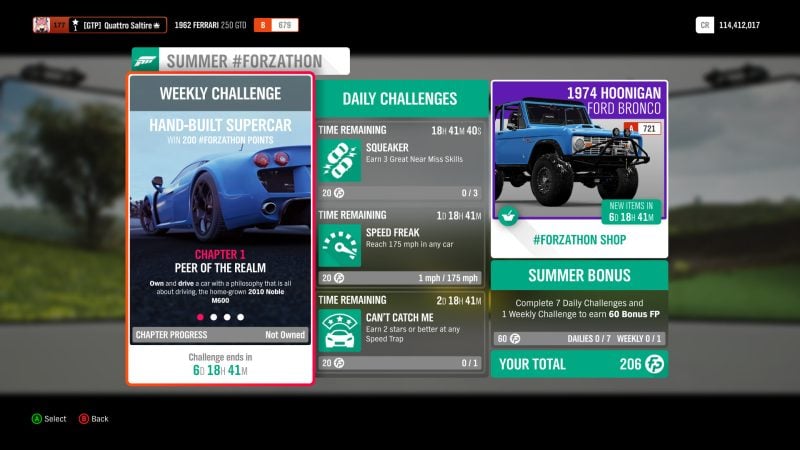 Forzathon Events
This week, Forzathon looks at an obscure but savage British supercar: the 2010 Noble M600. Jump into this surprising brute to get rolling.
Next, take the Noble for a long drive around the UK to dip your toes into its performance. Thanks to 650hp, the 20-mile objective should fly past. After that, go exploring and unleash your best skills to earn a total of 15 stars from PR Stunts.
Finally, unleash the Noble's twin-turbocharged V8 as you attempt to hit its top speed of 225mph to bring a wrap on the Summer challenges.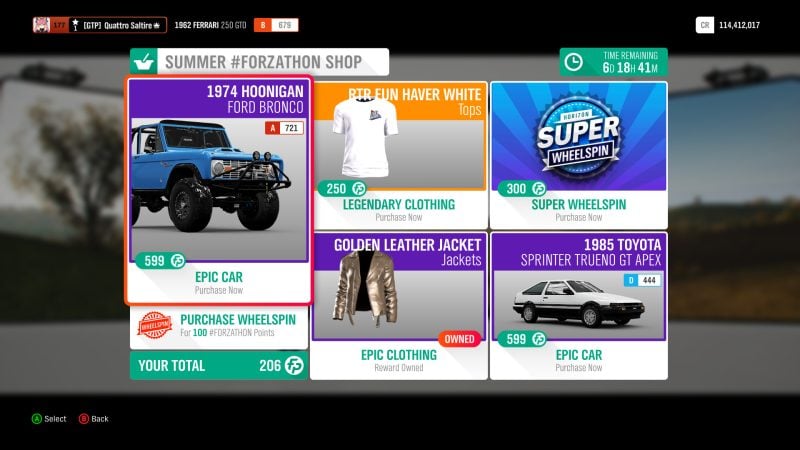 Forzathon Shop
A very varied lineup is the star of the Forzathon shop, headlined by the 1974 Hoonigan Ford Bronco.
The Hoonigan team have taken a standard 1970's Ford Bronco and given it an extreme makeover. As well as a complete suspension reconfiguration, the team has lifted the chassis by over three inches. Coupled to more offroad upgrades, this Bronco will be tough enough for any terrain. The old 6.4-liter V8 has been replaced by a more modern 5.0 liter unit from a Mustang, allowing for 420hp. This particular Bronco was built to be used daily for Ken Block's wife.
At 599 Forzathon Points, the Bronco is expensive, but you probably won't find a cooler offroader anywhere else.
Alongside the Bronco is the more humble looking 1985 Toyota Sprinter Trueno.
Also known as the AE86, what initially started as a sportier version of the Corolla became one of the most iconic Japanese cars of all time. Thanks to its playful chassis, the AE86 became a go-to car for those looking to start drifting. Under the hood is a rather ordinary 1.6-liter engine making 128hp, but some tweaks or an engine swap will bring out the AE86's true tail-happy capabilities.
The AE86 is also available for 599 FP, though we suggest heading to thje Auction House where you could find a better deal.
Clothing items available are the RTR Fun Haver White T-shirt and the Golden Leather Jacket.
See more articles on Forza Horizon 4 Season Change.