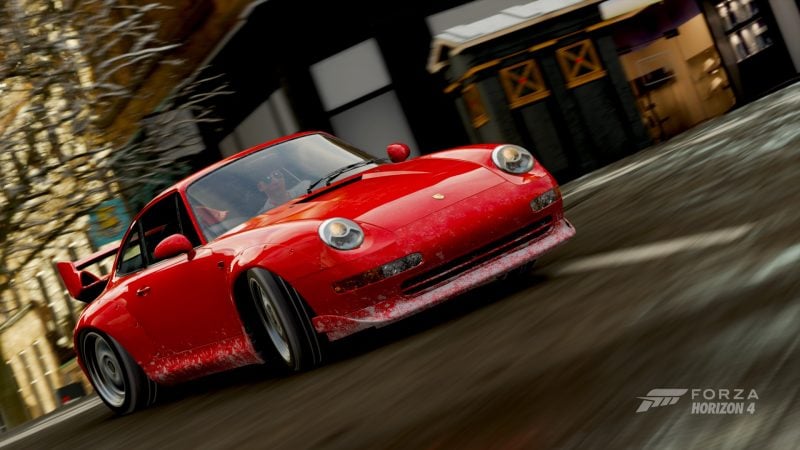 Freezing temperatures and icy roads are back on the agenda as another Winter season begins in Forza Horizon 4. Players still camped out at the UK festival have been digging through the snow to complete the latest batch of events to grab even more content.
Sporting classics and fast offroaders are the order of the day, as well as a rejigged set of seasonal playlist completion prizes at 50% and 80% progress.
Ice To Meet You
Just one car is part of the Winter playlist completion this week: the 1995 Porsche 911 GT2.
The 993-generation of the 911 was the first to use the GT2 name, but also gained notoriety due to its spiteful handling nature, thus earning it the nickname "Widowmaker". That's down to the fact it was initially conceived as a road-going homologation of its successful GT2 racing car, with plenty of motorsport pedigree applied to the road.
Its 3.6-liter, twin-turbocharged, flat six is upgraded over the 911 Turbo, with power now sitting at 424hp. The GT2 sheds 440lb compared to the Turbo too, thanks to lightweight panels and ripping out the four-wheel drive system.
If you're looking for an exclusive car, there's another Horizon Backstage Pass up for grabs.
Winter's Photo Challenge is all about the workhorses at Land Rover. #LandingRover asks you for a picture of any Land Rover at the Airstrip. Add some creativity by getting some air in your photos. Winter championship prizes feature the Porsche Macan Turbo and Volkswagen Global Rallycross Beetle.
One prize of particular note is the 2004 Honda Civic Type R. The EP3-generation is often regarded as the peak of the Civic Type R lineage. Despite very subtle styling tweaks, the Type R is far from its humdrum roots, especially as the 2.0-liter engine produces 200hp. Honda's clever VTEC system means you need to rev it all the way to its 8,000rpm redline to get the best out of one of the world's greatest engines.
If you want the Civic, you'll need to complete the "Cheap as Chips" championships.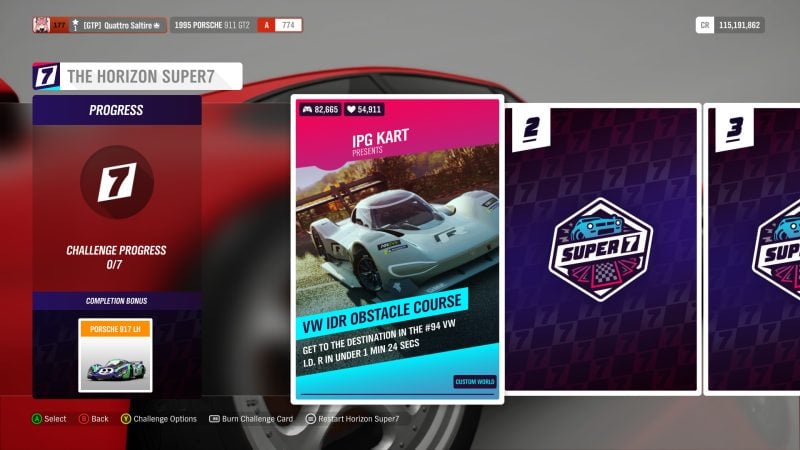 Keep yourself on your toes with Winter's newest batch of Super7 cards. Complete all seven and you'll be driving away in a Porsche 917 LH.
You can find the list of events and prizes for Winter below;
Winter Developer Championship
Series: Cross Country Series
Cars: Extreme Offroad
Restrictions: S1 Class, 900 PI
Prizes: 15,000 CR, 25,000 CR, Ford #11 Rockstar F-150 Trophy Truck
Cheap as Chips
Series: Dirt Racing Series
Cars: Cost less than 25,000 CR
Restrictions: A Class, 800 PI
Prizes: 15,000 CR, 25,000 CR, 2004 Honda Civic Type R
The Grocery Run
Series: Cross Country Series
Cars: Porsche Macan, Porsche Cayenne
Restrictions: A Class, 800 PI
Prizes: 15,000 CR, 25,000 CR, 2019 Porsche Macan Turbo
The Trial: My Way or the Broadway(Co-Op Championship)
Series: Dirt Racing Series
Cars: Rally Monsters
Restrictions: S1 Class, 900 PI
Prizes: Volkswagen Global Rallycross Beetle
Winter Games – Series 44
Series: Playground Games
Cars: Sports Utility Heroes
Restrictions: A Class, 800 PI
Prizes: 2012 Porsche Cayenne Turbo
Super7 – Winter
Completion Prize: Porsche 917 LH
Astmoor Speed Trap
Rail Yard Ramp Danger Sign
Season Objective: 774.3ft
Coppice Speed Zone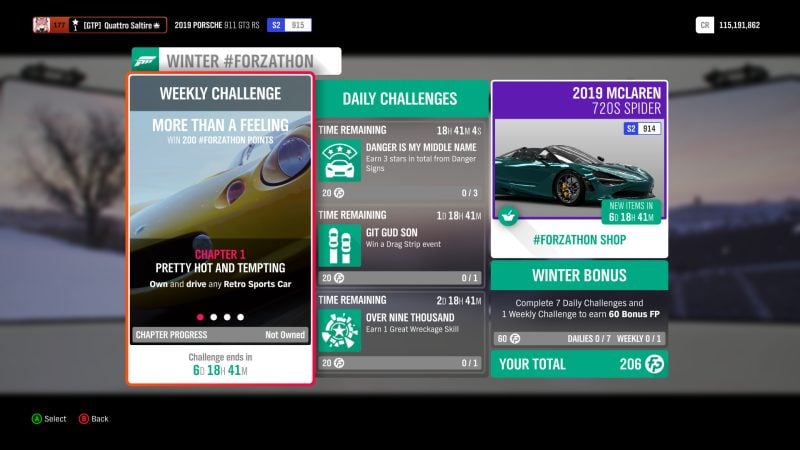 Forzathon Events
Turn back the clock for the latest Forzathon, as the spotlight shines on Retro Sports Cars this week. Climb into your chosen machine to get things started.
Up next, kick the rear end out in order to get a total of 9 stars from Drift Zones. After that, head off to the races and take victory in a Road Racing Series event over at Astmoor Heritage Circuit.
Last but not least, put all of your skills to the test as you'll need a total of 250,000 Skill Score to bring this week's challenges to a close.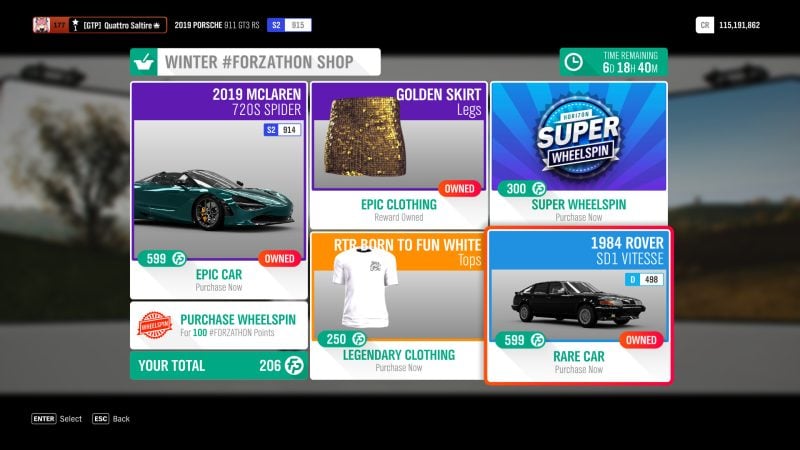 Forzathon Shop
It's the best of British in the shop this week, with the McLaren 720S Spider leading the way.
Chopping the roof off any car normally comes with compromises, but McLaren has used its clever motorsports know-how to mitigate the weight penalty.
Despite weighing over 200lb more than the coupe, the Spider still maintains its ballistic performance. The 4.0-liter twin turbocharged V8 still puts out 711hp, meaning your expensive hairdo will face a very windy challenge at over 200mph.
This McLaren is a very hefty 599 Forzathon Points, but you'll be embarassing Ferraris whilst looking good with the roof down.
Something more classical available is the 1984 Rover SD1 Vitesse.
Rover's big executive barge brought styling that was inspired by the best of European sports cars to liven up a rather ordinary sedan. The flagship Vitesse comes with Rover's iconic 3.5-liter V8 making 191hp. Whilst performance may be modest, some tweaks can help turn the SD1 into a serious muscle car. It even has racing pedigree, having made a successful career in touring car series.
You'll need 599 FP if you want the SD1, especially as its one of the most interesting machines to come from what many see as a ropey part of British Leyland's history.
Latest clothing items available are the Golden Skirt and the RTR Born To Fun White T-shirt.
See more articles on Forza Horizon 4 Season Change.