February has come around in time for a new Spring season to start in Forza Horizon 4. We're into the closing stage of Series 44, so players are engaged in one last push to get the remaining events completed for this week.
A mixed bag of sports cars big and small are all on the menu for Spring prizes, along with a couple of extra rewards for completing the seasonal playlist to 50% and 80%.
Big Power and Bigger Luxury
Leading a pair of machines available in the Spring completion rewards is the imposing 723 Quartz Regalia. This unusual four-door convertible limo is actually the main vehicular star of Final Fantasy XV.
This beast certainly commands presence when driving on the road thanks to its sheer 21-foot length. As a result of being luxury for royalty, the Regalia is on the seriously hefty side with weight coming in at over 5,600lb. To move the bulk, the Regalia features a 7.2-liter supercharged V12 making a respectable 433hp, which should be more than enough for some high speed cruising.
If you're keen to live life more on the edge, there's the 1955 Porsche 550A Spyder. Porsche's first purpose-built racing car was small, but definitely mighty and established a very successful career in sports car racing. To ensure the 550 was fit for racing, Porsche fitted a 1.5-liter flat-four making 109hp. Sitting in a tubular spaceframe chassis, the 550 weighs in at just over 1,500lb for agile handling. One car was famously bought by the actor James Dean, whose tragic accident in a 550 remains talked about to this day.
The final Photo Challenge for Series 44 sends you out to the lakeside. #FordCrossing wants you to snap any Ford around the lake at Derwent Water. Spring's seasonal championships feature high performance metal including the Honda Prelude and Lotus 2-Eleven.
A highlight of the championship pool comes in the form of the 2018 Porsche 718 Cayman GTS. Sitting as a sweet spot in the range, the GTS aims to offer GT4 performance with the usability of the base Cayman S.
Whilst the 718 Cayman improves in every aspect over the previous generation, it has courted a lot of controversy because of its engine. The 3.4-liter naturally aspirated flat-six has been ditched for a 2.5-liter turbocharged flat-four. Despite the downsizing, the 718 makes 361hp, giving it serious performance to keep it at the top of the class.
To claim the Cayman, you'll need to win the "See Ya Later Alligator" chanpionship.
A returning Showcase Remix sees a collision between Forza and Halo. "Pillar of Autumn" has you step into the power armour of the iconic Master Chief and race the Warthog against a Pelican dropship of the event title name.
Close out Series 44 with a final set of Super7 challenges to keep you occupied. Finish all seven cards to get a Disco Chicken Suit for your wardrobe.
Spring's list of events and prizes are down below:
Lotus Flower
Series: Road Racing Series
Cars: Lotus
Restrictions: S1 Class, 900 PI
Prizes: 15,000 CR, 25,000 CR, Lotus 2-Eleven
Spring Into Action
Series: Dirt Racing Series
Cars: Hot Hatch
Restrictions: B Class, 700 PI
Prizes: 15,000 CR, 25,000 CR, Honda Prelude
See Ya Later Alligator
Series: Street Scene
Cars: Porsche Cayman
Restrictions: S1 Class, 900 PI
Prizes: 15,000 CR, 25,000 CR, Porsche 718 Cayman GTS
The Trial: The Pink Pig (Co-Op Championship)
Series: Road Racing Series
Cars: Classic Racers
Restrictions: S1 Class, 900 PI
Prizes: Porsche 917/20
Spring Games – Series 44
Series: Playground Games
Cars: Track Toys
Restrictions: S1 Class, 900 PI
Prizes: Renault Clio FE
Super7 – Spring
Completion Prize: Disco Chicken Suit
High Street Speed Trap
Whitewater Falls Danger Sign
Season Objective: 557.7ft
Rolling Fields Speed Zone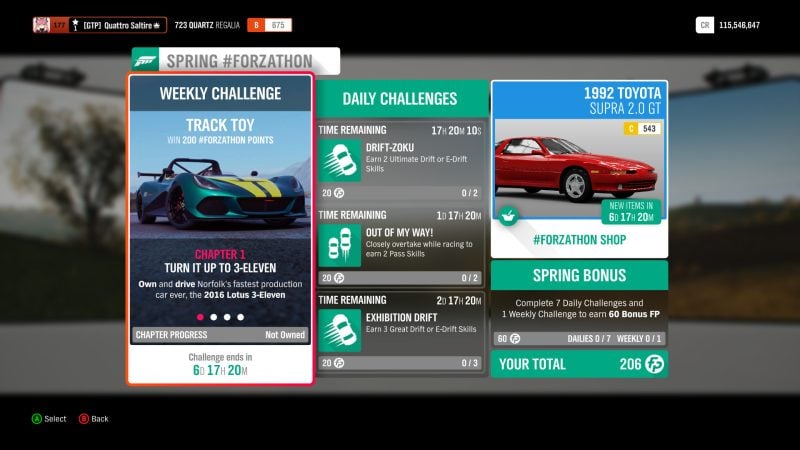 Forzathon Events
It's time to get hardcore for the latest Forzathon, as the focus looks at the extreme Lotus 3-Eleven. Climb into this track monster to get things started.
Next, unleash the Lotus's breadth of handling ability by earning a total of 9 stars in Speed Zones. After that, take advantage of the 3-Eleven's agility to earn a total of 15 Ultimate Near Miss Skills.
Finally, you'll need to go to the races and earn a Slingshot Skill to wrap up all the challenges for Series 44.
Forzathon Shop
The latest lineup in the shop sees another British track beast as well as the headline act of the 1992 Toyota Supra 2.0 GT.
This "A70" generation of Supra marks the first time Toyota's iconic sports car was offered as a standalone model after splitting from the Celica. Despite the restrained looks, the A70 would become a stepping stone for the Supra name to become a JDM tuning legend.
Under the skin sits a 2.0-liter, twin-turbocharged straight-six with a modest 206hp. However, the tuning potential of the engine means you'll be able to unleash a monster for street racing, drifting or hitting the drag strip.
At 599 Forzathon Points, the Supra is very expensive, so we would advise looking for a better deal over at the Auction House.
If you want a real monster, you can grab a 2017 Aston Martin Vulcan AMR Pro.
With the standard Vulcan setting a very high bar on the extreme scale, the AMR Pro manages to raise that bar even higher. Offered as an upgrade package for the standard car, the AMR Pro adds revised aerodynamics, including front dive planes and a larger rear wing for increased downforce. Gear ratios have also been shortened to allow quicker acceleration. The Vulcan's 7.0 liter V12 remains untouched, meaning you still have 820hp to play with.
This version of the Vulcan also costs 599 FP, and will allow you to give the track-tuned supercar competition a serious scare when you pull up on the grid.
Clothing items up for purchase are the Spring Sweater and Sapphire Crown.
See more articles on Forza Horizon 4 Season Change.