A fresh Summer season has brought sunshine and a smell of oil to the UK in Forza Horizon 4 this week. We're in the opening season of Series 46, which means a fresh cycle of content and rewards to keep players busy over the next four weeks.
This week sees a look back at the past as the main theme, with more modern machinery also up for grabs. The latest updated playlist also has a new set of rewards for 50% and 80% completion.
Turning Back Time
Leading the way for the seasonal completion prizes is the 1964 Jaguar E-Type Lightweight.
When the E-Type became a smash hit when it was launched, Jaguar intended to take its beautiful sports car to the GT racing scene. As a result, Jaguar replaced the steel body with an aluminium one, reducing weight to just under 2,300lb. The intended production run was supposed to be 18 units, but 12 were completed with the remaining six never seeing the light of day — until 2014.
This particular E-Type Lightweight is part of a Continuation run that built those unused six chassis. The original cars produced 300hp from the 3.8-liter straight-six, but this version has been tweaked to 340hp.
If you want to delve further into the past, there's the 1957 Ferrari 250 Testarossa.
Built purely for racing, the 250TR was incredibly successful and won famous events including the Le Mans 24 Hours and Targa Florio. The unusual body took inspiration from Formula One cars of the time and made it one of the prettiest cars ever made. There was firepower to back up the looks, as the 3.0-liter V12 made a healthy, by 1950s' standards, 300hp. A 34-unit production run also makes the 250TR one of the most valuable cars in the world.
You can double your chances to find some exclusive cars at the Festival with a pair of Horizon Backstage Passes.
Leading a new set of Photo Challenges for Series 46 is #StrangeThings. The objective is a simple one, as you'll have to snap any Cult Car that's lying in your collection. Seasonal championship prizes have a more modern touch with machines such as the Ferrari 488 Pista and KTM X-Bow GT4 up for grabs.
A noteworthy prize to go after this the 2018 McLaren 600LT.
The second model in McLaren's track-focused "Long Tail" range comes from the more entry-level Sport Series lineup. Taking a 570S as a base, McLaren stripped away 220lb and added new aerodynamics for increased downforce. Power from the 3.8-liter twin-turbocharged V8 is also up to 592hp. The suspension has also been completely reworked to allow the baby Macca to seriously rattle the 911 GT3 RS.
To get the 600LT, you'll have to win the "Dancing in The Street Scene" championship.
Head over into Edinburgh for a new Monthly Rivals event, as you'll be tackling the 1000hp hybrid Ferrari FXX-K on the Princes Street Gardens Circuit.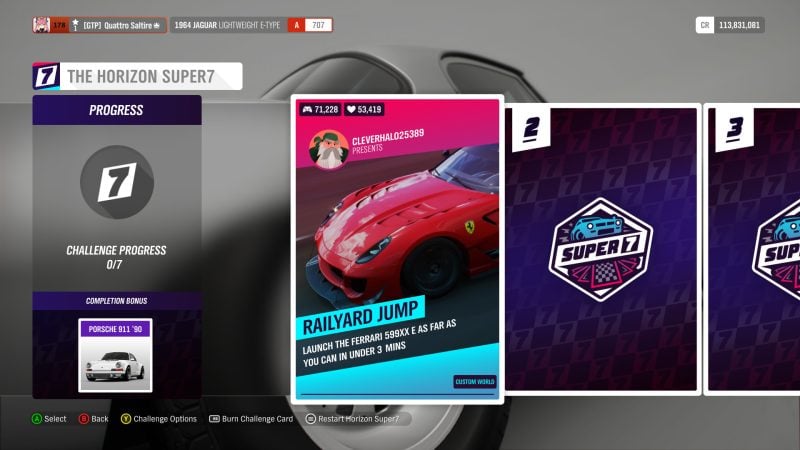 Boost your driving skills even further with a new set of Super7 events for Summer. If you finish all seven cards, you'll get to take delivery of a Porsche 911 by Singer.
Summer events and rewards can be found below;
OId Timers
Series: Road Racing Series
Cars: Retro Supercars
Restrictions: S1 Class, 900 PI
Prizes: 15,000 CR, 25,000 CR, KTM X-Bow GT4
Retro Scrambles
Series: Dirt Racing Series
Cars: Retro Muscle
Restrictions: A Class, 800 PI
Prizes: 15,000 CR, 25,000 CR, 1993 Ford Mustang
Dancing in The Street Scene
Series: Street Scene
Cars: Hoonigan
Restrictions: S2 Class, 998 PI
Prizes: 15,000 CR, 25,000 CR, McLaren 600LT
The Trial: Pista de Resistance (Co-Op Championship)
Series: Road Racing Series
Cars: Classic Racers
Restrictions: A Class, 800 PI
Prizes: Ferrari 488 Pista
Summer Games – Series 46
Series: Playground Games
Cars: Super Hot Hatch
Restrictions: A Class, 800 PI
Prizes: 1994 Honda Prelude
Super7 – Summer
Completion Prize: Porsche 911 Reimagined by Singer
Cotswolds Speed Trap
Season Objective: 215 mph
Open-Cast Cliff Danger Sign
Season Objective: 1000.7 ft
Pennine Way Speed Zone
Season Objective: 185 mph
Forzathon Events
We're going big for this week's Forzathon, as its all about big rig Trucks. Put on your high-visibility vest and clamber aboard any of the titans in your garage to get started.
Next up, make sure traffic knows who is boss by barging your way to earning 10 Trading Paint Skills. After that, blaze a path of destruction around the UK by getting 10 Wreckage Skills.
Finally, live out a high-speed version of pretending to be a trucker as you'll need to take your big rig to victory in a Road Racing Series event at the punishing Goliath.
Forzathon Shop
It's a case of the old and the new in the shop, with the vintage 1931 Bentley 8 Liter leading the proceedings.
These machine was as luxurious as the stately homes of its owners during the 1930s, and the car was to be the last Bentley ever made when the marque was completely independent, before it went into receivership.
The coachbuilt body would be tailored to the buyers specifications, making many 8 Liters unique. Its engine is also befitting of its name, with an 8.0-liter straight-six making 220hp. Performance is not the name of the game, as such a large engine was needed primarily for smoothness.
At 599 Forzathon Points, the 8 Liter will cause a major dent in your wallet, but you'll save lots of time buying one if you haven't completed the Horizon Life story, British Racing Green.
Moving into the present is the 2018 Porsche 718 Cayman GTS.
Maintaining the Cayman's position as one of the top sports cars around is no mean feat, and Porsche has attempted to move the car forward to the future, whilst also harking back to the past. The 718 name is a nod to the 718 RS 60 from back in the 1960s, whereas the tweaks to the chassis help keep it up to date.
However, in an attempt to safeguard its future, Porsche courted controversy by ditching the famous flat-six. Instead there's now a 2.5-liter turbocharged flat-four. In this GTS variant, the engine produces 361hp.
The Cayman will also cost you 599 FP, and will be an excellent choice if you're in need of an all-rounder sports car.
Clothing items available include the RTR Fun Haver Blue T-Shirt and the Blue Biker Boots.
See more articles on Forza Horizon 4 Season Change.