The rays of sunshine beating down over the UK indicates that a brand new Summer season has begun on Forza Horizon 4. Series 53 has now got underway, meaning a fresh remixed batch of content ready to be claimed over the next four weeks.
This week's prize theme is about cars with track pedigree, plus there's a refreshed set of rewards for finishing both the full and seasonal playlists to the 50% and 80% targets.
Racing Lines
Taking center stage for the playlist completion prizes is the 1992 Alfa Romeo 155 Q4. It may look like an ordinary executive sedan on the outside, but underneath, it hides a successful racing career.
The 155 was mostly at home in touring car racing, where it won in the British and German championships. Its range topping Q4 has milder sporting prowess than other sedans, as its 2.0-liter turbocharged engine makes just 187hp. However the addition of four-wheel drive does give the 155 the advantage of brisk all-weather capabilities.
Those looking for a more serious machine can go after the 1998 Mercedes CLK GTR, one of the most iconic homologation specials of the GT1 era, as well as one of the most dominant.
Unfortunately, it also carries the accusations of bringing the decline of GT1. The road version is also one of the most extreme cars that ever came out of the doors of AMG, with the long aerodynamic body housing a 6.9-liter V12 putting out 622hp — making it one of the most powerful cars ever in the AMG stable.
Other prizes for completing the playlists include a Horizon Backstage pass and a Skeleton Morph Suit.
The first Photo Challenge for the new series is all about #FlightOfFancy. The objective for this is to simply snap any car you're currently driving over at the Greendale Airstrip. Championship prizes for Summer feature hardcore monsters such as the KTM X-Bow and futuristic RAESR Tachyon Speed.
One car that stands out from the crowd is the 2010 Lamborghini Murcielago LP670-4 SV.
Lamborghini's outrageous SuperVeloce marked the final run-out special for the venerable Murcielago before it was replaced by the Aventador. The wild aerodynamic additions brought a much needed flair to the rather conservative looking Murcielago, as was a 220lb diet.
In addition, the SV was also the last hurrah for the 6.5-liter V12 that could trace its origins back to the Miura. As placed in the SV it produces 670hp and a noise that can pierce peaceful skies for miles around.
To get the SV to your garage, you'll need to win the "Sweet Lambos" championship.
Another popular Showcase Remix returns with "Motocross Purposes". In this event, you'll be strapped into an Ariel Nomad to battle against a team of dirt bikes.
Players interested in hotlapping can look at the latest Monthly Rivals event, starring a modified Mercedes E350d wagon on the Aerodrome Cross Country Circuit.
Super7 continues to provide challenging tests for those willing to keep their skills in check. Complete each of the seven cards and a Singer Porsche 911 will be delivered to you.
You can read the list of Summer events below:
Vampire Hunter
Series: Road Racing Series
Cars: Track Toys
Restrictions: S1 Class, 900 PI
Prizes: 15,000 CR, 25,000 CR, KTM X-Bow R
Sweet Lambos
Series: Road Racing Series
Cars: Lamborghini Urus, Lamborghini LM002
Restrictions: A Class, 800 PI
Prizes: 15,000 CR, 25,000 CR, Lamborghini Murcielago LP670-4 SV
Creepy Crawlies
Series: Road Racing Series
Cars: Porsche 550A Spyder, Fiat 124 Sport Spyder, 2017 Abarth 124 Spider
Restrictions: C Class, 600 PI
Prizes: 15,000 CR, 25,000 CR, Porsche 918 Spyder
The Trial: Scare Factory (Co-Op Championship)
Series: Street Scene
Cars: Hypercars
Restrictions: S2 Class, 998 PI
Prizes: RAESR Tachyon Speed
Summer Games – Series 53
Series: Playground Games
Cars: Modern Muscle
Restrictions: A Class, 800 PI
Prizes: Witch's Nose
Super7 – Summer
Completion Prize: 1990 Porsche 911 Reimagined by Singer
Moorhead Wind Farm Speed Trap
Roman Ruins Danger Sign
Season Objective: 557.7ft
Strathbridge Speed Zone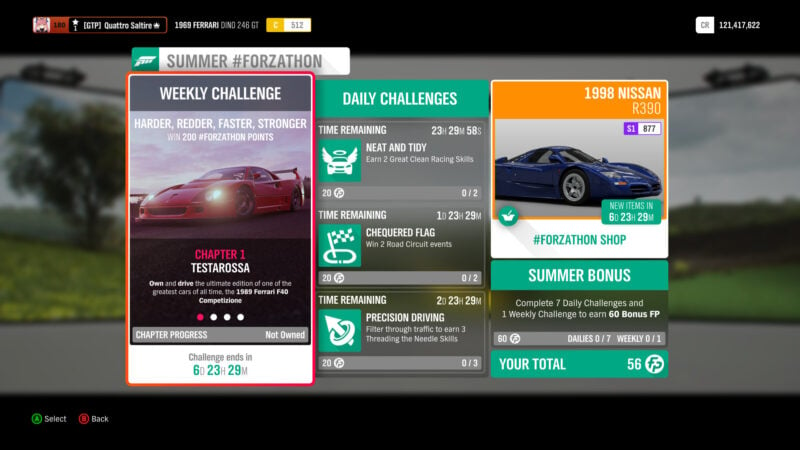 Forzathon Events
Forzathon looks to an underrated and often forgotten racing machine for this week: the 1989 Ferrari F40 Competizione. Jump into this Italian stallion to get things rolling.
Up next, show how this F40 can still be fast today by earning 3 stars over at the Bamburgh Dunes Speed Trap. After that, unleash the twin-turbocharged V8 and get a total of 25 Ultimate Speed Skills. You'll need to exercise some tuning muscle to get a high enough speed.
Wrap up this week's challenges by taking the F40 on a long drive. Make sure you can enjoy the scenery as much as possible because the 24-mile objective will fly past very quickly.
Forzathon Shop
Homologation specials take over the shop for Summer, with the 1998 Nissan R390 leading the way.
Intended for the increasingly prototype-esque GT1 class of sports cars, Nissan only built one road variant of the R390 to get it approved for racing.
Taking away the aerodynamic appendages leaves a sleek long-tail carbon body. Despite its best efforts, the R390 was ultimately outclassed by the Porsche 911 GT1 and Mercedes CLK GTR. Under the skin lies a 3.5-liter, twin-turbocharged V8 putting out 550hp, making it one of the fastest and most powerful Nissan models that doesn't wear a GT-R badge.
The R390 is extremely cheap at just 100 Forzathon Points, which is a steal for a very underrated and forgotten racing car.
Another homologation special that proved much more popular is the 1991 Peugeot 205 Rallye.
With the iconic 205 GTI in huge demand, the Rallye was marketed as a cheaper alternative and targeted towards budding rally drivers. Creature comforts were stripped out, leaving this 205 tipping the scales at a featherweight 1,750lb. As a result, because the 1.3-liter engine only makes 100hp, the Rallye demands that you thrash it everywhere you go.
You will need to stump up 599 FP for the 205, but in return you'll get one of the most fun cars anyone can have for driving on a country road.
Finally, you can buy a Best Mates emote and some Floral Wellies as well if you're after clothing or more emotes.
See more articles on Forza Horizon 4 Season Change.