It's a new year, and Forza Horizon 4 is kicking off 2023 with a brand new Spring season at the UK festival. We're also saying goodbye to Series 56 this week, with a final dash to pick up the remaining cars waiting to be claimed.
A range of both classic and modern performance machines are in the Spring prize pool, plus another pair of playlist completion prizes await at both the 50% and 80% objectives.
A Fresh Start
Leading the playlist prizes for this week is the 1967 Volkswagen Karmann Ghia.
In an era when sports cars were turning towards more power, VW's stylish coupe was designed with looks first rather than performance. The body was penned by the Italian design house at Ghia before being assembled by German coachbuilders at Karmann.
Under that distinct body sits the humble underpinnings of the VW Beetle. That means a rear-mounted, 1.5 liter flat-four making just 53hp. Although you won't be going anywhere quickly, you'll still look cool driving it.
Sitting alongside the VW is the 1955 Porsche 550A Spyder. One of Porsche's first purpose built racing cars, the 550 gained a successful racing career against much bigger and more powerful rivals.
The tubular space frame chassis meant weight tips the scales at just over 1,500lb. Providing the power is a 1.5-liter flat-four making 109hp, allowing for lively handling in such a lightweight shape. Perhaps the 550 Spyder's most famous (or infamous) owner was the actor James Dean, who sadly suffered a tragic accident driving one.
Our final Photo Challenge for Series 56 is all about the Blue Oval. #FordCrossing wants you to take a picture of any Ford over at Derwent Water. Championship prizes have a more modern twist including the Hond Prelude and Porsche 718 Cayman GTS.
One car to aim for is the 2009 Lotus 2-Eleven. One of Hethel's most extreme cars, the 2-Eleven barely qualifys as street legal despite having the option of lights, indicators and mirrors. Built purely as a track car, the 2-Eleven takes the Lotus philosophy of lightness and takes it to extremes. Every creature comfort has been stripped out of the Exige base to get weight to under 1,700lb.
The 1.8-liter Toyota-sourced engine has been supercharged to produce 252hp, allowing it to demolish supercars when unleashed on a circuit.
To get the Lotus in your garage, you'll need to win the "Lotus Flower" championship.
Bringing the curtain down on playlist events is the return of a very popular Showcase Remix. "Pillar of Autumn" sees you suit up as the iconic Master Chief from Halo and race the legendary Warthog against a Pelican dropship.
The first Super7 of 2023 and the last of Series 56 provides more custom made challenges from all across the community, along with a healthy dose of unpredictability. Complete all seven cards and you'll receive a GMC Typhoon.
Spring events and prizes are listed below:
Spring Into Action
Series: Dirt Racing Series
Cars: Hot Hatch
Restrictions: B Class, 700 PI
Prizes: 15,000 CR, 25,000 CR, 1994 Honda Prelude
Lotus Flower
Series: Road Racing Series
Cars: Lotus
Restrictions: S1 Class, 900 PI
Prizes: 15,000 CR, 25,000 CR, Lotus 2-Eleven
See Ya Later Alligator
Series: Street Scene
Cars: Porsche Cayman
Restrictions: S1 Class, 900 PI
Prizes: 15,000 CR, 25,000 CR, 2018 Porsche 718 Cayman GTS
The Trial: The Pink Pig (Co-Op Championship)
Series: Road Racing Series
Cars: Classic Racers
Restrictions: S1 Class, 900 PI
Prizes: 1971 Porsche 917/20
Spring Games – Series 56
Series: Playground Games
Cars: Track Toys
Restrictions: S1 Class, 900 PI
Prizes: Renault Clio FE
Super7 – Spring
Completion Prize: GMC Typhoon
High Street Speed Trap
Whitewater Falls Danger Sign
Season Objective: 557.7ft
Rolling Fields Speed Zone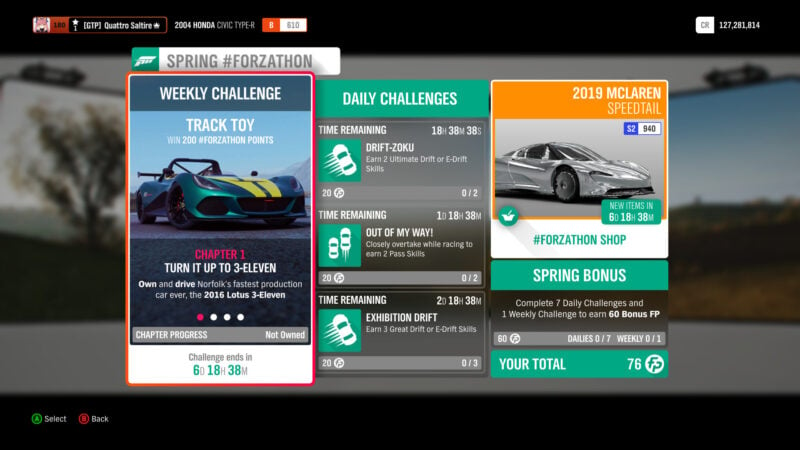 Forzathon Events
Forzathon goes hardcore by turning its focus to the immediate successor to the Lotus 2-Eleven, the conveniently named 3-Eleven. Climb into the most extreme car to come out of Hethel to get started.
Next, showcase the balance of power and handling of the Lotus by earning a total of 9 stars from Speed Zones. After that, put that agility to a braver use by getting 15 Ultimate Near Miss Skills.
Finally, finish up the weekly challenges by leaving your opponents in your wake and earning a Slingshot Skill during a race.
Forzathon Shop
Two ultimate versions from established brands take over the shop this week, kicking off with the 2019 McLaren Speedtail.
Sitting beside the Senna in Woking's Ultimate Series lineup, the Speedtail takes a different approach to the track-hardened Senna. Instead of laptimes, McLaren set about creating its fastest, most powerful model ever while channeling the spirit of the legendary F1.
The swooping longtail helps to create an extremely aerodynamic body along with the addition of front wheel covers. Further nods to the F1 include a three-seater layout with a central driving position.
Powering the Speedtail is a 4.0-liter twin turbocharged V8 mated to a hybrid system. Combined, the drivetrain produces 1,036hp, which allows the Speedtail to surpass the F1's top speed until it reaches 250mph.
The McLaren costs a hefty 599 Forzathon Points, but gives a proud British alternative to the speed monsters from Bugatti and Koenigsegg.
A car that's even more hardcore is the 2008 Renault Megane R26.R.
Renault's popular hot hatch got a serious workover to turn it into a track weapon. A crash diet including stripping the interior and adding composite body panels results in a weight reduction of 271lb. Adding in a roll cage helps to increase rigidity along with completely reworked suspension.
Although it uses the standard Megane R26 as a base, the 2.0-liter turbocharged engine has remained untouched, meaning there's 227hp to play with. Since Renault poured all of its resources to handling, the Megane will be an absolute riot to throw down the twisting UK roads.
You'll need 599 FP for this fiesty Renault, but you'll be rewarded with one of the most hardcore and exciting hot hatches ever made.
Novelty items that can be purchased are the Halo Warthog and Cash Register horns.
See more articles on Forza Horizon 4 Season Change.