A fresh Arctic blast has hit the UK to signal another Winter season starting in Forza Horizon 4. The hunt for the latest prizes at the festival continues at great pace despite freezing temperatures and tricky road conditions.
Rewards this week are well suited to the snow, plus a couple of high powered street cars for completing the seasonl playlist up to the 50% and 80% targets.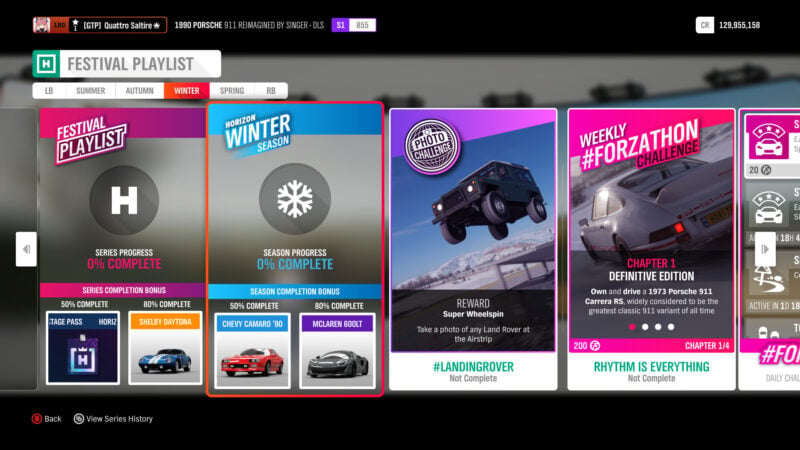 Snowfall
Leading the playlist completion prizes is a very rare variant of an iconic muscle car: the 1990 Chevrolet Camaro IROC-Z.
This special edition was built as part of the third generation Camaro's involvement in the International Race of Champions stock car racing series. The IROC-Z was initially offered as a performance upgrade for the Z28, before becoming the flagship trim level in 1990. Although changes to the outside were minimal, there were alterations under the skin.
The 5.7-liter V8 makes a respectable 245hp, but some tweaks can bring out some real muscle for this machine, plus the chassis featured much stiffer suspension and uprated brakes to give impoved handling that was unbecoming of an old school muscle car.
Another track-honed special is the 2018 McLaren 600LT. The second model to use the LT brand for McLaren's hardcore models, the 600LT upgrades the baby 570S to serious supercar standards. Weight has been stripped by 211lb, and the body now features aggressive new aero for added downforce. The 3.8-liter, twin-turbocharged V8 has been boosted to 591hp, giving its competitiors a major headache.
Winter's Photo Challenge wants you to earn your pilot's license with #LandingRover. For this objective, you'll need to snap a Land Rover at the airstrip. You can add some drama to your picture by launching your car off one of the ramps scattered around the area. Championship prizes for this week are all appropriate for the conditions, including the Ford F-150 Trophy Truck and Jeep Wrangler DeBerti Design.
One intriging car in the prize pool is the 1991 GMC Syclone.
The Syclone became famous as one of the very first high performance pickup trucks, eschewing load capacity in favor of quarter mile times. Using the Sonoma as a base, GMC fitted a 4.3-liter turbocharged V6 under the hood making 280hp. Thanks to a sophisticated four-wheel drive system, the Syclone can leave equivalent sports cars in its wake in a straight line sprint.
In order to grab the Syclone, you'll need to win the "A Van After My Own Heart" championship.
One of the most popular Showcase Remixes also returns for Winter. "Assault on The Control Room" puts you in the Spartan armour of Halo's Master Chief as you race the Warthog against a Pelican dropship.
Super7 keeps bringing surprises with all of the latest community challenges. If you complete all seven cards, you'll win a Toyota 2000GT.
Winter events are listed below:
Counting Jeep
Series: Cross Country Series
Cars: Jeep
Restrictions: A Class, 800 PI
Prizes: 15,000 CR, 25,000 CR, Jeep Wrangler DeBerti Design
A Van After My Own Heart
Series: Dirt Racing Series
Cars: Vans and Utility
Restrictions: A Class, 800 PI
Prizes: 15,000 CR, 25,000 CR, GMC Syclone
Not Domesticated
Series: Street Scene
Cars: Dodge
Restrictions: S1 Class, 900 PI
Prizes: 15,000 CR, 25,000 CR, Yellow Biker Boots
The Trial: Retro 2033 (Co-Op Championship)
Series: Dirt Racing Series
Cars: Retro Hot Hatch
Restrictions: C Class, 600 PI
Prizes: 2010 Volkswagen Golf R
Winter Games – Series 58
Series: Playground Games
Cars: Extreme Offroad
Restrictions: A Class, 800 PI
Prizes: Ford F-150 #11 Rockstar Trophy Truck
Super7 – Winter
Completion Prize: Toyota 2000GT
Princes Street Speed Trap
Mam Tor Danger Sign
Season Objective: 1,010.5ft
Royal Botanic Gardens Speed Zone
Forzathon Events
This week's Forzathon shines a light on one of the most iconic Porsches of all time: the 1973 Carrera RS 2.7. Jump aboard this homologation legend to get things rolling.
Next, show how this old dog set the groundwork for all future RS 911s by earning a total of 12 stars from Speed Zones. Afterwards, teach your opponents why the 911 dominated on track by winning three Road Racing Series events.
Finally, put the Porsche's surprising rally pedigree through its paces by taking the top spot in four Dirt Racing Series races.
Forzathon Shop
Race machines take over the shop for this week, with two very different approaches on display. Kicking things off is the 2016 Volvo Iron Knight.
Although not strictly made for racing, the Iron Knight was conceived to set a world record for the fastest semi truck. To achieve this, the Iron Knight has a 12.8-liter, quad-turbocharged, straight six diesel engine putting out 2,400hp, making it the most powerful vehicle at the festival by a considerable margin. Despite weighing close to 10,000lb, the Volvo can reach a speed in excess of 170mph.
The Volvo is a bargain at just 100 Forzathon Points, plus you can have great fun intimidating opponents as they struggle to shake off a lumbering semi-truck in their mirror.
Another racer on the cards is the 1965 Alfa Romeo Giulia TZ2.
Designed by Zagato, this tubular spaceframe racer builds on the sucess of its TZ predecessor. It was built as a pure factory race car and didn't need to meet any requirements for homologation. The use of lightweight materials allowed weight to be cut and performance to be improved considerably.
The 1.6-liter engine may only produce 170hp, but it only has to shift a car that tips the scales at under 1,400lb, allowing it to keep up with more powerful rivals.
At 150FP, the TZ2 is also very cheap, and you could save a couple million credits over buying one at the Autoshow.
Latest novelty items and wardrobe additions are the Pink Biker Trousers and the "Ode To Joy" horn.
See more articles on Forza Horizon 4 Season Change.